Hunger Free: Sounds Like a Good Plan to Me

Erin Donovan
Oct 7, 2022 5:51:27 PM · 2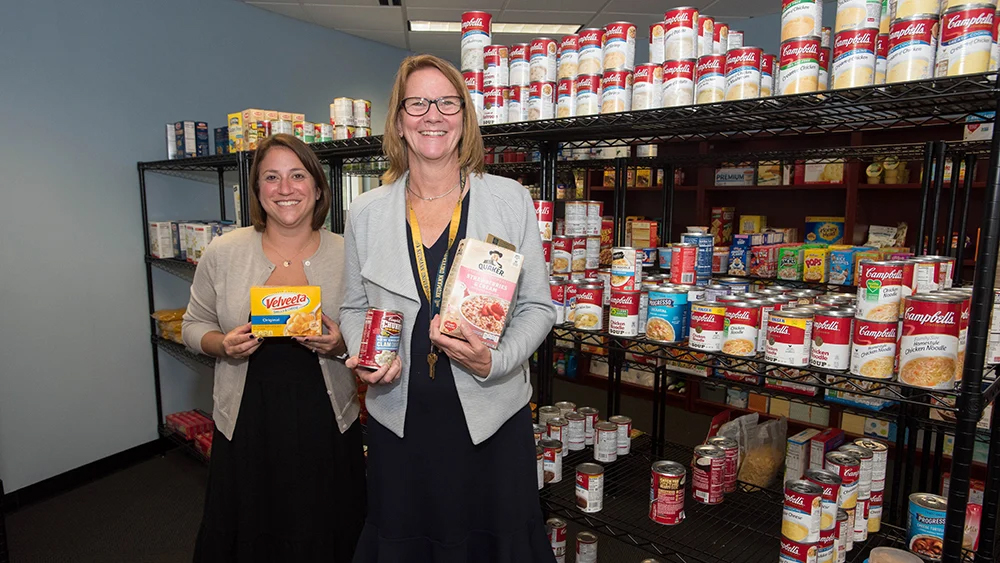 Last year, under the direction of Social Work Professor Rina Keller and Health/Wellness Counselor Mary Beth Davis, the Knights' Pantry was implemented. According to Keller, the project began due to "qualitative data from Mission and Ministry, the Office of the Dean of Students, the Counseling Center for Wellness, and individual faculty and staff members indicating that students had expressed food insecurity and had requested additional resources."
Located on the fifth floor of the Rocco Abessinio Building, the pantry helps alleviate food insecurity and provides Neumann students a space to pick up a nutritious meal, no questions asked. Thanks to the hard work and efforts of all those involved in the Knights' Pantry, Neumann was designated as a Pennsylvania Hunger-Free Campus last month.
Governor Wolf's administration recently introduced an initiative to end hunger on college campuses by helping students access free, nutritious food options. Sharing Excess, one of the Knights' Pantry community partners, came across this information and shared the application with Keller. She talked with pantry co-chair Megan Camp and decided Neumann would be a great candidate to receive this recognition.
"I decided to apply because the opportunity to receive this designation, which would further validate our work and link us with other colleges' pantries and access to grant money, was an easy yes," said Keller. Within one week she received the response that the application was approved, and she was thrilled.
Receiving this approval granted Neumann a certificate of recognition from the Pennsylvania Department of Education and public recognition through placement on the PA Hunger-Free Campus website with a statement indicating that Neumann is committed to supporting the health and well-being of students. The university also becomes part of the collective effort to raise awareness and assistance for food insecurity. Neumann can also use the PA Hunger-Free Campus logo on materials to indicate the institution's awareness of and focus on solving student hunger.
After this accomplishment, the Knights' Pantry is not slowing down. They have collaborations coming up as well as future goals to continue to build up the pantry.
According to Keller, "This semester, student clubs and organizations are helping to fundraise. For example, Neumann Media will be hosting a 24-hour College Radio Day broadcast on 10/7, and we are honored that the Morning Show will be collecting donations for the pantry."
For those who enjoy volunteering, Camp shared there will be a food drive in October in collaboration with Main Line Health.
Camp also mentioned there is a proposal in the works that will allow students to donate one of their meal swipes each semester to someone in need. This would allow disadvantaged students to enjoy a delicious meal in the cafeteria. The pantry is also planning to implement more gluten free options to give a larger variety to the students.
Regarding their motivation for being involved in the Knights' Pantry, both Keller and Camp shared a similar sentiment. Both explained that they enjoy interacting with the students and seeing how this initiative truly makes a difference in students' lives.
They also share pride in how successful the pantry has become for Neumann. Camp stated, "It's well past my expectations."
Keller acknowledged the support of the Neumann community. "We continue to be awed by the generosity of our faculty, staff, administration, and students. Our pantry is stocked because of their donations."
The Knights' Pantry is available to all undergraduate and graduate students with a current NU ID who need some extra help. The experience is confidential, and Keller emphasized that the staff honors the dignity and worth of all their guests.