If Necessary, Use Words:
Alumni Who Serve
Preach the Gospel at all times. If necessary, use words. Catholic lore attributes this concept to St. Francis of Assisi, and the meaning is clear – let Gospel values guide your actions.
Many Neumann University alumni have taken this advice to heart and dedicated their talents to the service of others. Meet five of these alumni, who represent thousands of others for whom the Franciscan tradition is a calling. They embody the university mission that "knowledge, while valuable in itself, is best used in the service of others."
Stephanie Vogelman '19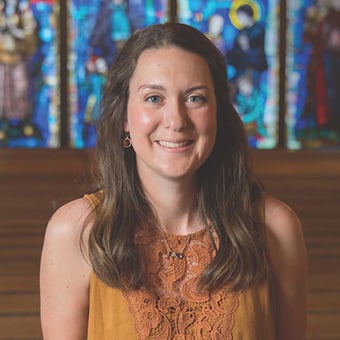 Stephanie Vogelman doesn't sit around, waiting for things to happen. Immediately after graduating with a degree in Social Work, she volunteered for the FrancisCorps in Syracuse and spent 11 months there. When she finished her service in upstate New York, she took a whole week off before starting her MSW program at the University of Pennsylvania.
Her commitment to serve, she says, began on campus. "The sense of community at Neumann was what got me so involved, feeling like I was part of something."
During her senior year at Neumann, torn between the pressure to get a job and her desire to do a year of service, she remembered the service immersion trips to Wyoming and Guatemala that she took through Campus Ministry. "That's where my passion for social work came from, and I really wanted to continue in the tradition of the Franciscan charism," she recalls.
"Franciscan values are ingrained in me. They're part of my identity."
In Syracuse, she volunteered at Cathedral Emergency Services, a satellite of Catholic Charities, where she wore many different hats. She worked with the food pantry and helped sort clothing donations. Stephanie spent most of her time, however, with the housing and relocation program, working with individuals and families who were at risk of being homeless. She screened clients for eligibility, went on housing inspections, and helped people move into their new homes.
The toughest part of her job was not being able to help everyone who needed assistance. "That was hard to come to terms with, but I learned to pour my heart into what I could do, connect my experience to my faith, and value the relationships that I was forming with the people in my community."
The year with FrancisCorps inspired her to pursue an MSW "to learn how to make those relationships really meaningful and help people see the dignity and worth that they have as human beings."
She chose Penn for her graduate studies because "I felt called to do clinical work related to hospice, palliative care, grief and loss. Penn has a health care and social work specialization."
With advanced standing because of her BSW from Neumann, Stephanie earned her MSW in May 2021.
She hopes to land a job in a hospital, working with care givers for patients who suffer from Alzheimer's or dementia.
Brian Dolbow '99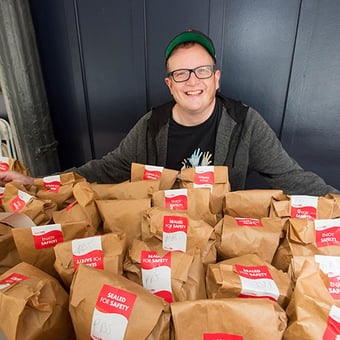 Brian Dolbow, a communications major, has always had a passion for helping those who are in need. He attributes this to his time spent with Neumann's Mission and Ministry Center, doing outreach work for the homeless community with Sr. Marguerite O'Beirne, OSF '70 and Sr. Linda DeCero, OSF. Brian has done community outreach in Philadelphia, Baltimore, Washington DC, and Albuquerque, New Mexico.
In fact, Brian was selected to receive the first Alumni Association Spirit of Francis and Clare award. This award was created to acknowledge alumni who develop an initiative that makes a significant impact with the underserved, supports the environment, advances peacemaking, or develops intercultural understanding.
In addition to being a security professional, Brian is the founder of B and Dee's Baltimore Love, Inc, in Baltimore, Maryland, whose mission is to provide life-sustaining resources to the most vulnerable residents of Baltimore City and inspire others to give back as well. What started out as tribute to his dear friend, Demetrius Mallisham, community activist, blossomed into a career for Brian.
The organization began serving the homeless in Baltimore in 2013 as a small group of volunteers who would come together a few times per year. With a current volunteer base of 1,500 individuals, B & Dee's, under Brian's leadership, now has a monthly Lunch Patrol program, larger quarterly events, and feeds approximately 1,300 people in need every month.
According to Brian, the Lunch Patrol is the staple of the organization. The last Sunday of every month, volunteers distribute brown bag lunches to those in need throughout Baltimore City. "If hungry people don't come to us, we head out into the city and find them," he said.
The quarterly events include an Annual Black History Month Celebration, Annual Easter Celebration, Mother's Day and Father's Day Tributes, a Back-to-School Block Party, and Annual Thanksgiving Dinner.
In addition to events and individual outreach, they provide health resources, clothing, and hygiene items. Brian believes that Baltimore City will be a better place when people join forces as one team to make a difference.
Alloyius McIlwaine '04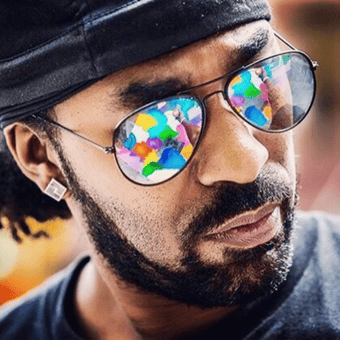 "If you have a platform, you should use it to make things better," says Alloyius McIlwaine, an artist, businessman, and multicultural advocate. Whether he's painting an abstract portrait, managing Cultures Clothing, or creating a massive public mural, the desire to "make things better" is always front and center for him.
A self-taught artist, Alloyius traces the origins of his multifaceted career to his early days on campus in 2020. After designing hand-painted tee shirts for members of the men's basketball and baseball teams, he was deluged with requests for more, and the concept for Cultures Clothing was born. Today, the company has a mission that's in keeping with Alloyius's philosophy – to highlight the beauty of a variety of cultures in its clothing designs.
"We're in 2021 and we still have these outdated standards to represent what American beauty is," he explains. "Beauty comes in different forms and appreciating the artistic richness of other cultures can bring us all closer together. Educating people about the beauty of other communities can lead to understanding and healing."
Alloyius has been influenced by Haitian, Asian, Native American, and African culture in creating his clothing designs. "Education is a big part of bringing people closer together. I'd like to see college curricula that educate people about these cultures."
As his company evolved, so did he. Alloyius began selling fine art on canvas in 2008 (his style became popular after Shepard Fairey's Obama poster) and launched his professional mural career in 2012. In the spring of 2021, despite the pandemic, he was busier than ever, working on commissioned murals for Netflix, the Children's Hospital of Philadelphia, Miiller Lite, Villanova University, and SEPTA.
He estimates that he has painted 300 murals overseas (Paris, London, Madrid, Casablanca, Tokyo, and Costa Rica) and in America (Los Angeles, New York City, Chicago, Detroit, Salt Lake City, Miami, New Orleans, Atlanta, and Portland). About half of his murals are in the Philadelphia area.
His style is abstract and colorful, and he incorporates aspects of graffiti, street art, comic book art, and traditional art into his murals and paintings. His latest project, a coffee table book entitled Muses, captures images of women that Alloyius has drawn or photographed during the last five years.
In all of his work, however, he draws on the Quaker philosophies he learned at Friends Select and the Franciscan values he experienced at Neumann to celebrate and share the beauty of diversity.
"We are more alike than we are different," he believes, and that's the message of his art.
Kellie Waters '18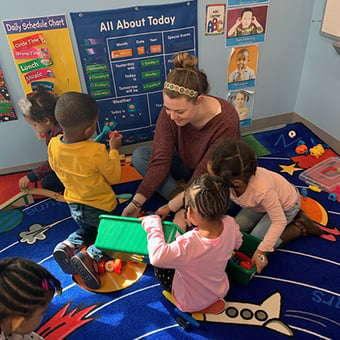 When Kellie Waters graduated from Neumann University in 2018, she knew she wanted to do a year of service. She just wasn't sure what type of service she wanted to do. After all, while she was at Neumann, she was involved in just about every imaginable kind of service.
"I felt very inspired at Neumann from my freshman year. I was guided into service work," said the Communications and Digital Media major. Kellie became heavily involved with the Ministry Center almost immediately after she moved onto campus her and remained a steadfast presence there until graduation.
She began as a lector and Eucharistic minister and eventually became a student minister. In this position, she would create programs and encourage attendance at ministry events that fostered growth of a student's character and spirituality.
Kellie also went on a service immersion trip to St. Lucia, where she volunteered for the Cardinal Kelvin Felix Archdiocesan Pastoral Centre and the Gros Islet community.
After her freshman year, Kellie became a resident assistant, and in her senior year, she was an Assisi Living Community Resident Assistant. In this position, she led student-centered programs to promote service and spirituality, guiding resident students to live Franciscan values.
When she graduated, Kellie applied to the Jesuit Volunteer Corp. "Neumann put that spirit into me, I know I had to hone in on that passion."
Kellie was accepted into the program and spent a full-time year of service at the Loyola Early Learning Center, a low-income preschool in Baltimore City, as a teacher. During this time, she also committed to living by and participating in the organization's four inter-related values of the Jesuit tradition: Ignatian (Jesuit) spirituality, social justice, community, and simple living.
In August 2020, Kellie enrolled at Boston College to earn a dual master's degree in Social Work and Theology and Ministry. She is active in BC's Campus Ministry and is a graduate assistant for Appa Volunteers. Here she facilitates leader and participant formation through weekly meetings, daylong workshops, and retreats focused on social justice, Ignatian spirituality, and faith formation.
Asked what her perfect job would be after graduation, she replied, "I can't see myself doing just one thing. There are too many options!" But she would like to focus on working with young women, perhaps at a women's center or hosting a spirituality and prayer group.
Maria Sotomayor-Giacomucci '13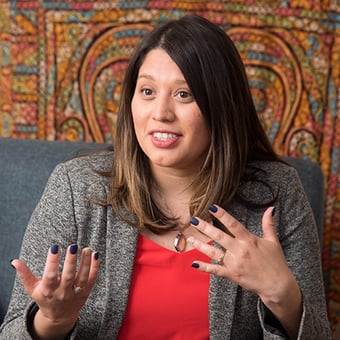 "I'm just trying to contribute to society in the best way I can." That's Maria Sotomayor-Giacomucci's modest assessment of her eight years of extraordinary public service since she graduated. A Psychology major, she now manages the Phoenix Center for Experiential Trauma Therapy, a psychotherapy practice specializing in trauma, grief, loss, and addiction, located in Media, PA. In this new role, she collaborates with her husband, Dr. Scott Giacomucci '13, the psychotherapist who founded the Phoenix Trauma Center.
For almost eight years after graduation, however, Maria devoted her energy and professional skills to the Pennsylvania Immigration and Citizenship Coalition (PICC), an organization that supports immigrants' rights and promotes immigrants' full integration into society by advocating for greater public understanding and welcoming public policies throughout Pennsylvania.
"I had almost every job there that you could have," she jokes. She coordinated the Philadelphia program for DACA recipients and worked in civic engagement efforts. She became PICC's youth organizer and taught leadership development. Eventually, she was promoted to deputy director.
The cause was personal for Maria. She came to the United States as a child from Ecuador and had to navigate her way to a college degree and career through a complex and challenging American immigration system. As soon as she earned her degree, she joined PICC to help others who were in situations similar to hers.
"I fell in love with advocacy and community organizing, and I found my voice there," Maria admits.
She plans to keep using her voice, too. She became a U.S. citizen in May and is eager to vote in the future. She is also enrolled in a master's degree program in Social Work at Bryn Mawr College, set to graduate in 2022. She likens her new academic pursuit to lessons she learned at Neumann.
"The Franciscan RISES values are similar to the social work code of ethics," she recalls. "It's a perfect fit for me."
Kris Pasto '20: Motivated to Connect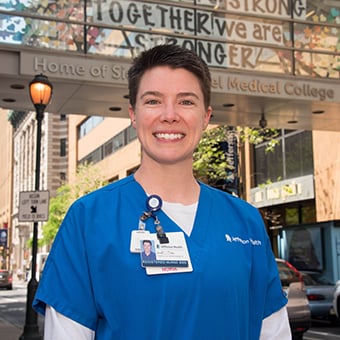 For Kris Pasto '20, life is all about connections. Not networking for a job or rubbing elbows for social status but making genuine, human connections with everyday people. It was this innate instinct that translated well into the profession she chose – nursing.
"The only world where I could meet some of these people is in this hospital room," she says. "We are so different from each other in background and where we come from and language -- and it's amazing that you can connect and create such a bond, taking care of people. I think that's what nursing is really about, being able to help others in that moment."
Pasto is a nurse in the intermediate cardiac care unit at Thomas Jefferson University Hospital. Her patients suffer from advanced heart failure. Some are candidates for transplants.
She describes her work as busy (3 or 4 patients per nurse) but fulfilling. "It's fascinating – what we're able to do for people and their families with medicine and medical technology. I appreciate the ability to make at least a little impact on someone else."
Pasto seems to have care and compassion embedded in her DNA. "I take care of people around me," she admits, "and I'm a science-brain person."
That combination has generated in her a relentless curiosity, a love of nature and animals, and a fascination with biology and the human body. Even before she was a nurse, Pasto was a caregiver. She worked with veterinarians since she was 12, as a volunteer, an assistant, and finally (after receiving her associate degree from Harcum College) as a veterinary technician in Berwyn and Philadelphia.
She enjoyed working with animals and clients but wasn't satisfied. "I wanted to push myself, to do more." So, she enrolled at Neumann where she enjoyed her professors and clinicals.
Her shift work is grueling, but even in her free time, she reaches out to help people in need. Pasto volunteers for Be My Eyes, a free mobile app founded in 2015 to make the world more accessible for blind and low-vision people. The app connects visually impaired individuals with sighted volunteers from all over the world through live video calls.
"During COVID, I was looking for something to do," she recalls.
Pasto has been a Be My Eyes volunteer for a year and has received five calls for assistance. Two stand out. One health-conscious individual, shopping for a loaf of bread, couldn't read the nutritional label information on the packaging. Another, searching to locate a bus stop, used the app to get guidance. Pasto successfully assisted both callers.
"It sounds corny, but everyday actions like buying local and opening a door for someone can have an impact on people."
So can nurses if they have Kris Pasto's commitment to making connections.