Alumni Association Honors 13 at Awards Ceremony
Neumann's Alumni Association presented awards to 10 alumni, two students, and one retired professor at its annual awards ceremony on March 8
Nancy Gorevin Costello '03
Alumni Association Recognition Award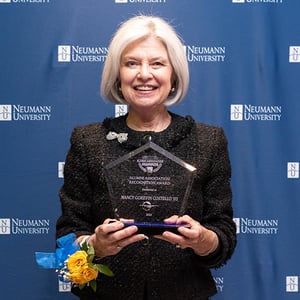 Nancy Costello currently serves as the director of communications for the Missionary Sisters of the Sacred Heart of Jesus. In 2010, she and her husband Tom co-founded The Joy of Sox, a 501c3 nonprofit that provides socks for the homeless. The Joy of Sox has since distributed more than 611,000 pairs of new socks in 35 states, D.C., Uganda, Canada, Afghanistan, Ghana, Mexico, and the UK. Costello also co-founded the Philadelphia-area Catholic Collegiate Mission Consortium.
Nicole Draper '14 '16
School of Education and Human Services Distinguished Alumni Award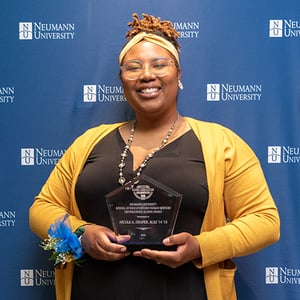 Nicole Draper, who holds two degrees in Education from Neumann, is a literacy instructional specialist for the Professional Development Center for Educators at the University of Delaware, where she coaches classroom teachers throughout the nation in English Language Arts (ELA). She also writes ELA curriculum and teaches early literacy courses for the Delaware Department of Education. Draper and her husband are also award-winning African American voiceover artists.
Kiriakoula Gregor '14
School of Arts and Sciences Distinguished Alumni Award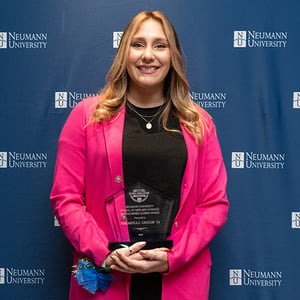 Since she landed a part-time job with ABC in New York shortly after graduation, Kiriakoula Gregor has skyrocketed through the media field. Soon full-time, she was promoted to acquisitions and ingest manager and then asked to relocate to California to help with West Coast operations. She is now a program operations manager for Disney/ABC, part of a team that supervises the airing and production of primetime shows like the Oscars and American Music Awards.
Annette Hargadon '87 '09
John Neumann Award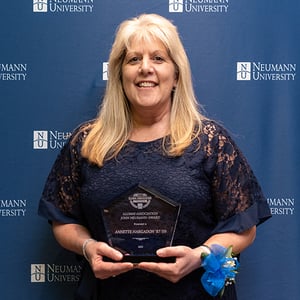 After graduating with a BS in Nursing, Annette Hargadon earned a post-master's certificate and became a family nurse practitioner. Now holding two Neumann nursing degrees, she currently works at Lankenau Medical Center, caring for patients with benign and malignant diseases of the breast, and is finishing a Doctor of Nursing Practice program. She has served as president of Neumann's Alumni Executive Board and the Nursing Alumni Chapter.
Michael Kaczenski '89
President's Distinguished Alumni Award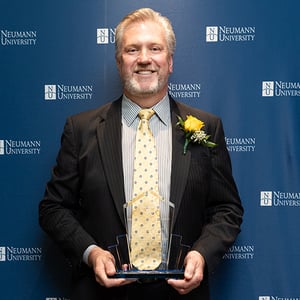 Michael Kaczenski started working at Sun East Federal Credit Union while still a student at Neumann. He worked his way up the ranks from intern to teller to marketing manager to vice president. In 2001 he was appointed CEO at the age of 34, and he holds the position to this day. Under his leadership, Sun East has grown in assets, members, and number of services offered. He has remained involved with Neumann, participating in mentoring programs and supporting fundraising events.
Helen Kain '87
The Spirit of Francis and Clare of Assisi Award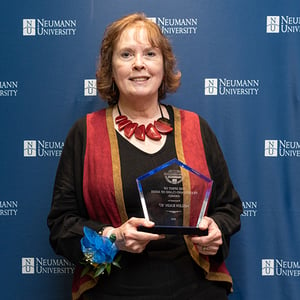 Helen Kain is a Certified Registered Nurse Practitioner at ACTS Lima Estates, providing primary care services for independent living and assisted living clients, as well as skilled and long-term care for geriatric populations. She has worked in a variety of environments, from homecare and hospitals to nursing homes and long-term care facilities. Kain is deeply involved in GAPNA, a regional association of geriatric nurse practitioners, and organizes the group's annual Alzheimer's Walk.
Dr. Madeline E. Lambrecht '77
School of Nursing and Health Sciences Distinguished Alumni Award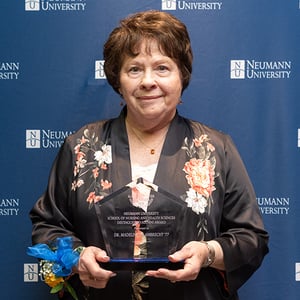 Dr. Madeline E. Lambrecht is professor emeritus at the University of Delaware. She was most recently director of the Division of Special Programs in the College of Health Sciences, responsible for coordinating distance education and continuing education certificate programs. She was also a professor in UD's School of Nursing. Throughout her career, Lambrecht's focus was on providing compassionate care to the dying and bereaved, and she has received many awards and commendations for her work.
Dr. James Patrick Lynch '09
School of Business Distinguished Alumni Award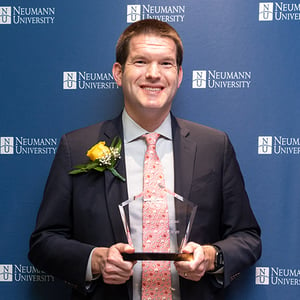 An athletic administrator and coach for more than 15 years, Dr. James Lynch serves youth in the City of Philadelphia as the district athletic director for Philadelphia public schools. He earned his master's degree in sport management from Neumann and recently completed his doctorate in Educational Leadership and Athletic Administration. Lynch regularly presents and publishes papers on urban youth sports and improving athletics in urban schools at local, state, and national conferences.
Kwaku Owusu-Agyemang '09
Young Alumni Achievement Award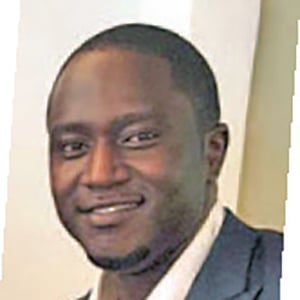 Kwaku Owusu-Agyemang was recognized because of his stewardship of and care for the environment. Currently based in Accra, Ghana, he founded and leads Stineri Medical Waste Solutions. The company's mission is to promote responsible, cost efficient, and eco-friendly medical waste management solutions and services and to raise awareness of the importance of effective medical waste disposal in safeguarding the environment.
Ariana Peña, Class of 2022
Outstanding Senior Award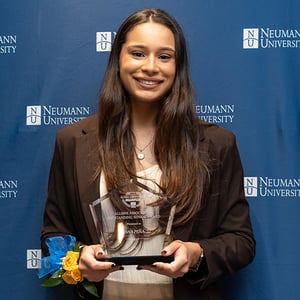 Ariana Peña is a pre-Physical Therapy major, a member of the women's volleyball team, and a campus leader. As a freshman, she joined Neumann's Student-Athlete Advisory Committee (SAAC) to better the student-athlete experience. In early 2021, she was selected to sit on the NCAA Division III National SAAC, representing the Atlantic East Conference. On the national committee, Peña advocates for social and racial justice, inclusion, and mental health. She is also a peer tutor and Special Olympics volunteer.
David Shertel, Class of 2022
Outstanding Senior Award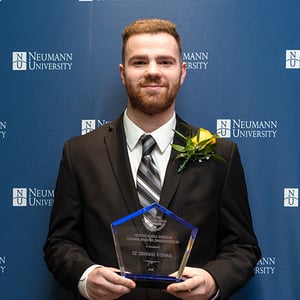 David Shertel is Political Science major, president of the Student Government Association (SGA), and president of the National Political Honor Society. Deeply committed to volunteerism and student leadership, Shertel has helped students through his work at the helm of the SGA, ensuring that the campus buys Fair Trade products and advocating for a $25,000 donation to the Knights' Pantry that will address food insecurity issues on campus for years to come.
Lauren Christine Shipman '15
Volunteer of the Year Award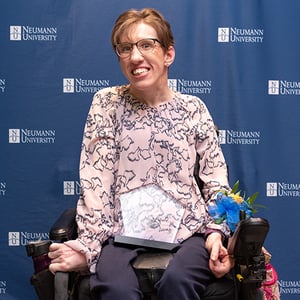 Lauren Shipman, wheelchair bound because of cerebral palsy, walked across the stage to accept her degree in 2015. She is currently the group supervisor for the supplemental kindergarten program at the Haverford Branch of the Greater Philadelphia YMCA. Since graduating, she has often returned to campus as a motivational speaker for students and as a standardized patient/ patient actor for the Doctor of Physical Therapy Program.
Dr. Sandra M. Weiss
Honorary Alumni Award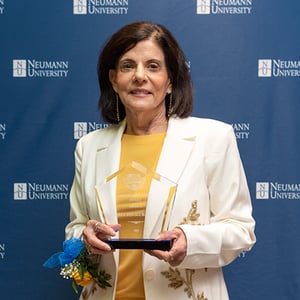 Sandra Weiss taught at Neumann for 45 years. For 36 of those years, she was director of the clinical laboratory science program, which often prepared students so well that they received job offers before graduation. During her decades at Neumann, she taught biology, immunology, human anatomy and physiology, medical science, and hematology. In recognition of the significant and lasting impact Weiss has had, the university dedicated a laboratory in her name in October 2021.