Campus Shows Support for Ukraine
Caption for above photo: Punk rock professor Janis Chakars discusses Ukraine on WNUW.
In the weeks after Russia's February 24th invasion of Ukraine, the campus community rallied to support the war-torn country and its refugees in a variety of ways.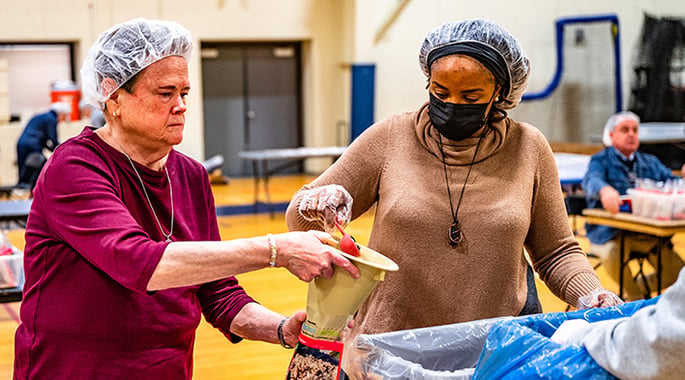 Food for Refugees
On March 9, more than a hundred student and faculty volunteers packaged and heat-sealed 15,072 meals for Ukrainian refugees who have fled to Poland to escape Russian bombing. Coordinated by Megan Camp, director of service-learning and community engagement, the daylong effort prepared the meals at the Bruder Life Center, part of Neumann's activities during Charter Week.
Volunteers in an assembly line mixed measured amounts of rice, soy, beans, and spices into packages that filled scores of boxes with highly nutritious meals.
Neumann partnered with Kids Against Hunger to ship the meals overseas. The nonprofit humanitarian organization provides nutritious food to impoverished and food-insecure children and families in the region and around the world. Besides helping Ukrainian refugees, the group has helped countries like Haiti with disaster relief and local communities in need.
"We included this activity in our Charter Week celebration because a critical component of our mission is to serve people in need," said Dr. Chris Domes, who worked a shift at the packaging operation. "The world is rallying around the people of Ukraine, and we want to do our part."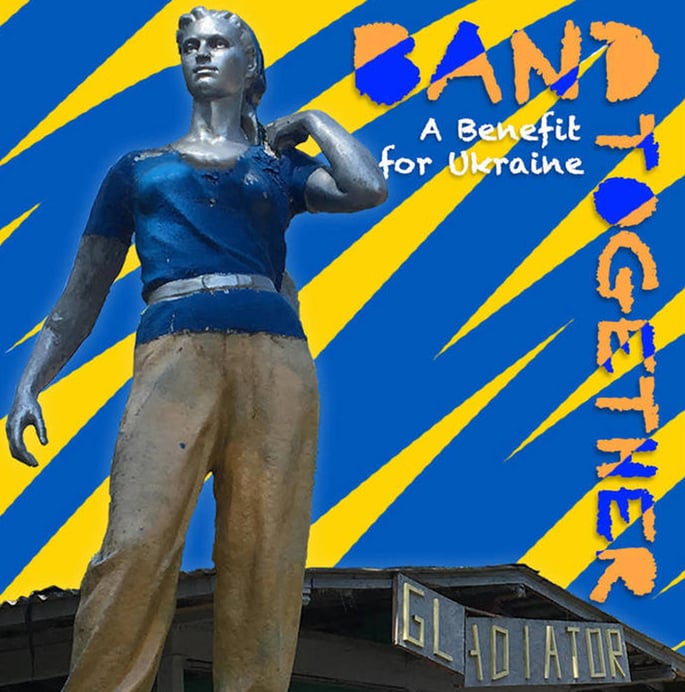 Punk Rock Professor Launches Benefit Album
One of the most unusual initiatives to help Ukraine is the brainchild of Janis Chakars, a communications professor who has played in punk rock bands for 30 years. Chakars is doing what he does best to raise money for Ukraine. On March 23, he launched Band Together, a compilation of songs by nine American and seven Ukrainian bands to support the besieged country.
As a member of Citizens Arrest, a band that has toured Eastern Europe, Chakars used his music industry connections and research skills to collect the songs in a matter of weeks after Russia invaded Ukraine.
"It was important to me that Ukrainian bands be included because I think their voices need to be heard right now," Chakars says.
"Solidarity with the oppressed is a core principle of Catholic social teaching," he explains. "Ukrainians are under attack and being deprived of life, limb, and livelihood. The Franciscan tradition calls us to walk with the suffering, and while we may not be able to do that literally in Ukraine, we can try to do that in other ways."
American contributions to the album include songs by punk icon Ted Leo, Erin Incoherent and the bands Unsane, Citizens Arrest, and Under Attack. The requested donation for the compilation, available on Band Camp, is $10. Proceeds go to Razom, a Ukrainian-American 501c3 that has already delivered tons of medical supplies to people in Ukraine.
The album cover was designed by Chakars' teenage son, using a photo that Chakars took in 2019 when he visited Latvia and Ukraine. "There was a war in the east then (in Donbos)," he explains, "but life in Kyiv was normal. Now, all of those people I saw walking through the main square are hiding in a basement, fleeing to another country, or fighting with Ukrainian forces."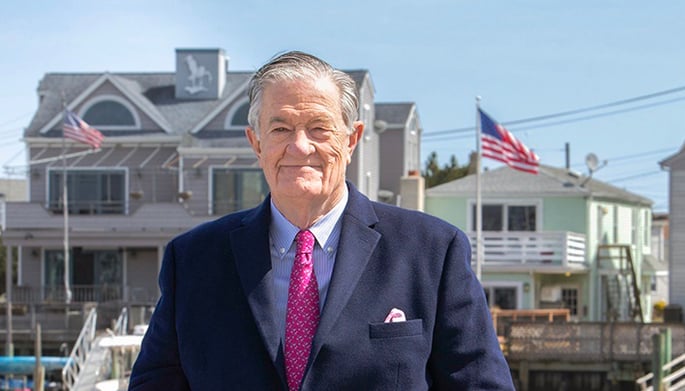 Former CIA Spy Chief Speaks about Russia
Finally, Neumann asked an already-scheduled guest speaker to focus on Ukraine. Jack Devine, a seasoned CIA professional who served for more than 30 years at the highest levels of the agency, addressed Russian aggression in Ukraine during a March 25 lecture.
Earlier that month, in a Wall Street Journal editorial entitled Putin Has Ensured His Own Downfall, Devine wrote, "He [Putin] sees the West's contention over key policy issues as weakness and harbors contempt for the democratic process. He fails to understand that these inefficiencies are the result of a real strength — a political system responsive to the will of the people."
During his presentation, Devine called on his decades of experience — including a stint as the head of all CIA spying operations — to outline America's intelligence battle with Russia from the Cold War through the invasion of Ukraine.