Commencement 2022
GRADUATION CELEBRATION: 364 Join the Alumni Family
On Saturday, May 14, Neumann University welcomed 364 new students to its alumni family. Two hundred forty-two undergraduate degrees and 122 graduate and adult and continuing education degrees were conferred in two ceremonies held inside the Mirenda Center for Sport, Spirituality and Character Development.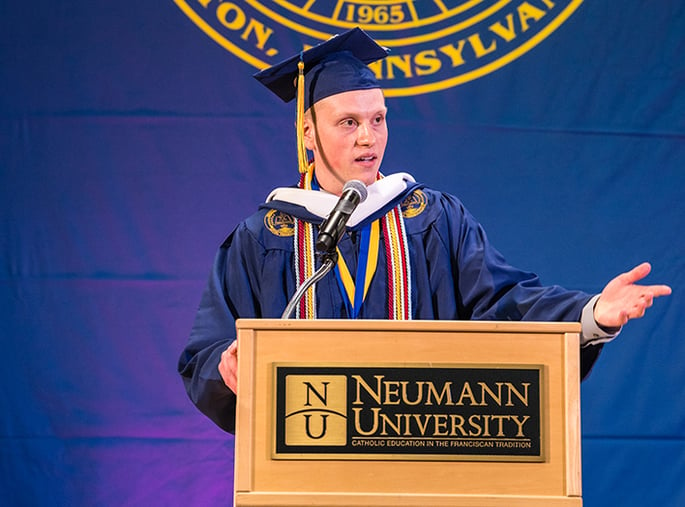 Valedictorian Jake Loburak, a Communication and Digital Media major, told the graduating class, "We've been blessed with the opportunity to learn and grow at an incredible institution that has shaped our academic and professional careers, while offering important values to live by. While each student has about 10 seconds walking across the stage to receive their diploma, have no regrets on the 11th second. As today marks the start of the next chapter for us, continue to live out the Franciscan values that Neumann has instilled in each of us."
Sr. Marguerite O'Beirne and John R. McConnell received honorary degrees during the graduation exercises.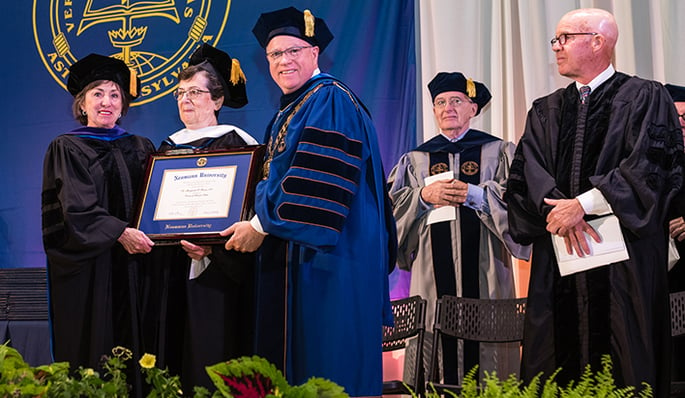 Sr. Marguerite O'Beirne and John R. McConnell received honorary degrees during the graduation exercises.
Sr. Marguerite served the Roman Catholic Church in a variety of educational roles for nearly 60 years before she retired on July 1, 2021. Most recently, she was vice president for mission and ministry at Neumann University from 1997 to 2021. Her pervasive presence there — chatting with students in hallways and attending hundreds of athletic events and student activities — established her as one of the most beloved figures on campus.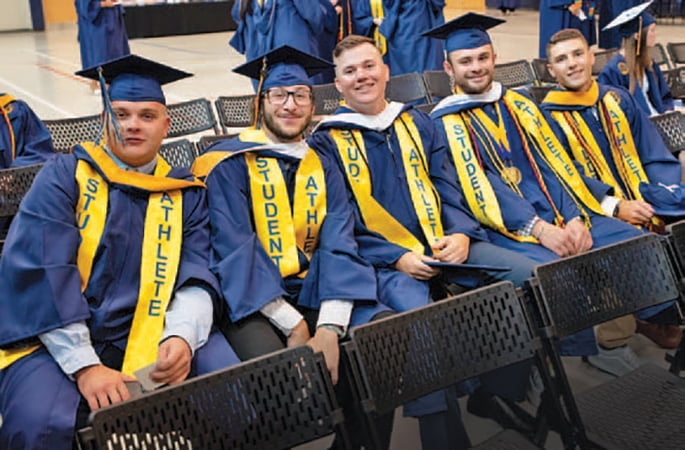 In typical Sr. Marguerite fashion, she tipped her hat to others during her acceptance. "I have been blessed with a long career of service in Catholic education from elementary school through University — and if I have had any success, it is because I've had such remarkable colleagues, who made me and my work look good."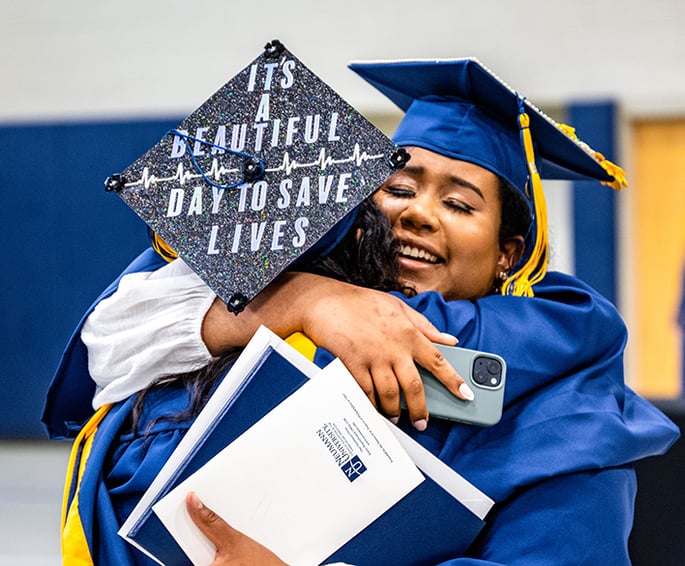 "There is a great line in a poem by the Irish poet, William Butler Yeats, that says: 'think of where one's glory most begins and ends, I say my glory is I had such friends.' So, I share this honor with all those who have blessed me as companions on the journey — beginning with my family — my sister Eileen is here today, my niece Kathleen and her husband Dom, the Sisters of Saint Francis who have supported me, my work colleagues down through the years, and friends whom I've made along the way."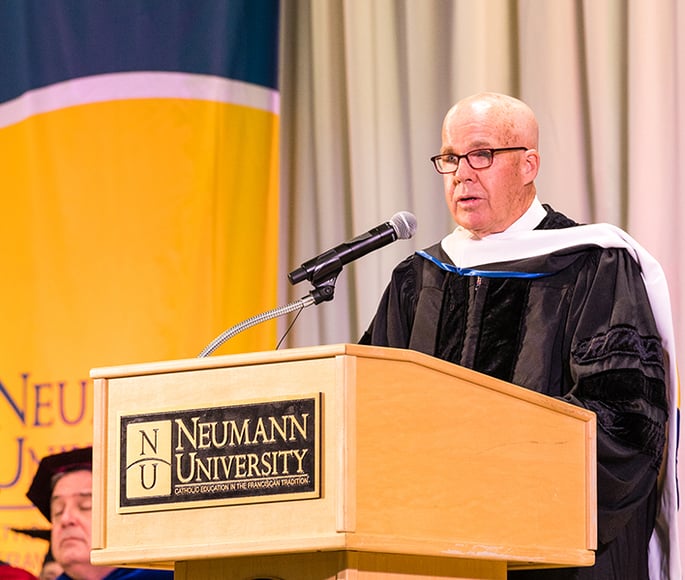 McConnell is the founder and president emeritus of Cristo Rey Philadelphia High School. He retired from Deloitte Consulting in 2008, after 27 years with the firm, to launch the innovative college-prep school that was formed from a unique partnership of local educators, businesses, and universities.
McConnell noted that there were 31 Cristo Rey graduates currently enrolled at Neumann University and acknowledged three Cristo Rey alumni who graduated that day: Jaide Harrison, Tequan Sadler, and Jonaye Wallace.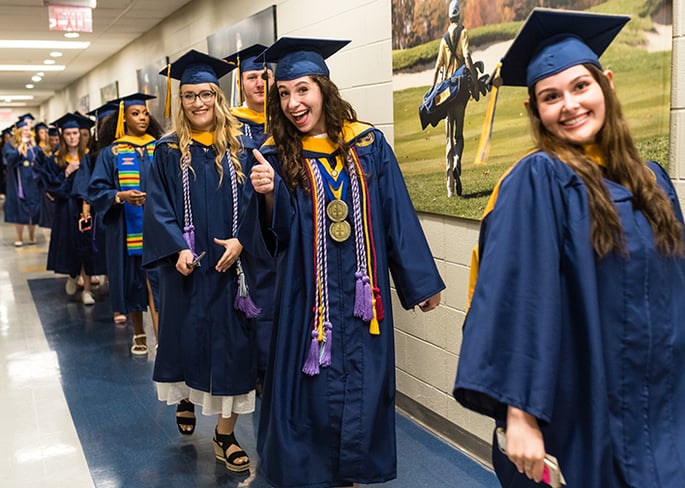 He told them, "We celebrated together when you graduated from Cristo Rey, but we all knew that the real goal, our dream for you, was a college degree."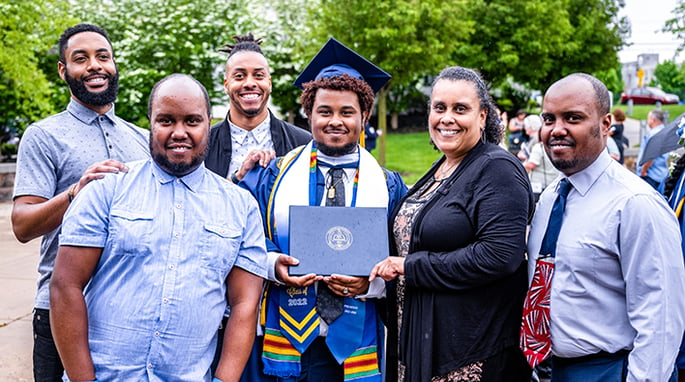 McConnell encouraged the rest of the graduating class to "Use your privilege to change the world. The rest of us need you to."
Both O'Beirne and McConnell received the honorary doctor of humane letters.