NEUMANN ATHLETICS: More than the Box Score
Caption for photo above: Len Schuler's family gathers on the court named in his honor in March.
College athletics at the Division III level are commonly considered the home for student-athletes who simply love the game that they play. There are few professional sports contracts and limited "name, image and likeness" opportunities that emerge from Division III.
The real benefit of a DIII sports environment, however, is not the pressures that they avoid but the opportunities for life lessons that they provide. At Neumann, these lessons come through extraordinary role models, institutional care for the well-being of each student, and team-generated service projects.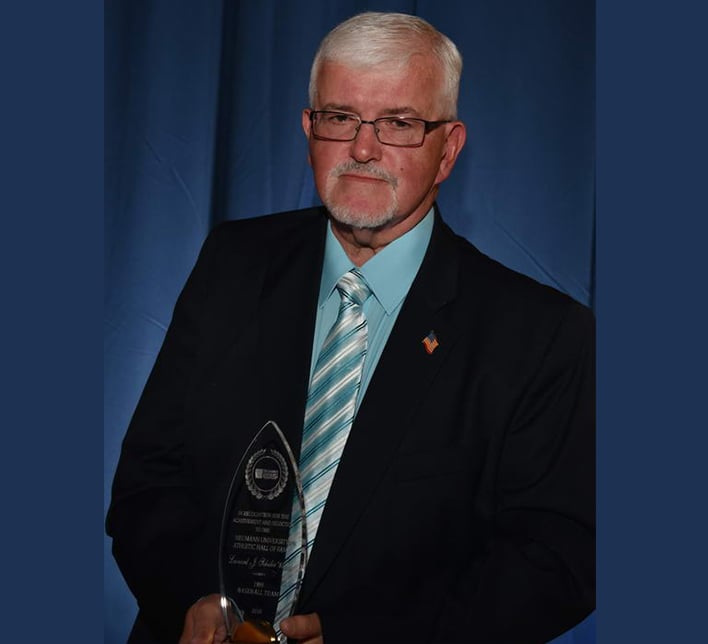 ONE ROLE MODEL: Coach Len Schuler
He worked on campus at Neumann University for 38 years, coached more than 1,000 games, and earned the admiration of thousands of students. On February 5, 2022, Coach Len Schuler passed away, and news of his death triggered tears across campus.
Ironically, February 5 was the very day when the university had planned to name its basketball court in his honor, unveiling Schuler's newly inscribed name on the Mirenda Center hardwood.
"Coach Schuler is a legendary figure on campus, a mentor who is revered by hundreds of student-athletes and alumni in Delaware County and beyond," said Dr. Chris Domes, university president. "His impact on our community is deep and will continue through the many coaches for whom he was a role model. He was a father figure to many, and his love for the students embraced the spirit of St. Francis in every way."
Coach made an incredible impact on the lives of countless young men and women. Chuck Sack, university director of athletics and recreation, remembers him fondly: "Always approachable, he connected with students through his servant-leadership style, each day working to support another member of the Neumann community through his knowledge, kindness, and positive attitude."
In an age of college athletics too often driven by ego and money, Schuler was a breath of fresh air. He loved sports and, more importantly, the life lessons that competition could teach the players under his charge.
A 2020 alumni survey asked graduates to "name one person who had a special impact on your experience as a student" and provide a brief explanation. Many named Schuler.
One former player wrote: "Coach Schuler had an incredible impact on my experience at Neumann … He was always someone I could talk to, and I felt like he constantly looked out for my well-being. He represented a father figure and ensured my success."
A softball player remembered Coach Schuler, when he was the baseball coach, going out of his way to help her. "Coach Schuler became my mentor and guided me in ways to make the team successful," she wrote. "He greeted everyone he met with a warm smile, and you knew he genuinely cared about you as an athlete and a person."
A third alum summed up his recollection of Schuler simply: "Coach was the best. The love he had for us was superb. I still, to this day, talk about him!"
To honor his legacy, the university is establishing an endowed scholarship in his name (alumni.neumann.edu/schuler) and dedicated the basketball court to him in a rescheduled ceremony on March 26.
Coach Schuler first set foot on campus in 1982 when he was named the head women's basketball coach. He remained at the helm of that program for 18 seasons.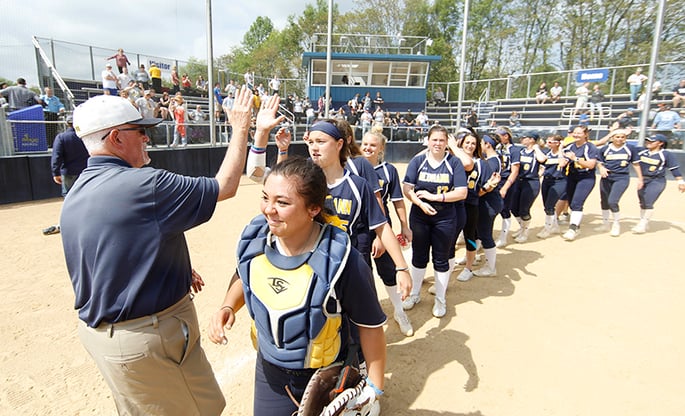 He was also the baseball coach from 1991- 2005, the softball coach in 1989 and from 2016-2019, and the cross country coach for two seasons (1989 and 1992). Away from the field of play, Len served as Neumann's athletic director from 1988 to 2000.
On April 11, 2019, at Haverford College, Coach Schuler managed his 1,000th career game, and finished with a grand total of 1,014. He was inducted into the Neumann University Hall of Fame in 2011 for his contributions to and achievements at the university. Before he retired in 2020, he completed his tenure at Neumann as the associate athletic director for facilities.
His greatest contribution to Neumann University, however, was his selfless and compassionate dedication to the development of his students as kind and caring people. His presence on one campus for nearly four decades is the kind of legacy that makes Neumann the embodiment of the best in Division III sports.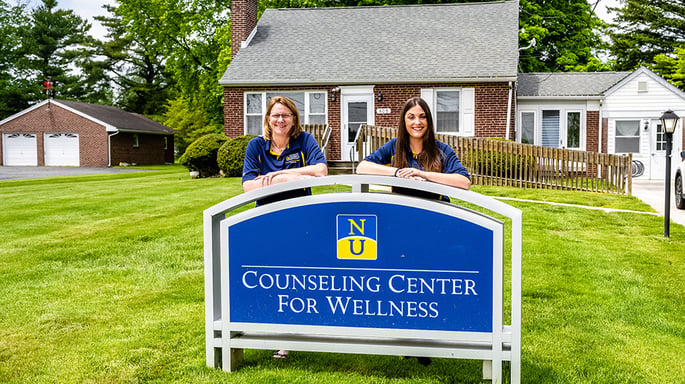 INSTITUTIONAL CARE: A Focus on Mental Health
In a period of just two months this spring, five college athletes across the country committed suicide. The students, who ranged in age from 19 to 23, studied at Binghamton, James Madison, Northern Michigan, Stanford, and Wisconsin. They played lacrosse, softball, cross country, soccer, and track.
Recent articles in publications ranging from The Chronicle of Higher Education to The New York Times have focused on the high levels of anxiety, depression, and stress that college students are experiencing. Experts indicate that the mental health crisis was exacerbated by COVID-19.
"Mental health challenges came on our radar even before the pandemic," recalls Sack, who has been Neumann's athletic director for 19 years. "In 2019, we collaborated with the Counseling Center for Wellness and instituted Wellness Wednesdays."
On Wellness Wednesdays, members of the university's counseling staff were invited to mix and mingle with student-athletes, usually in the Bayada Atrium of the Mirenda Center. Occasionally the counselors would arrange to bring therapy dogs to attract more team members to the event. The real purpose of the low-key gatherings, of course, was to make students aware that counseling is available on campus and give students a point of contact with the Counseling Center.
"The process came to a halt during the pandemic," Sack admits, "but Christy Fleagle, associate athletic director, and Mary Beth Davis, a campus counselor, kept it going online and started some in-person meetings again in the fall of 2021."
Davis agrees that returning to sports following COVID-19 has increased the pressure on student-athletes. "So much of an athlete's identity is centered on their sport," she explains. "When they are injured, do not play well, or in the case of COVID-19, are not able to play, they lose their sense of self and purpose. When they return to sport, their own expectations, coupled with coaches' or family expectations may create an environment that is harmful to the well-being of the athlete."
In addition, wins and losses, individual performance, playing time, and academic pressure threaten the already emotionally overwhelmed student-athlete, she says. "Counseling helps student-athletes acknowledge and explore other parts of their identities, creating a more holistic perspective, improving wellbeing and ultimately performance."
Chelsea Minsky, a colleague of Davis in the Counseling Center, recalls a student who was ambivalent about trying counseling and spoke, at length, about the athlete's mentality to "always do better." The comment revealed the student's perception that engaging in counseling would be tantamount to admitting that he was not doing well and perhaps unable to deal with the issues himself.
The epiphany came when the student realized that "in some ways, mental health counseling is like working with a coach — an emotional/ mental health coach." He now feels that there is strength in seeking support.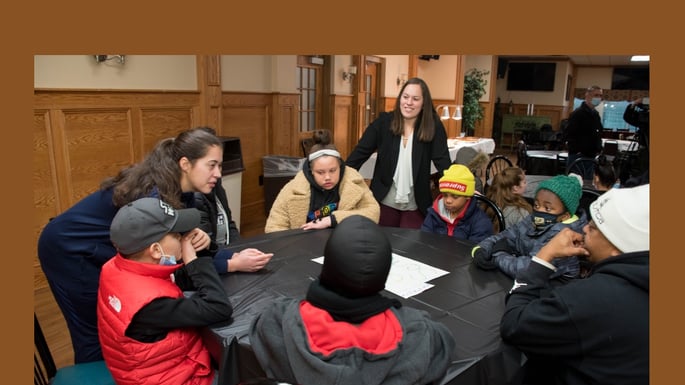 SERVICE PROJECT: Inspiring Youngsters
Beyond providing role models like Coach Schuler and a university commitment to mental health, Neumann also engages student-athletes to participate in its Franciscan tradition of service, one of the university's core values. Each NCAA team on campus is asked to adopt a cause and support it every year.
In 2021-22, one of the best examples of service was embodied by the women's ice hockey team, which marked its 20th anniversary season this year. Before a Senior Day celebration and home match against Manhattanville College in February, players met students from Drexel Neumann Academy to encourage them to attend college and earn a degree.
Along with Coach Gina McLaughlin, players Jasmine Martinez and Vicky Maloney answered questions from more than a dozen DNA students and their parents about the life of a college athlete, including how to balance the demands of academics and sports.
After the meeting, as part of Neumann's partnership with the Ed Snider Youth Hockey Foundation, the youngsters were treated to lunch and good seats at the game.
Drexel Neumann Academy is an independent Catholic elementary school located in Chester, Pennsylvania. The school is co-sponsored by Neumann University, Saint Katharine Drexel Parish, the Archdiocese of Philadelphia, and the Sisters of Saint Francis of Philadelphia.
Service to others teaches life lessons and perfectly embodies a piece of advice attributed to St. Francis: "Preach the Gospel at all times. When necessary, use words."