SPORTS RECAP: Winter and Spring 2022
Men's Ice Hockey
Caption for main photo above: Forward Dexton Mozell eager to receive the puck.
The men's ice hockey team was a young squad this season. Their season ended with a record of 8-16-1 after a loss to Wilkes University in the United Collegiate Hockey Conference (UCHC) first round by a score of 7-4.
Freshman phenom, Nick Martino, was named the UCHC Rookie of the Year and earned second-team all-conference honors. Martino was a force to be reckoned with all season long for the Knights. His 15 goals, 24 assists and 39 points all led the team and placed him tied for fifth among UCHC scoring leaders.
The young Knights will look to build on a strong end to their season as they try to go even further into the playoffs next season while returning all but six players.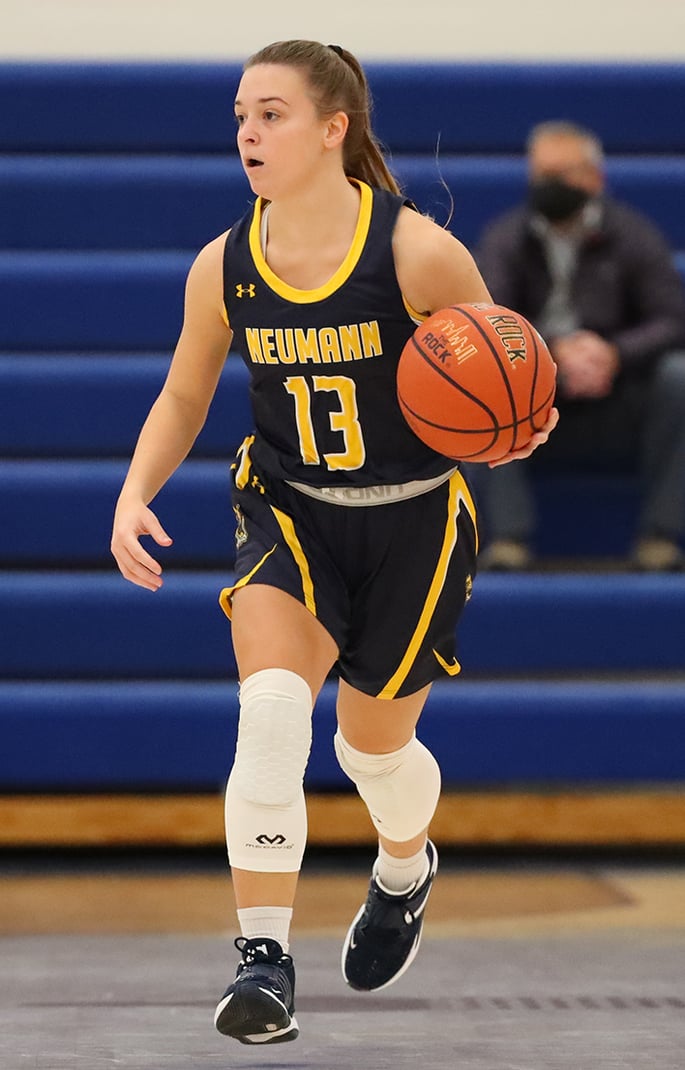 Women's Basketball
The women's basketball program continued to show progress this season. The young team was made up of 10 underclassmen who gained valuable experience. The team finished with a 9-17 record and fifth place in the Atlantic East Conference. The team lost to Gwynedd Mercy by a score of 74-73 in a very exciting playoff game. The scoring leaders for the season were Terea Hunt, followed by Madison Stewart and Tierra Harris. Harris was named All Tournament in the Drew Tournament, and Hunt was named All Tournament in the Montclair State Tournament.
Women's Ice Hockey
In their first full season back from the pandemic, the team battled incredibly hard throughout a season with a depleted roster due to COVID protocols and injuries. The team finished the season with a record of 2-20-2.
Katelyn Brown was a senior forward on the team this season. She ended the season and her career as the overall leader in games played in program history and second in total points in program history.
Men's Volleyball
The program started in 2018 and they are very proud to have the first two, four-year players complete their college careers here. Senior Eric Van Horn, who played all four years, led the team this year in service aces and holds all-time career records in kills (5th), aces (3rd), and blocks (3rd). Teammate senior Jules Maiorano is also a four-year player who spent his time on the court setting for the Knights. Jules owns the #1 spot in career assists at 1,262 and the career #1 spot in digs at 422. Both players contributed greatly to the success and stability of the growing program. The team finished the season with a 7-14 record.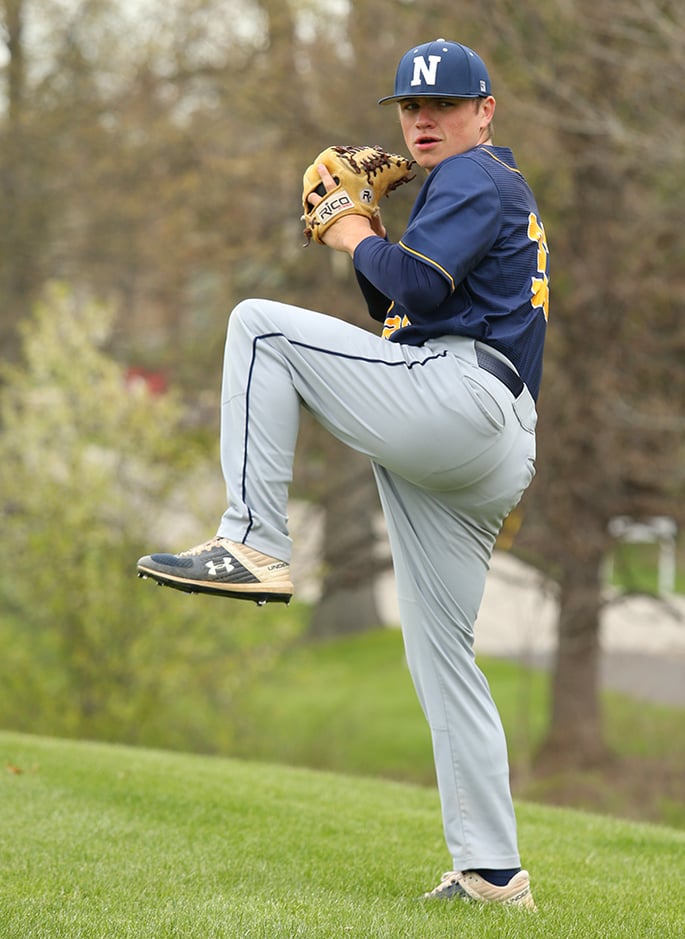 Baseball
The baseball team finished the season with a 13- 22 record, including two wins over rival Cabrini University. This extremely competitive squad was led by a hardworking, good group of seniors. Stand-out players on the team included pitchers William Hart and Brennen Hatala, and position players Shawn Vega, Ryan Lopez, Marcus White, Zach Ray, and Anthony Basciano.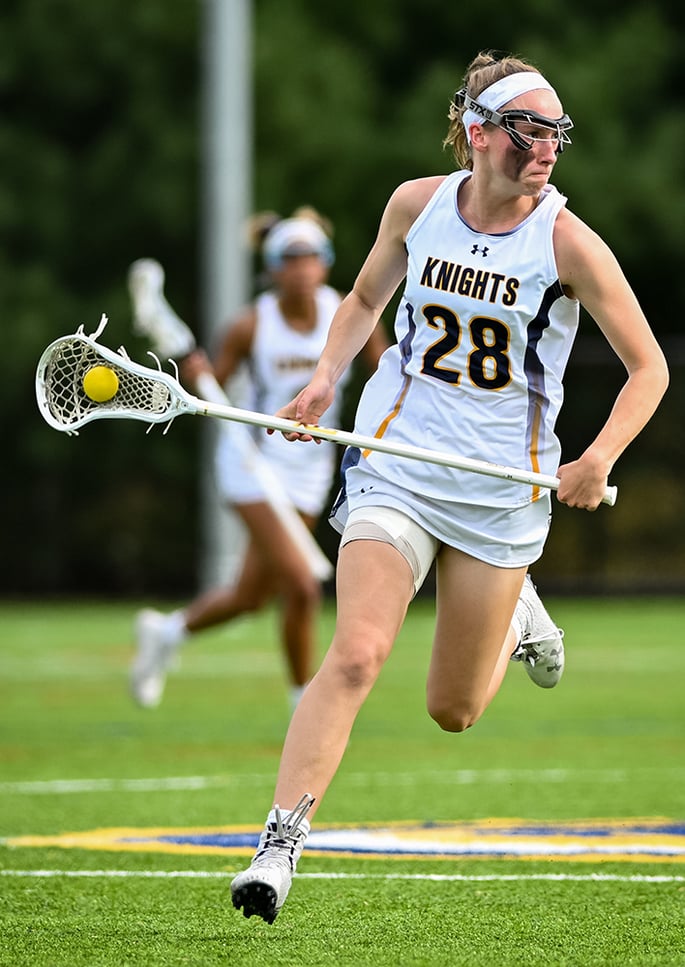 Women's Lacrosse
The women's lacrosse team finished the season with a 9-8 record, winning the AEC first round playoff game but unfortunately losing the AEC semi-final game to Marymount University. Senior attack superstar, Brylin Adams, scored her 100th career goal this season in a win over Immaculata University.
Men's Lacrosse
The men's lacrosse team finished the season 11-8, tying the all-time win record. Drew Conlon broke the all-time points record held by Don Seeger (218) which has been standing for 23 years. Drew totaled 223 points. Seniors Drew Conlon and Brett McLaughlin earned Atlantic East All-Conference First Team honors. Senior Kyle Daly and grad student John Giovinazzo earned Atlantic East All-Conference Second Team honors.
Softball
The softball team finished the season at 13-27, but with a new head coach and a very young squad, there is a lot of promise for the program in the future. A season highlight was winning both games against Cabrini University in the last regular season conference games that landed the team in a fourth seed for playoffs. Sophomore Elizabeth Shire had a great season at third base, batting .389 on the year with 3 homeruns, 19 RBIs, and a slugging percentage of .600. Senior Emily Reid was a standout at second base, batting .362 with 42 hits on the year, and senior Vanessa Bowen contributed at first base, batting .310.
Men's Tennis
The Neumann University men's tennis team advanced to the Atlantic East Conference Championship game this season but unfortunately fell short to top-seeded Marymount University. The team finished with an impressive 7-3 record. Daniel Bonowski was named First Team All-Conference in singles action. Vince Landis received Second Team All-Conference honors, also for singles play. Neumann garnered Coaching Staff of the Year award, led by Head Coach Sam Miles.
Women's Tennis
The women's tennis team had a trying season, finishing with a 1-7 record. Three members of the team were named to the 2022 Atlantic East Women's Tennis All-Conference team. Hannah Asaka was named First Team All-Conference in singles action. Kylie Seeger and Kaitlyn Smith were each named second team in singles play.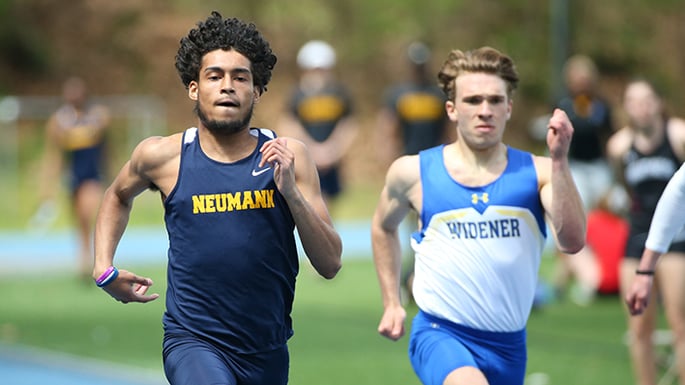 Track & Field
Three Neumann students from the Outdoor Track and Field team received conference honors. Courtney Humphreys and Sophia Parrish made Second Team All-Conference. Humphreys was outstanding in the 1500m (5:21.59) run to finish second in the race. Parrish finished second in the javelin throw (29.63 m), narrowly missing a first-place performance by just 0.35 meters.
Drew Konieczny received two First Team All-Conference honors. The first year phenom continued to dominate the track with two first place performances in the 800-meter run (1:59.53) and the 1500-meter run (4:06.44). His time in 800-meter race was a new Atlantic East Conference Championship meet record.
The top finishers in each event are named First Team All-Conference, while the runner-up received Second Team All-Conference honors.