Clean Water for Kenya
Clean water, a daily staple that so many take for granted, is a precious commodity in many parts of the world. Aaron Lemma '22 has witnessed this dire need in his travels to Kenya and is working to rectify the clean water shortage for thousands of Kenyans.
Lemma is the outreach and operations manager for a non-profit called Water is Life Kenya. The organization is based in Newark, Delaware, but its focus is on the people of Kenya, a country in East Africa with a population of more than 47.6 million.
Water is Life Kenya was established by Joyce Tannian in 2007. As a resident of New York City during September 11, Tannian was touched by the immense love and support her city received after the terrorist attacks. She was inspired to volunteer, leading her to southern Kenya in 2005. While there, Tannian experienced the country's drought firsthand and heard the phrase "water is life" from her Kenyan friends.
In the organization's 16 years of operation, 27 water projects have been completed, translating into 80,000 having access to clean water. These projects include drilling wells to provide clean water for drinking, cooking, washing, and livestock. The cost per well ranges from $80,000 to $100,000.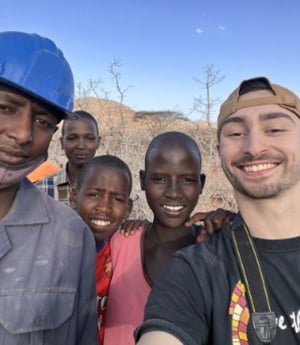 "Primarily, we do deep borehole wells, which go anywhere from 200 to 300 meters down. We realized that in order to keep these wells functioning, we had to make sure people had incomes. So, we started a livestock business for the Maasai people (the indigenous group they serve). We teach them how to manage their livestock better, which has increased incomes around the wells," Lemma explained.
Not only is clean water vital to healthy living and survival for Kenyans, but it also has educational implications. According to Lemma, girls in Kenya cannot attend schools because they spend six to eight hours a day carrying water from community lakes and rivers to their homes.
He learned about the organization while teaching Biology at Neumann Goretti High School in Philadelphia, where he became intrigued with the natural world and realized that he wanted to work to combat climate change. He saw the opening at Water is Life and applied.
With a Neumann master's degree in Business and Organizational Leadership, he has worked for the organization since the summer of 2022, cultivating donors and enhancing fundraising opportunities.
In February of 2023, Lemma traveled to Kenya and saw the good that Water for Life is doing in that country.
"It's impressive to be able to do the kind of work that we do from Newark, Delaware, because all of our projects are in Southern Kenya," he said. "My job is to tell that story and build relationships so we can continue doing this work because there's a lot of need."
"Sometimes doors open, and I'm fortunate that I recognized that. This is emotionally challenging work, but it's such a privilege, too," he said. "This is what I wanted to be doing."
MAIN PHOTO CAPTION: Lemma with Water is Life: Kenya's co-founder, Maasai elder Joseph Larasha, in Kajiado County.