New Academic Plan Embraces Student Goals, Promotes Innovation
During the last several years, the university's Executive Team has closely monitored changes in the expectations that prospective college students and their families have about the results of earning a bachelor's degree. These new suppositions about outcomes reflect marketplace demand and are based on hard data about the college search process and enrollment in specific fields of study.
In an April 27, 2023, article, titled "The 7 Trends Shaping Small Colleges," published in The Chronicle of Higher Education, Mary Marcy wrote: "Students are increasingly interested in disciplines like computer science, data analytics, nursing, education, criminal justice, and exercise science — fields that offer a linear path to employment. Most of these disciplines are not in the traditional liberal arts."
Diego Nunez, a writer for The Valencia Voice, noticed the same trend last year. "In the 2020-21 school year, Humanities majors experienced a drop across the United States. This marks the thirteenth consecutive year that the field has steadily declined in numbers … As of late, the dramatic shift in numbers has become more blatant … steadily decreasing by the tens of thousands since 2010."
With a reorganization of academic offerings that took effect on July 1, 2023, Neumann has done more than simply shift into a new, pragmatic approach. It has planted the seeds of synergy and innovation for multi-disciplinary programs that will develop students' critical thinking skills and make them valuable team members for corporate or nonprofit employers.
"The reassignment of programs from Arts and Sciences to other academic schools will generate insights, collaboration, and innovation among our faculty," says Dr. Chris Domes. "The result will be creative and cross-disciplinary courses that will blend the intellectual depth of traditional liberal arts with the talents that students need for leadership in their chosen careers."
According to Interim Provost Katie Barnes, "The academic realignment will help position us for the future by allowing us to repackage what we have in more innovative and entrepreneurial ways that will allow Gen Z students to find a field of study that is applicable to them. It will break down silos and promote collaboration."
Affirming the trends noted in The Chronicle, she adds, "Students want to graduate and have tangible skills, so that they can make a living and support their extended families."
The new academic structure maintains three of Neumann's four schools and redistributes programs and faculty previously housed in the School of Arts and Sciences into the other three.
Communication and Digital Media, Mathematics, and Pre-Engineering are now in the School of Business as are general education programs in art, languages, music, and theater. English, Criminal Justice, Liberal Arts, Political Science, Pre-Law, and Psychology are part of the newly re-named School of Social Sciences, Humanities, and Education. Biology, Medical Laboratory Science (formerly Clinical Laboratory Science), Pre-Chiropractic, Pre-Med, and Pre-Pharmacy are housed in the School of Nursing and Health Sciences.
Three majors have been discontinued but will reappear in the curriculum in other forms: Arts Performance and Production, Data Science and Analytics, and Marketing.
The Core Curriculum is undergoing a review in the coming year.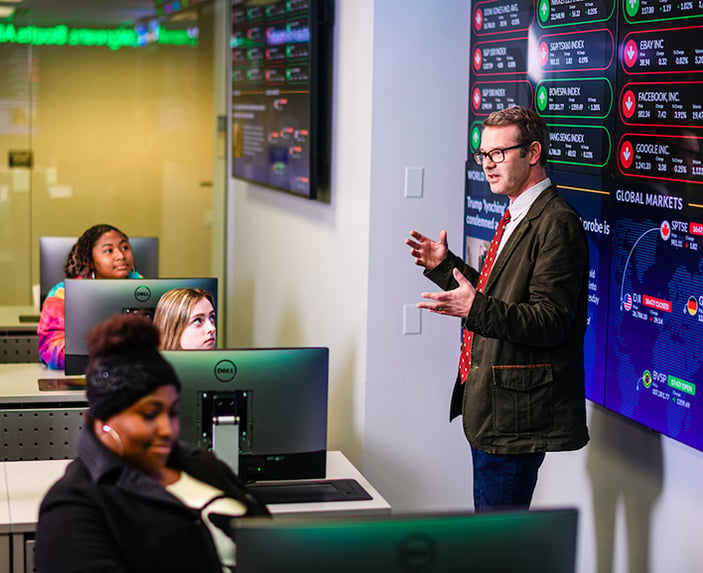 Eric Wellington, dean of the School of Business, sees potential matches for the art, theater, and music programs in his discipline. Although these areas are not majors at Neumann, "What they align with in the School of Business are students who want to be in the business of art or the business of music. It's similar to our Sport Management program for students who want to be in the business of sports."
He is eager to work with Communication and Digital Media, too, because of the myriad technology programs in his school. "It's a perfect marriage with the stellar amenities we have in the Mullen Communication Center. We can really ramp up the CDM program."
He envisions new majors, minors and general education courses that offer more tangible, practical, technical, hands-on skills.
Amy Hoyle, dean of the School of Social Sciences, Humanities, and Education, agrees with the approach. "I am looking forward to incorporating the new programs in social sciences and the humanities into our school," she says. "Faculty are already seeing great opportunities to collaborate across programs."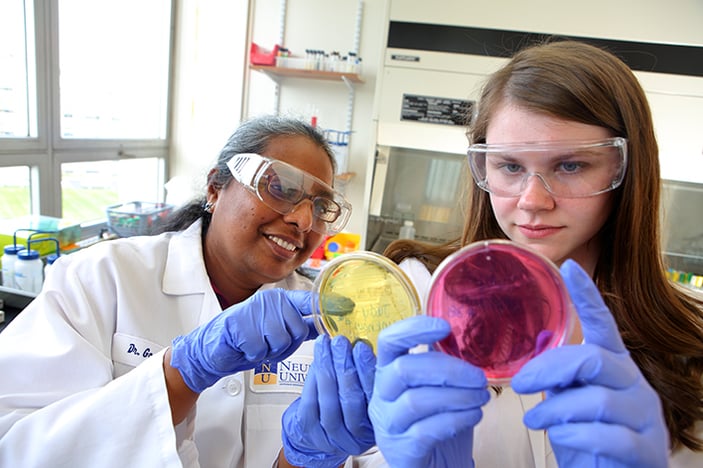 The School of Nursing and Health Sciences is ready to incorporate the science programs. "This restructuring, along with faculty expertise, will lend itself to new opportunities for student and faculty collaboration and growth," says Dean Theresa Pietsch. "We welcome the sciences programs, which provide a solid foundation for students with an intended career in the health sciences."
Look for future issues of Accent to report on new interdisciplinary courses, programs, and majors that faculty have launched because of the reorganization of schools.
AT A GLANCE: Academic Majors by School
School of Business
Accounting (BS)
Accounting/MS in Accounting (4+1 BS/MS)
Business Administration/Finance (BS)
Business Administration/Human Resources (BS)
Business Administration/International Business (BS)
Communication and Digital Media (BA)
Computer Information Systems (BS)
Computer Programming (BS)
Cybersecurity (BS)
Degree Completion Programs (bachelor's degrees)
Finance (BS)
Mathematics (BA)
Pre-Engineering (BS)
Sport Management (BS)
Sport Management/MS in Sport Business (4+1 BS/MS)
MS in Accounting
MS in Business and Organizational Leadership
MS in Cybersecurity
MS in Sport Business
School of Nursing and Health Sciences
Biology (BS)
• Pre-Chiropractic/Pre-Podiatric
• Pre-Med
• Pre-Pharmacy
Biology/Medical Laboratory Science (BS)
Biology/Secondary Teacher Certification (BA)
Health Sciences (BS)
Health Science/Exercise Physiology (BS)
Health Science/Health Educator (BS)
Health Science/Pre-Athletic Training (BS)
Health Science/Pre-Occupational Therapy (BS)
Health Science/Pre-Physical Therapy (BS)
Health Science/Strength and Conditioning (BS)
Nursing (BS)
MS in Athletic Training
MS in Medical Laboratory Science
MS in Nursing
Doctor of Physical Therapy
School of Social Sciences, Humanities, and Education
English (BA)
Criminal Justice (BA)
Criminal Justice/MS in Accounting (4+1 BA/MS)
Criminal Justice/Police Academy Option (BA)
Early Elementary/Special Education (BA)
Educational Studies (BA)
Liberal Arts (BA)
Political Science (BA)
Political Science/Police Academy Option (BA)
Pre-Law (3+3 BA)
Psychology (BA)
Secondary Education (BA)
Social Work (BSW)
MS in Clinical Mental Health Counseling
MS in Education
MS in Forensic Psychology
Doctor of Education: Educational Leadership