Reaching Their Potential: First-Generation Magic
Students who are among the first in their families to attend college regularly deal with financial stress, a significant part-time work schedule, a lack of knowledge about how higher education works, and even the pressure of well-meaning family expectations.
With its Franciscan mission, small classes, and faculty who thoroughly enjoy teaching, Neumann provides a fertile environment for these students to grow, learn, and succeed. Here are the stories of three such students who have achieved their college dream, evidence that Neumann has more than its share of first-generation magic.
During the last five years at Neumann, 51.9 percent of freshmen (1,037 of 1,998) have been first-generation students.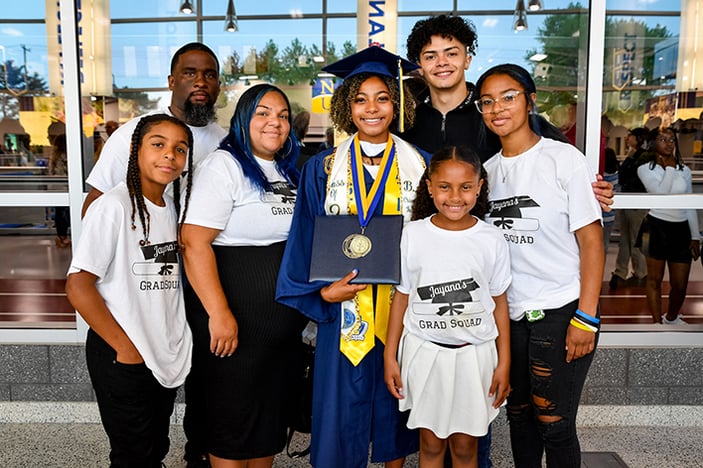 Jayana Murray
Jayana Murray is only 20, but she already has her college degree in hand thanks to her intellect and an extraordinary work ethic.
As a student at Collingswood High School, she took seven Advanced Placement courses, earned college credit for all of them, and banked almost a year's worth of courses before she set foot on campus.
A first-generation college student from a large family (she has seven siblings), she set her sights on graduating early and, on May 13, walked across the Mirenda Center stage to receive her Criminal Justice degree from Dr. Chris Domes after just three years.
During her time at Neumann, Jayana spread her wings and experienced more than academic life. She played women's lacrosse and, during her final year, joined the Air Force National Guard and earned a spot on the Philadelphia 76ers dance team.
"My dad was my biggest inspiration in joining the military," she explains. Her father is a former Marine, but she chose the Air Force National Guard "because it sounded like a better work-life balance." She signed up on August 30, 2022, and since then, has spent one weekend a month at McGuire Air Force base in Atlantic City.
She has a six-year military commitment (plus two years of being on call) that started immediately after graduation with basic training in San Antonio, Texas, and continues with tech school in neighboring Wichita Falls.
"I enlisted to be an aircraft mechanic, but my ultimate goal is to fly the aircraft. I want to be a pilot," she says.
Her flight plan doesn't stop there, however. "Eventually, I want to work for a three-letter agency, hopefully the FBI."
She confesses that she always wanted to go to a big, Division I school and was originally looking at Penn State. "Then one of my high school lacrosse coaches [Liz Martin] was hired by Neumann. We chatted, and I decided to play lacrosse at Neumann."
She has no regrets. "I'm happy with the way it worked out. I got to stay close to home, and my coach is awesome."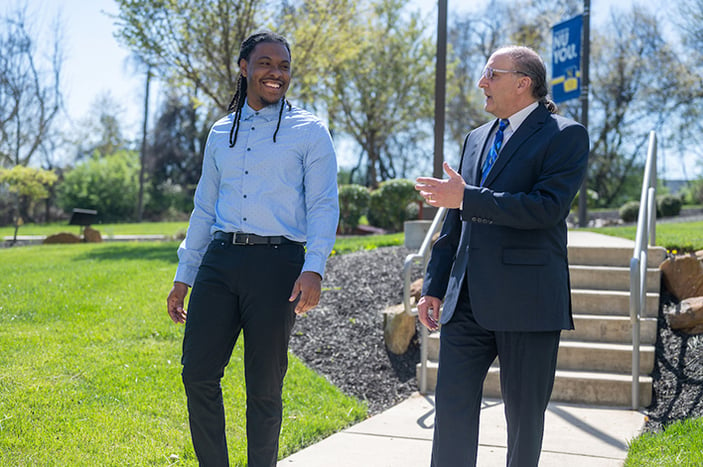 Omar Bruton
When Omar Bruton was a senior at Chichester High School, he knew that he wanted to continue his education, but he had modest goals.
"I was determined to go to technical school," he admits. "I wanted to work with my hands." In 2019, he even completed one semester at Pennsylvania Institute of Technology.
During this time, he developed an interest in investments and began researching the field. His grandfather learned of Omar's curiosity about finance and paid his fee for an Online Training Academy course in King of Prussia. Omar's instructor was a financial analyst, and the class intensified the young man's focus on business and finance.
With a Business Administration degree now in mind, he applied to Neumann and Widener University and received scholarship offers from both institutions. "In the end, it came down to cost, and Neumann was the more affordable option."
At Neumann, Omar hit his stride. Dr. Jeffrey Graber recognized his talent and suggested that he switch majors from Business Administration to Accounting.
"I first met Omar in my Financial Accounting (ACT 103) class during the pandemic in fall 2020," said Graber. "I suggested that he consider accounting as a major for several reasons. For example, he was bright and eager to learn, and he wasn't afraid to ask questions. Sometimes, he was the only student to attend class in person [during COVID hybrid classes]. Now that's a dedicated student."
Omar began researching internships and discovered a paid, six-week summer fellowship program offered by JPMorgan Chase. He received guidance in crafting a professional resume from Preeti Singh, the director of Neumann's Career and Personal Development office. Singh even connected him with an alumna working at the company so that he could learn more about the company's culture.
Omar got the fellowship, which he completed in 2022. He and his teammates developed a customer relationship management tool for minorities, which they presented to bank executives.
He performed so well that he was invited back to take a full-summer internship position in 2023. He will work in the Global Finance Business Management division, gaining experience in the controller's office and financial analysis unit.
"It's been a good journey," he says, "and I've learned a lot. I love Neumann because it gave me a lot of opportunities."
Omar will graduate in December of 2023 with a recalibrated career path. "My main goal is to secure a full-time offer from JPMorgan Chase."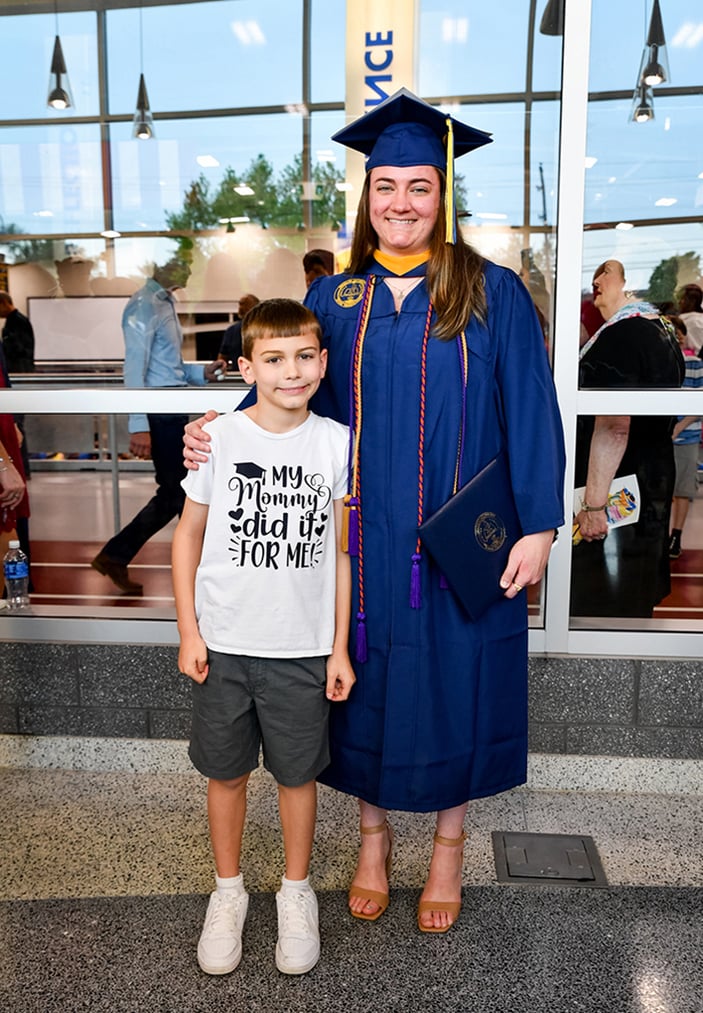 Heather Beard
Two weeks before graduating from Monsignor Bonner-Archbishop Prendergast High School in 2013, Heather Beard discovered that she was pregnant.
She had been planning to attend college, eager to begin her studies that fall at Immaculata University. Her pregnancy, however, altered her plans. She knew that she could "no longer take the traditional college route."
Now 27 and a decade removed from her high school commencement, Heather joyously walked across the Mirenda Center stage on May 13 to accept her Business Administration degree from Neumann. "I've been yearning for this moment for ten years," she confessed.
The journey was not easy. "My high school counselor encouraged me to start an associate degree program at Delaware County Community College," she recalls. "From 2013 to 2021, I took one class here, one class there, two classes in the summer."
To pay for tuition, she worked at McDonald's and as a sacristan, first at St. Cyril's of Alexandria, which closed in 2013, and then at St. Philomena's. Her son, Timothy, arrived in 2014.
Heather is a first-generation student and the first in her large family to attempt college. She has two brothers (31 and 20) and three sisters (30, 25, and 22). "We're a Beard sandwich," she jokes, "with the boys as the bread and the girls in the middle."
After starting as a teller 25 years ago, her mother is now a loan servicing coordinator for Franklin Mint Federal Credit Union. Her father suffered an aneurism in 1996 and is disabled.
Heather received her associate degree in August 2021.
"I met with my advisor at DCCC and expressed a desire to finish my degree. What pushed me is that it was my dad's one and only dream that one of his kids graduate from college."
She wanted to take classes online at a college that provided the most aid. "Neumann was able to offer me a first-generation scholarship that blew me out of the park."
She also felt a sense of community at Neumann. "The professors were great when I met them. Neumann just stood out."
Heather was especially impressed with Dr. Debbi Bromley. "She is so inspiring. I want to be just like her because she's a very professional woman in a man's world. She's proving that women can do just as much. Neumann is lucky to have her."
Heather began the last leg of her odyssey to a degree in August 2021 and took five or six classes each semester for the past two years.
What's next? "A mommy-and-me year with my son."