Athletics Round Up Fall
Cross Country
The Neumann cross country team was able to adapt well to a new coaching environment this season. The team demonstrated an excellent work ethic and gave 100% at each practice and meet.
The big wins for the cross country team this year came from freshman standout athlete Andrew Konieczny, who won the Dan Talbot Open in Neumann's backyard at Rose Tree Park in Media and then placed ninth at the University of Delaware Invitational.
In the off-season, the team plans to work on gaining more self-confidence and focus. According to head coach Chris Simpson, "Overthinking and running do not mix very well."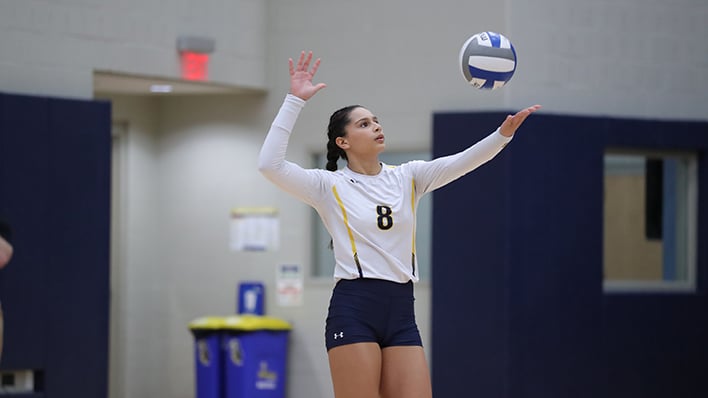 Women's Volleyball
The women's volleyball team finished the 2021 season with a 4-2 record in the Atlantic East Conference and 13-18 record overall. The Knights entered conference post-season play as the three seed. In the first round of the playoffs, the Knights defeated Immaculata 3-0, but the Knights' season ended in the semifinal round as they were defeated by Marymount.
During the season, the Knights had a very balanced attack lead by Ariana Pena, Breanna Hickey, Maria Brown, Dani Smith and Catie Esslinger. Regan Hickey, Lauren Garvey, Anna Mansel and Jules Dill all played key offensive roles. Tori Burgess and Reagan Walker anchored a stellar defensive unit.
Ariana Pena was named to the Atlantic East First Team All Conference while Bre Hickey and Dani Smith were named to the Second Team All-Conference.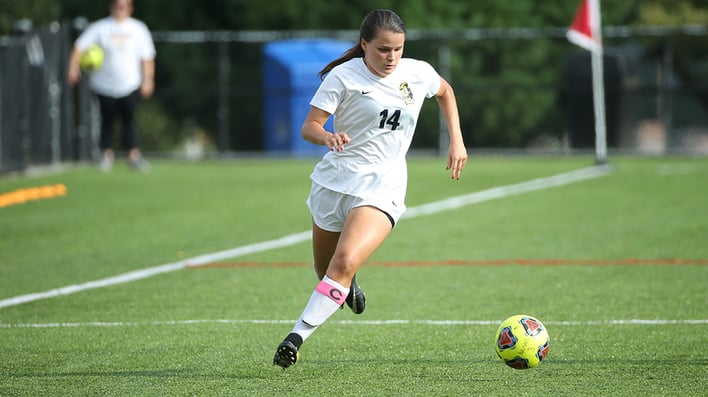 Women's Soccer
The women's soccer team had a successful season that included post-season play. The team achieved a 2-0 first-round playoff victory gainst Immaculata University, which led to an appearance in the conference semi-final for the first time since 2013. The squad finished with a record of 7-10 (3-3 conference).
Standouts included all-conference players Jordan Bard, Emily Cooper and Chloe Britton. Jordan Bard qualified for all-region consideration and Emily Cooper qualified for Scholar All-American consideration.
The team is already looking forward to next season and is eager to get back onto the turf.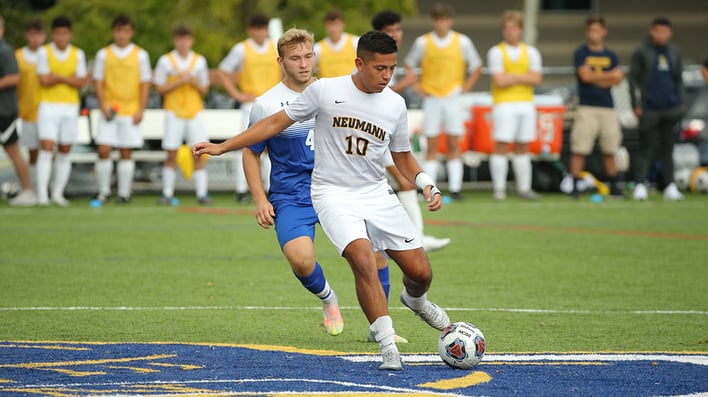 Men's Soccer
The Neumann men's soccer team had a successful season, making it all the way to the Atlantic East Conference Championship game before falling to Cabrini University.

The team's biggest win of the season came

in the Atlantic East semifinals at Immaculata. Trailing by a goal at halftime, an inspired group of Knights fought back in the second half with goals from Chris Siemien and Eddie Proud to send Neumann to their second conference final in three years.

Standout players include Marlon Trejo (first team all-conference), Sam Clavijo (first team all-conference), Alex Duopu (first team all-conference) and Jon Yinger (second team all-conference). The team finished 8-11-1 (3-2-1 conference).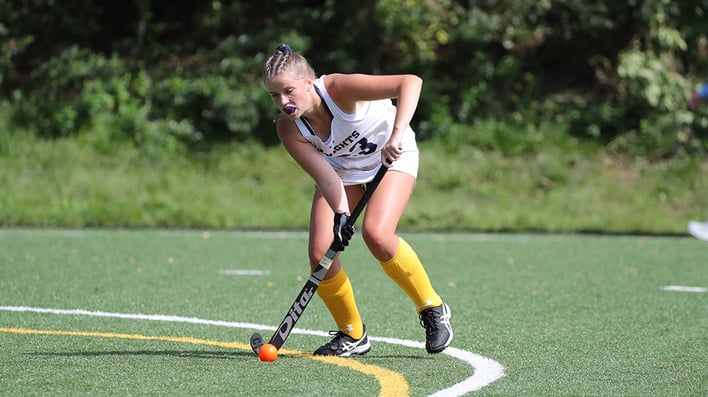 Field Hockey
First year coach Erik Enters and his assistant, Jillian Tutak (DeFina '15), took over just two days before the start of preseason.
Captains, juniors Rachel Koerner and Lizzie Frame, were leaders on the pitch and started every game for the Knights.
Other key players who made significant progress and who will be a force for the league to reckon with are sophomores Hailey Craft and Ronnie Johnson along with freshmen Lexi Stouffer, Gi Guido, Elle Smith, and Kaitlin Smith.
The field hockey team finished 3-14 in the regular season and lost their first-round Atlantic East Conference Tournament game, 2-0, to Gwynedd Mercy.