Neumann's Public Policy Expert: A Pragmatist with Imagination
Robert McMonagle, PhD, is a self-described realist. A Political Science professor, called "Doc" by his students, Dr. McMonagle believes that "politics is about how the world works." He cites early twentieth century political scientist Harold Lasswell for the best definition of politics: "Who gets what, when and how."
His own epitaph, he lightheartedly tells colleagues and students, should be "Life in the world is politics and bureaucracy."
McMonagle's devotion to pragmatism, however, does not limit his imagination. He is a man of ideas who is deeply intrigued by the application of both practical and creative concepts to the political systems that govern society.
The courses he has taught in his more than 20 years at Neumann range from Political Economy and Constitutional Law & Civil Liberties to Political Philosophy and Contemporary American Political Issues. In the classroom, he emphasizes critical thinking and communication skills, both written and verbal. Former students recall the debates and business memos that he assigns with aching frequency.
In Dr. McMonagle's classes, "we wrote papers all the time and made oral presentations, too," recalls Jamie Lenko, a law student in Delaware who appreciated the classroom rigor. "One day, I'm going to have to stand in a court room and get my argument across."
Doc McMonagle is also known for his teaching and research on energy and the environment, two issues that he believes are inseparably intertwined. At one time, he admits that he was "relatively neutral on the environment" but cites two influences that altered his thinking. Before beginning his teaching career, McMonagle served as a deputy legislative director on Capitol Hill for Oregon Congressman Bob Smith, who represented several sparsely populated counties near the border with Idaho. McMonagle recalls that Smith always used to say that he "served people who make their living off the land." He was an early influence in McMonagle's environmental awareness, especially given his visits to Oregon's Second Congressional District to meet with constituents.
"The best way to measure outcomes is by the success of our students."
The other major influence in the professor's environmental evolution is Catholic social teaching and Neumann's Franciscan values. "I do empirical research," says McMonagle with a measure of pride in his voice. "Others, like the Sisters of St. Francis, can use the research to inform their normative advocacy, and I've become an advocate myself." He also notes living in Colorado with his family for a year solidified those values.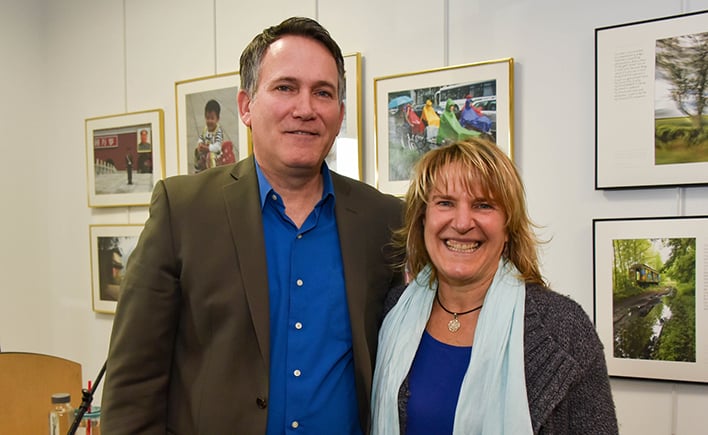 He expanded his Temple University doctoral dissertation into a book, Caribou and Conoco, which explains the political and social variables that drive important public policy debates on energy and the environment.
McMonagle is also a proponent of civic engagement, working with other faculty members on campus to support voter registration drives, visits to campus by public officials of both parties, and events to celebrate the service of veterans. He's known for his Pizza and Politics debate-watching parties, which are regularly followed by some lively discussion of the issues by students.
Several years ago, the professor successfully negotiated an agreement to allow Neumann students to participate in Temple's Harrisburg Capitol Semester program and use credits toward a Neumann Political Science degree. Neumann's participants have advanced to law school and consulting work. He believes that internships in Washington, D.C., would also provide valuable experience for students and has discussed with President Chris Domes his support for gaining this experiential learning for Political Science majors.
An admitted political junkie, McMonagle has twice thrown his hat into the ring as an independent Republican candidate. He ran for Congress in 1996 and for Delaware County Council in 1997, both times without official party endorsement or funding. He lost both races but broke 12,000 votes in 1997 on a "reform" platform and supports recent successes including the creation of a Delaware County Health Department in the age of COVID-19. "It is long overdue."
When asked how he evaluates success in the classroom, McMonagle doesn't hesitate. "The best way to measure outcomes is by the success of our students. We may be a small program, but the quality of our alumni is stellar, given the breadth of their careers in law, education, business, and the non-profit sectors"
Doc holds a PhD in Political Science from Temple University and a master's degree in Public Policy Studies from the University of Chicago. He first started teaching at Neumann in 1996 as an adjunct and became a member of the full-time faculty in 2002.