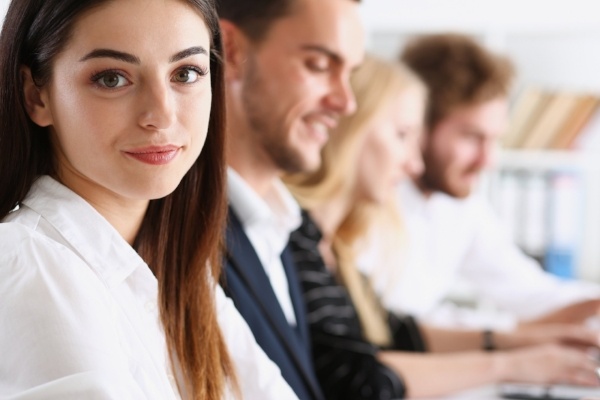 Do undergraduate programs in either accounting, business administration, computer information systems, marketing, or sport management interest you?
If so, you're in luck, because Neumann University offers all of these degrees under their Division of Business & Information Management. If any of these majors spark your interest, read on for a short introduction to each program and hear what some NU students have to say about their experiences!
Accounting
Neumann's Accounting program introduces students to the complexities of business both at the national and international level. In order to ensure a graduate is well-rounded upon graduation, NU's Accounting students are introduced to a liberal arts curriculum. This curriculum allows graduates to compete more effectively in a constantly changing business environment.
Neumann also offers a five year program, which encompasses both a B.S. in Accounting and an M.S. in Accounting with an emphasis on Forensics and Fraud Detection.
After graduation, many Accounting majors pursue a professional designation, such as:
Certified Public Accountant (CPA)

Certified Management Accountant (CMA)

Certified Internal Auditor (CIA).
Business Administration
Neumann's Business Administration major is designed to prepare students with a critical understanding of how businesses operate. Students are able to learn both in the classroom and through practical experience by working in various settings through completion of a Cooperative Education placement in Business Administration.
Students pursuing the Business Administration degree must select from one of the following three tracks:
Human Resources

International Business

Finance
Students in Neumann's Business Administration program have the opportunity to take upper-level courses in economics, finance, accounting, management, marketing, and information management. Engaging with a variety of business courses provides students with interdisciplinary knowledge.
All NU Business Administration students are required to participate in an internship. We assist students in finding placement where they can best apply their skills.
Take for instance, Nicole Collevechio, a 2017 Business Administration students. She explains why her internship experience at the Diligent Fire Company was so beneficial to her college experience.
Computer Information Systems
Would you like to channel your passion for technology towards the functional areas of business?
Our Computer Information Systems major allows you to do just that! In this program, you'll learn to support the functional areas of business such as accounting, human resources, international business, finance, marketing, and management.
Not only will you be able to utilize technology, but as a student in our program, you will get hands-on experiences that will give you the opportunity to develop skills in programming and computer languages, computer architecture, web development, and data communications.
We believe in a well-rounded education, which is why our Computer Information Systems major also relies on a strong liberal arts foundation. This ensures that graduates are not only able to communicate well but are also able to adapt to an ever-changing tech environment.
Marketing
Earning your bachelor's degree in Marketing at NU gives you the opportunity to pursue a career in a variety of fields: Product management, advertising, sales, retail management, and marketing research are among these fields. Aside from classroom teaching, learning is supplemented by practical experience through the completion of a marketing internship with a local business.
At Neumann, you'll also become an expert in your field by learning from expert faculty who come from Wall Street to top sports marketing firms from around the nation.
Former Marketing and Sports Management major, Gabriele Bendistis, explains how she used her degree in Marketing from Neumann to earn herself the Group Sales Account Executive position at the Wells Fargo Center.
Sport Management
NU's Sport Management program uses internships to equip students with practical experiences. Students have completed internships with the Philadelphia 76ers, Philadelphia Flyers, Wilmington Blue Rocks, Miami Dolphins, Pocono Raceway, and Lincoln Financial Field.
Neumann alumni, Nicole D'Angelo, shares her experience as Social Media Manager for the Reading Royals. While at Neumann, she interned for the Philadelphia Flyers which helped her earn the position with the Reading Royals after graduation.
B.S. Sport Management and M.S. Sport Business
Does the idea of scheduling events and establishing a budget for a multi-million dollar complex interest you? We offer a five year program that leads to a B.S. Sport Management and M.S. Sport Business, which will prepare you with the skills needed to succeed in a challenging career in the sports industry.
The B.S. Sport Management/M.S. Sport Business program features expert practitioners with experience in the sport business industry including Comcast Spectacor, Philadelphia Eagles, Comcast SportNet, National Lacrosse League, and Ed Snider Youth Hockey.
In keeping with Neumann's Franciscan tradition, all of our programs emphasize respect for individuals, academic excellence, social responsibility, and career preparation. The faculty and staff show their ongoing dedication and commitment to students by providing a first-rate education with personal attention both inside and outside the classroom.
If you would like to learn more about any of Neumann's programs, please request more information here!
Learn more about these programs and others that Neumann University has to offer by subscribing to our weekly blog — NeuDirections!