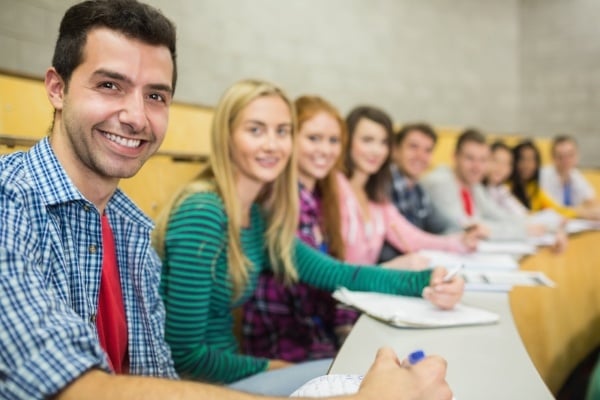 For the fifth consecutive year, Neumann University students enrolled in the Teacher Preparation Program have traveled to the Benedictine School in Ridgely, MD, for a professional development/service learning experience.
The Benedictine School is a non-graded, twelve month residential and day school for males and females, ages 5-21, grades K-12, with mild-to-severe disabilities and autism.
Eight undergraduate Early Elementary/Special Education majors along with three faculty moderators, Dr. Leonard J. DiPaul, assistant dean of Education, and Drs. Daniel McKee and Megan Scranton, associate professors of Education, spent January 3-5 working at the Benedictine School.
The Neumann students were assigned to classrooms and worked with teachers and students. "The staff and children were very warm and welcoming. The teachers want you to learn what they do," said Elise Acevedo. "And they made sure we felt comfortable. I learned it is ok to be nervous, but be open-minded, too."
Additionally, there was an opportunity to assist with the resident students and learn about this aspect of the program. Morgan Brandenberger, who served on the trip last year as well, said, "I was surprised they remembered me after only one visit last year. It was nice to see the growth of some of the kids."
The trip also included a visit to two local group homes which serve adults with disabilities. The students had dinner with the residents and enjoyed a heart-warming experience which even included a birthday celebration for one of the residents.
Several students commented that they now want to pursue a career in Special Education whereas they had not been interested in the field prior to the trip.
It is no surprise that the Neumann students fit in so well at the Benedictine School. Both institutions share the values of respect and reverence towards the dignity of the person. This relationship between the two institutions has developed into more than just a service trip. In fact, Jessica Head '17 was impacted so greatly by the trip last year that she applied for and secured a job with the Benedictine School after graduation.
The group of eight students from Neumann University included Elise Acevedo, Morgan Brandenberger, Meghan Czapka, Maria Cheeseman, Jessica Dicken, Megan Ezekiel, Victoria Schneider, and Rebecca Woodland.
Read more stories from Neumann University students and faculty by subscribing to our weekly blog NeuDirections!