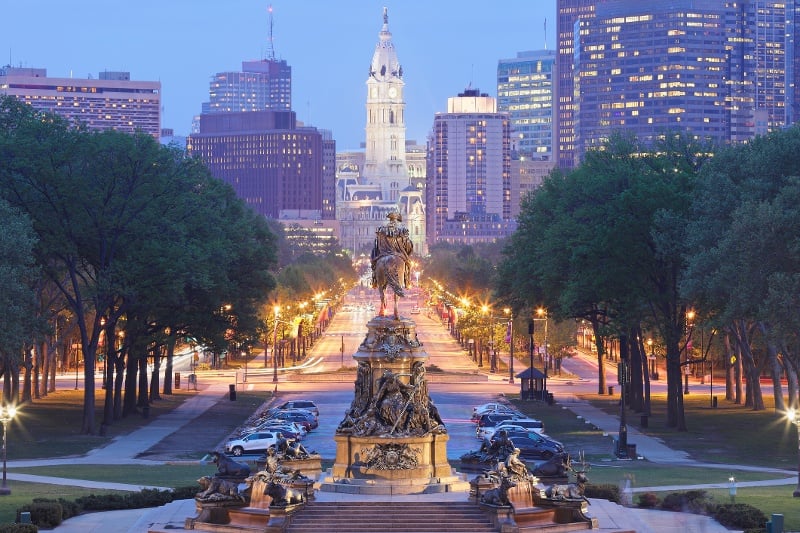 After you make the decision to invest in a graduate degree, you want to be sure to have a good understanding of what careers are seeing positive job growth — both nationally and in the area in which you're pursuing your degree.
From education to health professions to business, the Team at Neumann University would like to highlight several career fields currently experiencing high growth rates.
By the way, set in Aston, Pennsylvania, in the heart of Delaware County, Neumann's scenic campus offers an intimate, small-town atmosphere with easy access to the cultural hub of Philadelphia, which is less than 30 minutes away by car. Neumann University is also a short distance from Washington D.C. and New York City, as both are about 2 hours and 30 minutes away.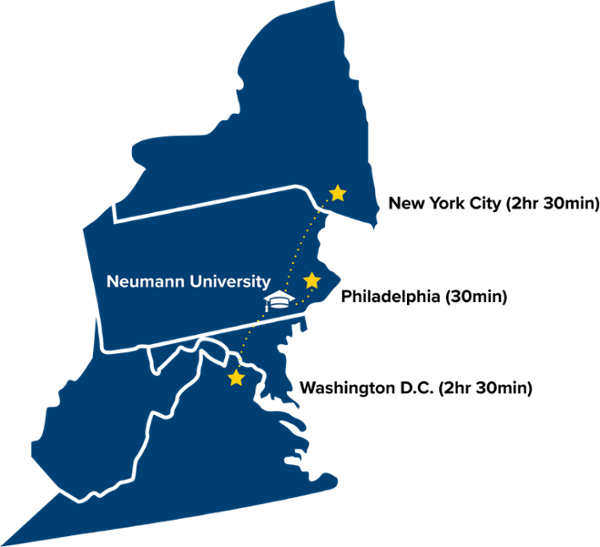 1. ATHLETIC TRAINER
You might be interested to know that the field of athletic training is booming in Pennsylvania, especially for professionals who obtain a master's in athletic training.
Due largely to an aging population as well as to a growing awareness of the seriousness of sports-related injuries, athletic training is a field that is expanding rapidly. the athletic training industry is expected to grow an astounding 23 percent by 2026, which is much higher than the national average.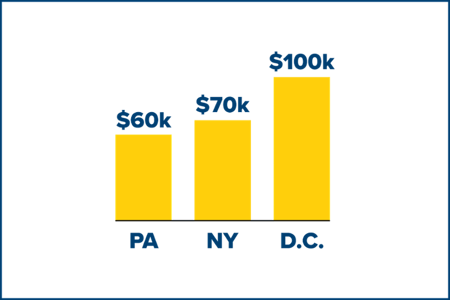 The salary that you can expect to earn as a certified athletic trainer may vary by state. In Pennsylvania, skilled professionals can earn upwards of $60,000 annually. Job prospects in other major cities are attractive as well: In New York, athletic trainers can earn over $70,000 per year, whereas top earners in Washington, D.C. have the potential to earn over $100k annually.
2. PHYSICAL THERAPIST
Physical therapists, as well as other PT-related careers, help injured or ill people improve their movement and manage their pain. Physical therapy is one of the fastest-growing jobs in Pennsylvania as the average salary for a PT is $71,219. Pursuing an advanced degree in this field can eventually lead to higher positions such as Clinical Director, Director of Rehabilitation, and Health Care Manager.
Nationally, the median annual wage for physical therapists was $86,850 in May 2017. Employment of physical therapists is projected to grow 28 percent from 2016 to 2026, much faster than the average for all occupations.
A Doctor of Physical Therapy degree might sound intimidating at first, but in our program at Neumann, we've done everything we can to set you up for success. Our comprehensive curriculum will cover everything from neuromuscular physical therapy to biomechanics and kinesiology. Note: The DPT program at NU adopts a 3-year, weekend-taught, on-campus instructional format.
3. NURSE PRACTITIONER
Students with an M.S. in Nursing might benefit from knowing that Nurse Practitioners are among the top careers in Pennsylvania. With an average salary of $98,260, Nurse Practitioners are responsible for coordinating patient care and may provide primary and specialty healthcare.
Nationally, the median annual wage for nurse anesthetists, nurse midwives, and nurse practitioners was $110,930 in May 2017. Overall employment of advanced nurses is projected to grow 31 percent from 2016 to 2026, much faster than the average for all occupations.
If you want a dynamic and rewarding career that focuses on providing people with quality health care, you may want to apply for Neumann's M.S. in Nursing program with a specialty in adult gerontology. Note: Courses start in the late afternoon and are only part time, so they're easy to fit into your busy schedule.
4. CLINICAL MENTAL HEALTH COUNSELOR
The Bureau of Labor Statistics projects that 60,300 new jobs will be added to this field by 2026. This translates to an anticipated job growth of 23 percent (faster than the national average) and an excellent career outlook for qualified professionals.
To work as a clinical mental health counselor, professionals must obtain a minimum of a master's degree and maintain a license to practice (in most states). Professionals with more education and advanced training are frequently rewarded with more job options, higher-paying salaries, greater chances for career advancement, and increased professional flexibility.

5. CHIEF EXECUTIVES
Earning an average of $219,000 per year, Chief Executive Officers are some of the best-paid professionals in Pennsylvania's job market. Top business executives devise strategies and policies to plan, direct, and coordinate operational activities of companies/organizations.
Nationally, the median annual wage for chief executives was $183,270 while the median annual wage for general and operations managers was $100,410 in May 2017. Professions in this field are projected to see a job growth rate of 8 percent.
The M.S. in Business and Organizational Leadership also provides the coursework necessary to master the skills and behaviors of competent leaders to help you become an effective leader in your industry and create a cooperative team that focuses on healthy business practices. Note: This graduate program can be done fully online or on campus in an 18-month accelerated format.
6. ACCOUNTANTS
According to the Bureau of Labor Statistics, there is strong competition for jobs in the most prestigious accounting and business firms. You can increase your chances at landing one of these positions with the knowledge you'll gain in a relevant master's program. The 18 months that NU's program requires will be well worth it: A master's degree in Accounting is one of the top ten highest paying degrees in business, with a starting salary of $66,000.
Residents of Pennsylvania who wish to pursue careers in the field of accounting are particularly fortunate. The annual mean wage for accountants in Pennsylvania is about $75,000, higher than the national average, and Pennsylvania has the fifth-highest employment level of accountants and auditors by state.
Additionally, accounting is listed as one of the top 5 industries for entrepreneurs, so if you'd like to launch your own business, the specialized knowledge you'll gain from a graduate degree will give you a definite advantage!
7. EDUCATION ADMINISTRATORS
Post-secondary education administrators, such as school principals, superintendents, and university presidents earn an average salary of $109,000. Pennsylvania currently has 4,740 professionals employed in related positions. These jobs serve as chief executive positions for schools and address issues regarding student achievement, budgeting, and resources.
Nationally, the median annual wage for postsecondary education administrators was $92,360 in May 2017. Advanced educators are also projected to experience a job growth rate of 10 percent.
Neumann's doctorate in Educational Leadership is the perfect fit if you're ready to expand your career beyond the classroom by taking on more of a school principal or superintendent role. Note: NU's Educational Leadership program has a Pre K-12 Administrative Certification option available as well.
NEUMANN'S GRAD PROGRAM ARE DESIGNED WITH YOU IN MIND.
Regardless of your graduate program, Pennsylvania has a substantial job market with promising job growth in a large number of fields. To learn more about the graduate degrees offered at Neumann University, check out our list of programs. You can also request more information, or if you're ready, start your application online today!
Explore our digital resource page, Types of Graduate Business Degrees — Which One is Right for You?