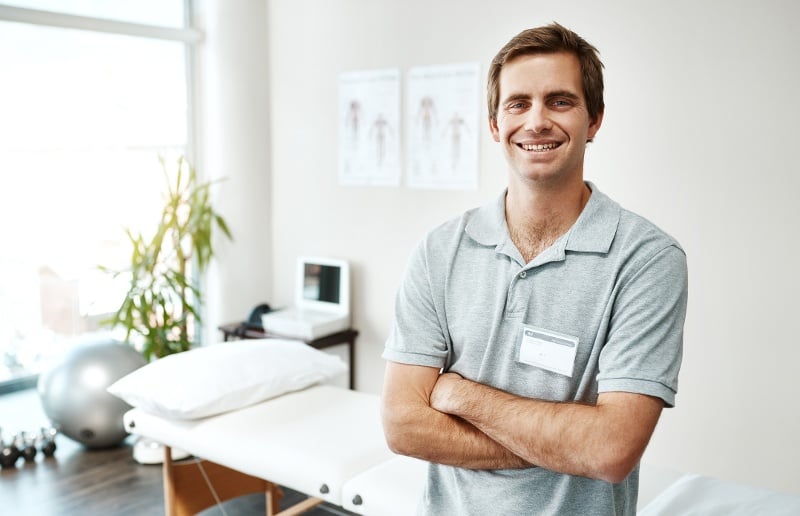 Did you know that the Bureau of Labor Statistics projects that the employment rate for physical therapists is supposed to grow 28 percent from 2016 to 2026? Did you know that the median average wage for physical therapy professionals is over $87k annually?
There are so many reasons why pursuing a Doctor of Physical Therapy degree is an amazing option for health professions looking to jumpstart a results-oriented career — one that will positively impact the lives of individuals and communities. With that in mind, here's what you need to know about Neumann University's own renowned Doctor of Physical Therapy program.

Prestigious Accreditation — CAPTE:
Neumann's Doctor of Physical Therapy program is accredited by The Commission on Accreditation in Physical Therapy Education (CAPTE), the authority on accrediting physical therapy education programs. CAPTE is nationally recognized by the U.S. Department of Education and the Council for Higher Education.
CAPTE grants specialized accreditation status to qualified entry-level education programs for physical therapists and physical therapist assistants. According to CAPTE: "Accreditation is a process used in the U.S. to assure the quality of the education that students receive. It is a voluntary, non-governmental, peer-review process that occurs on a regular basis."
The fact that NU's DPT program is accredited by CAPTE ensures that graduates of the program have the skills and knowledge needed to succeed in the competitive field of health professions.
NU's DPT Program Outcomes:
At NU, we're dedicated to academic excellence, and we are proud to highlight our incredible pass and job placement statistics within the DPT program. In both the 2016 and 2017 academic years, the aggregate pass rate was an astounding 98 percent, while the graduation rates for the 2017 and 2018 academic years were at 91.4 percent.
Further, 96.3 percent of the 2018 class passed the NPTE, the examination that every graduate of a physical therapy program must pass to become a licensed physical therapist.
Numerous Clinical Affiliations:
Neumann currently holds contracts with 500 clinical affiliation sites, which means that there is absolutely a site that is the perfect match for you to learn through experience. NU's DPT students are placed in clinical sites based on their learning needs and professional goals.
Within NU's DPT program, there are 3 required clinical experiences, which include outpatient and inpatient settings (may include specialty area or home care). Experiences cover all levels of patient acuity and across the lifespan with conditions and diseases involving all body systems commonly encountered by physical therapists.
DPT Program Schedule:
Our Doctor of Physical Therapy degree program is offered on-campus, which gives you the opportunity to learn techniques and strategies from our experienced faculty in-person. To fit into your busy schedule, our 95-credit hour, 3-year program is offered exclusively on weekends.
Although offered in the weekend format, this program is full-time, and you will be considered a full-time student. If you choose to work while enrolled, we recommend you not work more than 15-20 hours/week.
Understanding the booming PT field:
As previously stated, the average salary for physical therapists is over $87k nationally and the job placement rate is at 28 percent, which is much higher than the national average. But in Pennsylvania specifically, physical therapy is one of the fastest-growing jobs in the region, and the average salary for a PT is $71,219. Pursuing a Doctor of Physical Therapy degree can eventually lead to higher positions such as Clinical Director, Director of Rehabilitation, and Health Care Manager.
you can jumpstart your pt career today!
Our tight-knit community of educators and students are determined to boost your professional potential and, beyond academics and job placement, to create lifelong learners who are passionate about their careers.
If you're interested in advancing your career in physical therapy and making a real difference in the lives of others, we encourage you to contact us today to learn more!
Visit us to learn more about Neumann University's Doctor of Physical Therapy program!