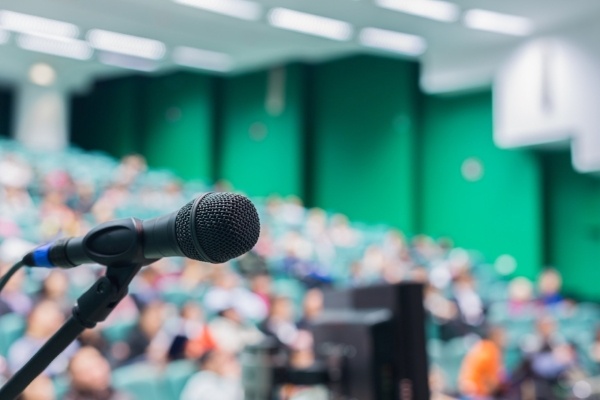 Neumann University kicked off its celebration of Black History Month with a luncheon program featuring Dr. Erica Armstrong Dunbar, African American historian and author, who spoke to a group of faculty, students, and staff in the Student Multi-Purpose Hall of the John J. Mullen Communication Center.
On the first anniversary of her book release, Never Caught: The Washingtons' Relentless Pursuit of their Runaway Slave, Ona Judge, Dr. Dunbar spoke in detail about Judge, chief attendant and favorite slave of Martha Washington, first lady of the United States of America.
Dr. Dunbar first came across her famed character about 15 years ago while completing research for her first book Fragile Freedom. "What happened to this woman? Why don't I know her?" Dr. Dunbar found herself asking after she came across an advertisement about a runaway slave that had escaped from the President's house.
After vowing to return to Ona Judge's story, Dr. Dunbar spent nine years tracking down and uncovering the life of this brave woman who longed for liberation.
As Dr. Dunbar read excerpts from her book, Never Caught, the Neumann University audience learned of Ona Judge's unwavering quest for freedom and George Washington's determination to recapture his property by whatever means necessary. Dunbar refers to Judge as "one of America's new heroes."
Dr. Dunbar is the Charles and Mary Beard Professor of History at Rutgers University and the inaugural Director of the Program in African American History at the Library Company of Philadelphia. She received her MA and PhD from Columbia University.
Neumann University continues its Black History Month celebration with the presentation "African American Leadership in the Church and Society" and guest speaker Monsignor Federico Britto on Tuesday, February 13, at 1:00 p.m. in the Student Multi-Purpose Hall of the John J. Mullen Communication Center.
Neumann University invites you to stay in touch with campus news and events by subscribing to our weekly blog — NeuPerspectives.