Come, let us sing joyfully to the LORD
The first week of the semester is done and many students are on their way to a successful year ahead. As the responsorial psalm this week states "Come, let us sing joyfully to the LORD; ... Let us come into his presence with thanksgiving." This week the Neumann community has a lot to be thankful for: starting classes again in person, reconnecting with old friends, as well as meeting new ones, and a new school year full of exciting classes and amazing opportunities! As Father Suresh always mentions in his homily: "God is good all the time and all the time God is good." We are lucky enough to be back on campus, and it is through God's good graces that we can come together again and enjoy this wonderful Neumann experience.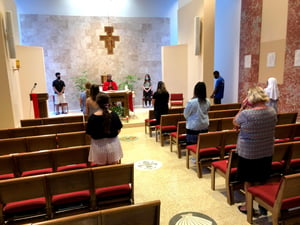 In the reading this week Jesus teaches us the Golden Rule "you should love your neighbor as yourself." As a first-year student, I have felt welcomed into my NU family with open arms. Whether it be fellow students, upperclassmen, faculty, or staff, they all have treated me as a neighbor and I feel grateful! While our first semester may be different, we should remember these words from the Gospel: "For where two or three are gathered together in my name, there am I in the midst of them." While some students join classes online, hybrid, or fully in person no matter where we gather know that God is with us always. He is here to protect us and listen to our needs. While the first week may have been stressful and the new guidelines may have taken time to get used to know that the best is yet to come and continue to be the best version of yourself. When you feel like things are getting hard this year or if you're nervous about taking this next big step like I was, remember to trust the process and continue to have faith. I wish everyone the best of luck this year and hope you have an amazing fall semester!