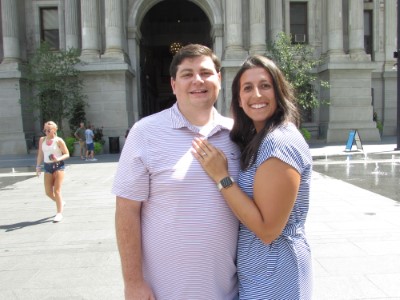 They met at Neumann University, became friends at NU, fell in love at NU, and as fate would have it, they are getting married at Neumann University. Rich Tutak and Jill DeFina, both 2015 graduates, will be the first couple to get married in our Sacred Heart Chapel. This blessed event is taking place on June 13, 2020!
As with so many events that were planned for this summer, Tutak and DeFina's wedding, which was going to be celebrated on Long Island, NY, with 300 of their closest friends and family members on June 13, had to be canceled. The global pandemic forced this couple to come up with a Plan B.
"We were going to keep the date holding on to hope," Tutak said. "But by the beginning of April we started talking seriously to postpone."
June 13 holds a special meaning for this couple. It is the feast of St. Anthony of Padua, who is known as the marriage saint. This saint is also the favorite saint of both Tutak's and DeFina's grandparents.
As a Neumann student, DeFina was very involved with campus ministry. She was the head sacristan for daily masses and she credits the campus ministry staff for helping her become the person she is today.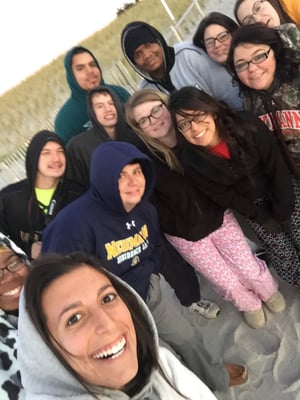 DeFina, who is the campus minister at Archmere Academy, had recently held a retreat for the Archmere staff in Neumann's chapel. She looked around and realized how much that sacred space meant to her.
"This chapel was my home away from home. I was at every single mass. I basically prayed for the life I have now in this chapel," DeFina said.
She had a conversation with Patrick McKenzie, director of campus ministry, and jokingly discussed having their wedding in the chapel if their original plans had to be cancelled.
"Their hope was to get married at the place where they met and prayed – but they knew that it could be a longshot," McKenzie recalled. "In conversation with Jill over the last couple of weeks, she refers to our chapel as her favorite place in the world. How fitting is it that she gets to celebrate her wedding there!"
There was another Neumann connection to Tutak and DeFina's planned wedding. Fr. Phillip Lowe, assistant professor of education, was going to be the celebrant. Lowe has always had a close relationship with Tutak and DeFina. He was more than willing to bless this wedding in the Sacred Heart Chapel.
"I am thrilled that the administrators of NU have permitted Rich and Jill to be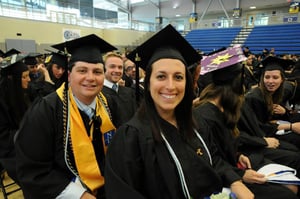 married at Sacred Heart Chapel since the original plan to be married in Jill's home parish in New York was not feasible," Lowe said. "It seems absolutely appropriate for a couple who devoted themselves to furthering the university's mission would be welcomed, during these very unsettling times, to enter into the sacrament of marriage on the campus where they met and fell in love!"
While this is a great love story, it was not love at first sight for Tutak and DeFina. When DeFina came to Neumann University, Tutak was her RA and he didn't instantly win her over. Tutak was involved with student government and became president. DeFina, in her role with campus ministry, began to work with Tutak more and more as time went on and the two became close friends. The couple started dating in their senior year.
There will be a total of 10 people witnessing the wedding in chapel which begins at 2:30 p.m. Both Tutak and DeFina have only one sibling, who with their parents will be the only guests at the wedding. McKenzie will be the sacristan and Sean McDonald will be live streaming the ceremony.
Tutak, who is the Ridley Park borough manager, said the couple's relationship and their faith is of utmost importance to both of them.​​​​​​​
"We're obviously adapting and figuring out ways to make it special for us," he said.