While the reality of these unprecedented times denied our Neumann University spring senior student-athletes a full senior season, it also created a unique opportunity for their learning and discovery.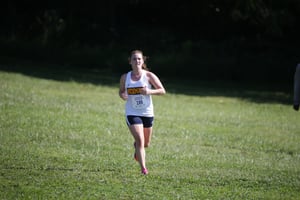 The Institute for Sport, Spirituality and Character Development invited our spring senior student-athletes to reflect and attempt to channel their pain and disappointment into something hopeful.
To better understand their disappointment, the Institute first asked seniors what hurts the most about the abrupt ending of their season. Understandably, the frustration of not playing their fourth season was paramount. "I am hurt that I worked so hard for the past four years and I could not finish my senior spring career out," said Brendan Boas, golf. Some spoke of missing out on honored rituals. "Before a match the captain announces the team and who is playing in which spot. Not having the chance to do that for a home opener with my family and friends there stinks," shared Madison Varney, tennis. Others spoke of being denied more chances to play with their teammates. "It really pains me that I never got one more opportunity to step out on the field in my uniform with my brothers," explained Chris Bellon, lacrosse.
Seniors were also invited to share the legacy they intended to leave. In their sharing, many exemplified a RISES value. For example, the core value of excellence was conveyed by some seniors. Two seniors from the men's lacrosse team spoke of their team's impressive start to what looked like was going to be a historic season. "We were on pace for having our best season in program history, and it just sucks that the remainder of this season will never get played out, not knowing what legacy my senior class could have left," shared Chris Bellon. His teammate, Alex Rucci, had hoped, "to simply just have our senior class be known as the class that came in and put Neumann Lax on the map."
Other seniors exemplified the RISES value of integrity in their reflections on their legacy. For example, Madison Varney, tennis, said "I hope that the girls would feel I had been a strong leader, and someone who always showed positivity. I have always done my best to keep a positive attitude win or loss and I hope that they saw that in me and continue to do that on their court." Baseball's Joseph Roche shared "I wanted to be remembered as the person who never gave up and accomplished his goals. I wanted to show that it was possible to do what people tell you that you can't do. I wanted to show that you can accomplish anything you set your mind on."
Seniors were also invited to share how their sport prepared them for adversity. Resiliency was the common theme and, in the current climate, a much-needed virtue. "Sports have taught me that I can't control the actions of things, but I can control my REACTIONS to them," shared Alex Rucci, lacrosse. Similarly, Joseph Roche, baseball, looks to his baseball experience for inspiration: "Every pitch and every inning you are being challenged and sometimes that challenge knocks you down. But it's always important to get back up." Julia Howell, track and field, taps into her experience as a track & field and cross country runner while she copes with the abrupt end to her senior spring season: "One can prepare as hard as they want for a good run, but there is still a level of uncertainty. As hard as it is, I have to accept uncertainty and embrace it, that is what I am trying to do in this situation."
Our seniors' reflections continue with a look back on their careers and a look forward to assisting their teammates. After Easter we will continue highlighting our seniors and their reflections on their shining moments as a Neumann University student-athlete as well as the advice they have for their younger teammates.
(Taken from ISSCD.org)