"Jesus, through his boundless love for the world, suffered to the point of death for our sake. The power of this journey is that it does not end in death. I pray that all of us may find strength in times of sorrow, and that we may be transformed into a new life." - Dr. Diane Walsh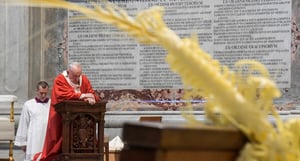 Reflection on the Palm Sunday Readings by Dr. Diane Walsh, PhD, NCC
Dr. Walsh is an Assistant Professor and Acadmic Unit Leader of Pastoral Clinical Mental Health Counseling
God is Good! Fr. Suresh's Homily for Palm Sunday
Follow the Padre Pio Prayer Center on Facebook for a live stream of Mass with the Friars every Sunday at 10:00am and evening prayer every night at 9:15pm.
AGAPE LATTE LIVE!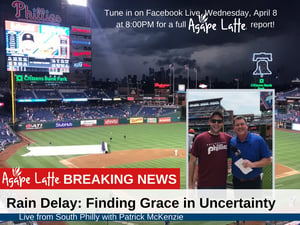 Rain Delay: Finding God in the Uncertainty
Join us on Facebook Live on Wednesday, April 8 at 8:00PM for Agape Latte!
Patrick McKenzie will share his thoughts on missing you all, missing baseball, and how to find grace in the uncertainty.
Let's continue to build community!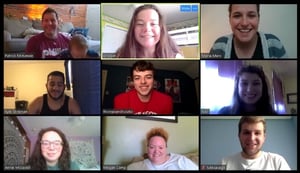 Join us for "Virtual Campus Ministry" on Thursday, April 9 at 12:00PM. Click the link above to join the video chat!
Class of 2020! Sign up for this virtual retreat to connect with your classmates, reflect on your time at Neumann and pray for your future.
Holy Week Challenge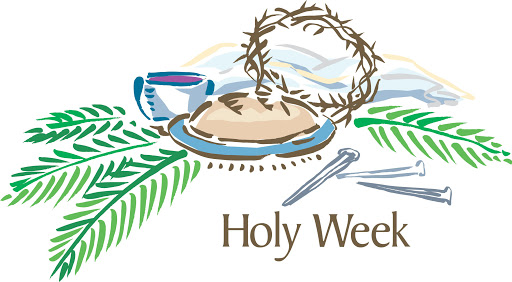 Holy Week is the week beginning with Palm Sunday and preceding Easter. In Christianity, is the most important and sacred week of the year. The last three days of the week, from the evening of Thursday to the evening of Saturday Holy are known as the Triduum.
Our challenge to you is to make these holy days prayerful and meaningful to you, at this difficult time when they are more important than ever:
Holy Thursday: The ultimate act of service, Jesus's washing of the Disciples' feet was performed on Holy Thursday. Can you give up some time in service on Holy Thursday? See service opportunities that are possible from your own home here.
Good Friday: On this somber day we commemorate Jesus's journey to Calvary and death on the Cross. The hours of 12:00PM-3:00PM are observed as the time of Jesus's death. In observation of the time of Jesus's death, can you spend these three hours away from technology?
Holy Saturday: Holy Saturday, the vigil of Jesus's resurrection, is sometimes called Joyous Saturday. Can you spend time doing something that makes you joyful this Saturday? Maybe joy for you means listening to a happy song, calling a good friend, or baking something. For inspiration, listen to Fr. Greg Boyle's thoughts about choosing joy!
Campus Ministry's Top Picks for this Week: