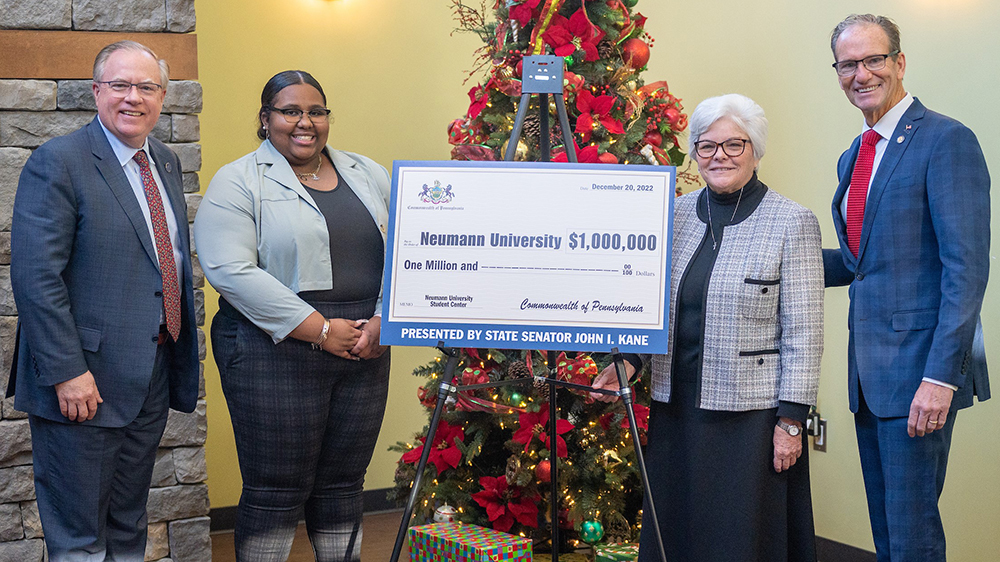 Pennsylvania State Senator John Kane presented a $1 million check to Dr. Chris Domes on December 20. The funds support the construction of a new student center, which is part of Neumann's campus master plan.
"The campus master plan is a 15-year blueprint that will position Neumann University as a very appealing option for families as they approach the college selection process in a competitive higher education marketplace," Domes explained.
The proposed site for the new building is the parking lot next to Flynn Hall on Convent Road.
"Neumann University is truly an educational pillar of the 9th District as well as our Commonwealth, and this project will be a part of so many lives," said Kane.
"Expansions and updates to Neumann not only add to the beauty of its campus, but further improve more opportunities to learn and increase the quality of campus life. This is an awesome time for Neumann, its students, faculty, and community. As Neumann's legislator, it is my duty to go to bat for the things that they need for our students, and it was my pleasure to play my part in securing this funding for their master plan."
Within the first five years of the plan, Neumann has established two priorities for new campus facilities: a student center and an ice hockey rink.
Plans for the student center include a café with food vendors, an expanded campus store, offices for student clubs and organizations, open seating and meeting spaces, and a black box theater.
The source of the funding presented by Kane is the Redevelopment Assistance Capital Program (RACP), a Commonwealth grant program administered by the Office of the Budget for the acquisition and construction of regional economic, cultural, civic, recreational, and historical improvement projects.