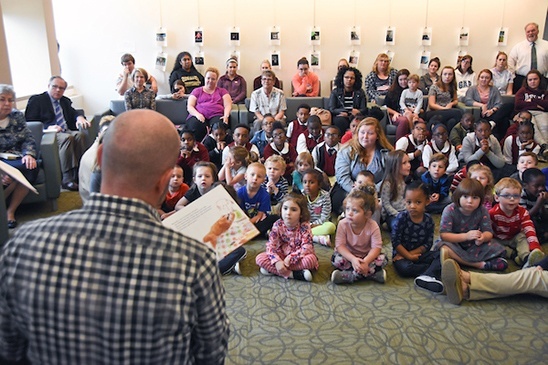 Neumann University presented the 2017 Frances and Wesley Bock Book Award for Children's Literature to Gerald Kelley, author and illustrator of Please Please the Bees, on October 16 in the Neumann University library.
The book tells the story of Benedict, a bear who has a pretty good deal going with the bees in his neck of the woods. The bees leave a jar of honey on Benedict's doorstep every morning. Pretty sweet. Then the bees go on strike. Now Benedict has to listen to the bees and consider what he should be doing in return. The moral of the story is that gratitude and kindness go hand in hand.
After reading his story to an audience of youngsters from Drexel Neumann Academy and the university Child Development Center, Kelley delivered a lecture about his work as an illustrator and author, attended by students in Dr. Gail Corso's English classes.
Wesley Bock was co-owner of Kilner's, a store in north central Philadelphia that provided equipment, clothing, and supplies to religious institutions. As a sales representative to the Sisters of St. Francis of Philadelphia, he grew to be quite fond of them and began making contributions to the order. When Wesley and his wife Frances passed away, their estate went to their nephew, who, in consultation with the library, established the Bock Book Award in their memory.
The award acknowledges Franciscan values in children's books and gives each year's winner a prize of $750, a plaque, and a gold emblazoned emblem for the book. Criteria for the award include text that is values-oriented, interesting and stimulating for ages 3-8 years, and pleasing and aesthetic. The illustrations should provide support for interpreting the story, instill a reverence for and compassion for all creation, and depict creation in all its diversity. Both the text and illustrations should promote a moral attitude and/or action.
Previous winners include Maya's Blanket/La Manta de Maya, a bilingual book written by Monica Brown, 2016; Winter Is Coming by Tony Johnston, 2015; The Cat with Seven Names by Tony Johnston, 2014; The Sandal Artist by Kathleen T. Pelley, 2013; The Ocean Story by John Seven, 2012; Mama The O Miti by Donna Jo Napoli, 2011; Felina's New Home by Loran Wlodarski, 2010; Zen Ties by Jon Muth, 2009; We Are One by Dr. Ysaye M. Barnwell, 2008; Brother Juniper by Diane Gibfried, 2007; Daniel and His Walking Stick by Wendy McCormick, 2006; Boxes for Katje by Candace Fleming, 2005; The Boy with a Wish by Harry B. Knights, 2004; In the Blink of an Eye by Dieter Wiesmuller, 2003; Where does God Live? by Holly Bea, 2002; Each Living Thing by Joanne Ryder, 2001; and Saint Francis and the Christmas Donkey by Robert Byrd, 2000.