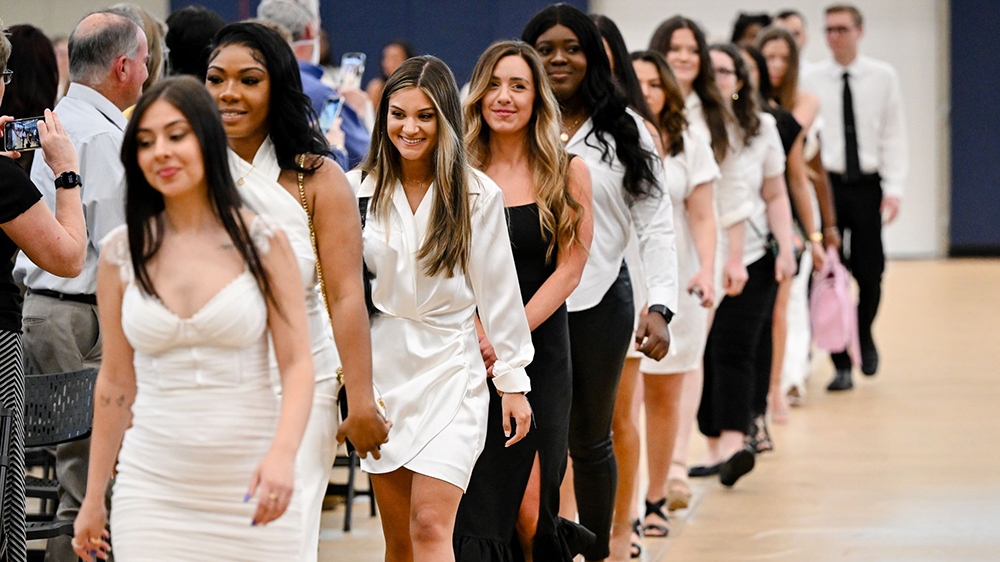 Forty Neumann University nursing students received their professional pins on Wednesday, May 11, in a 1 p.m. ceremony held in the Mirenda Center. The pins are official recognition that the students have achieved the knowledge and skills to practice the profession of nursing.
Dr. Theresa Pietsch, dean of the School of Nursing and Health Sciences, presided over the event, which was attended by approximately 150 friends and family members of the students. Two faculty members, Dr. Rebecca Mueller and Dr. Michelle Santana, assisted by reading the names of the 40 nurses and affixing the pins as they walked across the stage one by one, dressed in black and white.
Dr. Chris Domes, university president, addressed the students, noting that "Today you're being recognized not as students but as professionals. I've often heard that there's nothing like a Neumann nurse to care for you in hospital. That's not just because you're exceptionally skilled at what you do but because of your compassion, understanding, empathy, and caring. These are the values you've learned at Neumann University."
After receiving their pins, the students engaged in a university tradition, presenting roses to the family members who had supported them as they completed the rigorous Neumann nursing curriculum. As the new nurses delivered the flowers, a sea of hugs filled the arena.
When asked how she felt about finishing the most challenging program at Neumann, Alexa Lamplugh said, " Surreal, like it feels like I just started, but at the same time I feel like it's been a long time coming and I'm excited."
Regarding what nursing means to her, Nicolette Alkins said, "Everything, It's been something I wanted to do since I was a little girl. So I feel accomplished and very proud of myself, and I can't wait to start my journey."
Jillian Doyle explained her motivation to earn the degree: "My mom was a nurse growing up, and my husband was sick with cancer a few years ago and he passed away. So it's like perseverance to keep going for him."
The ceremony concluded with the induction of 14 of the students into the Delta Tau chapter of Sigma Theta Tau, an international honor society of nursing. Membership in the society is granted only to students who have demonstrated excellence in their nursing programs and have superior personal and academic records.