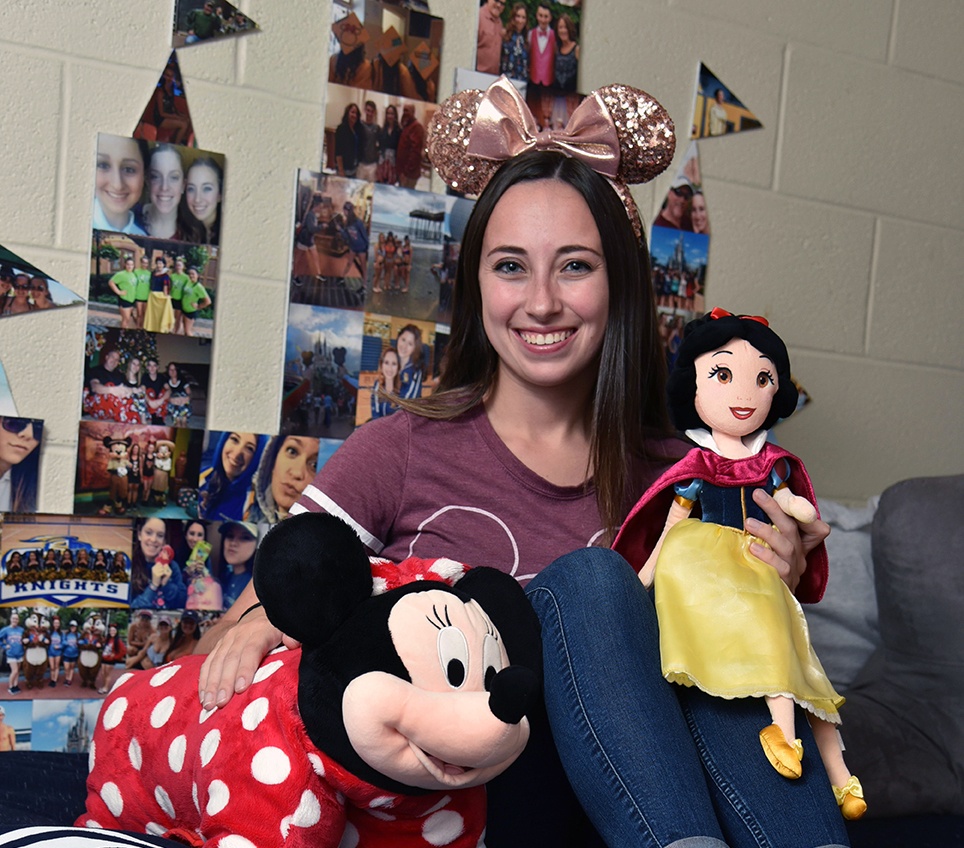 "It's like a dream come true."
That was Rebecca Cruice's reaction when she learned that she had been accepted into the Disney College Program. Her acceptance means that she will spend January 28 to August 1 of next year in a paid internship at the Walt Disney World Resort in Orlando, Florida.
According to the Disney website, interns have the opportunity to "gain on-the-job experience working in our parks and resorts, live with people from all over the country in company-sponsored housing, take part in personal and career development classes, and build skills such as problem-solving, teamwork, and communication."
"I've grown up loving Disney," admits Rebecca, whose campus dorm room is Disneyed-out, filled with photos, trinkets, gear, and other memorabilia of the entertainment giant's films and characters since before she was born.
In fact, she has been planning her Disney College Program application since she was in eighth grade. That's when her parents took her on a vacation to Florida and she met a lifeguard who gushed about his experience in the program. From that point, she was determined to earn her ears.
"I came to Neumann, knowing I wanted to do this," she explains, "and not delay my graduation." To stay on track despite planning to miss an entire semester in the Disney College Program, Rebecca took one college-level English course in high school, has earned 18-19 credits per semester since she enrolled, and took two online summer courses. "I want to graduate with my friends."
The Disney Program is selective. According to various sources, more than 20,000 students apply every year with only 4,000-5,000 accepted. For Rebecca, the process was speedy. She applied on August 20, had her web-based interview (a sort of online personality survey) on August 21, and her phone interview on August 30. She received her acceptance email on September 5.
During the phone interview, all candidates are asked to name the top three "roles" they would prefer at Disney World, a reference to various job functions and not the endless list of Disney characters from Cinderella to Cruella. As an Early Childhood and Special Education major, Rebecca identified children's activities as her first choice with attractions (rides) second and merchandise third.
She was not granted her wish, however, and was assigned to the role of lifeguard, one of the many other roles she said she would gladly accept. "I've never been a lifeguard," she admits, "but I'm eager to learn, and they provide all the needed training."
Her preliminary research indicates that lifeguards earn between $10 and $15 per hour and work approximately 35 hours each week. The workload will vary seasonally, of course, and may increase depending on the size of the crowds at the resort.
The fact that a lifeguard had inspired her to pursue the Disney College Program years ago was not lost on Rebecca. "I guess my journey has come full circle," she said.
The Disney College Program began in 1981 with 200 students from 20 colleges. The Walt Disney World Resort covers 47 square miles and includes four theme parks, four water parks, and more than 20 hotels.