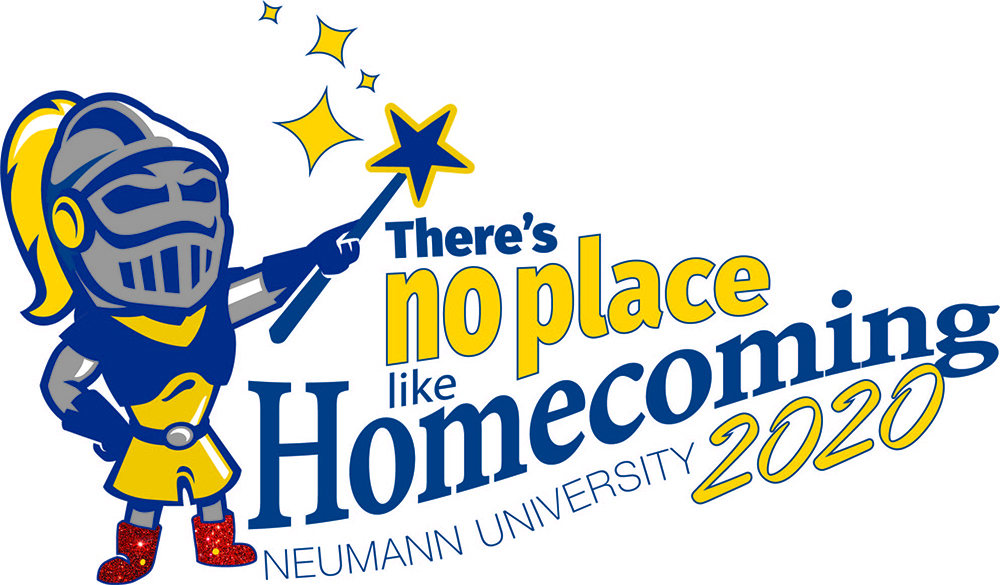 Neumann University's annual Homecoming celebration is going virtual and taking alumni, students, and families "somewhere over the rainbow." So, put on your ruby slippers and join the celebration on October 16 and 17.
The staff of University Advancement certainly didn't have straw for brains when they planned this event and they are pouring their hearts into the celebration. It takes a lot of courage to pull off a virtual homecoming, especially one titled "There's No Place Like Homecoming."
OK, enough of the not-so-subtle references to everyone's favorite movie.
Neumann's Homecoming Weekend is a long-standing tradition that our students and alumni look forward to each year. The pandemic presented challenges to continuing this tradition, but Colleen Graf, assistant director of alumni relations, and her UA colleagues found ways to keep the festivities going in 2020.
"It's still our same format. Things are going to look different, but we're still moving forward with Homecoming," said Graf. "We needed a theme and we thought we've got to do 'no place like home' because we are all home now."
Homecoming is also for our students, and the Office for Student Engagement and Leadership, along with the Student Government Association, have events planned throughout the week and weekend. These events include a virtual Free Money game show, NU Homecoming mood-changing cups, and virtual Homecoming kits that will be mailed to our students who are studying online this semester.
One of NU's Homecoming traditions has been a service project which guests partake in during the annual picnic. This year's service project is DIY. From October 1 through October 18, the Neumann community is encouraged to participate in a service project of their choice. They can share a photo of their service, post it, snap it, or tag NU, and they will receive a homecoming t-shirt.
One of the most successful Homecoming events was last year's Designer Bag Bingo, and Graf is pleased to report that this event will be held virtually on October 16. Angel Smedley '86, QVC online personality and vlogger, will once again be the MC. Bingo cards will be mailed to those who register, and the games will be called online. The winners will text Graf, who will verify their winning numbers.
In addition to beautiful designer handbags, there are also raffles prizes. The Cultural Arts Forum of Neumann University is hosting this event, and proceeds benefit theDr. Margaret Mary Kearney Scholarship Program.
On October 17, Athletics is hosting a virtual 5k walk/run.This event is free, but runners/walkers must register by October 1 to receive a Homecoming t-shirt.All participants can enter their results on the Athletics website.
A virtual mass is being offered in the afternoon on October 17 and will be live streamed on the NU Alumni Facebook page.
Homecoming 2020 concludes with a drive-in movie on October 17. Can you guess what movie will be shown?The Wizard of Oz of course!
Visitors will stay in the comfort of their own vehicles while they enjoy an evening under the stars and over the rainbow in a safe, socially distanced environment.Registration is limited to 100 vehicles and may be reserved online only.The movie will be shown in the RAB parking lot which will open at 6:00 p.m. The movie starts at 7:00 p.m.
"We knew we wanted to bring a light to this uncertain time. We wanted to do something that would be a positive experience for people," Graf said.​​​​​​​