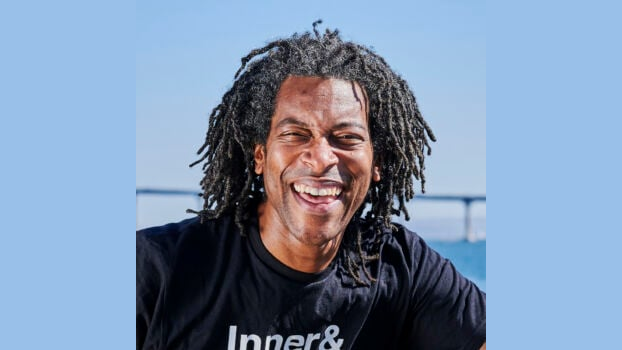 Wil Reynolds, CEO of Seer Interactive, has something that's very rare in today's wealth-driven culture. He has enough.
That's why, in 2020, he turned down an offer of $50 million for his digital marketing agency. In fact, rather than taking a mind-boggling profit, he has pledged that Seer will invest at least $15 million in needy Philadelphia communities by 2032.
Reynolds will bring his story of inspirational entrepreneurship to the Meagher Theatre on Thursday, November 9, at 1:00 p.m. when he delivers the eighth Rocco F. '79 and Mary A. Abessinio Lecture in Management and Entrepreneurship. The program is free. Registration is required.
"It was very simple," Reynolds told The Philadelphia Citizen in 2021. "The things that I would start to do with that money I found grotesque and overly indulgent and not aligned with my values. I'm not going to level my lifestyle up. I'm good where I'm at."
Where he's at is already wealthy. He started Seer Interactive in 2002 as a one-man operation out of his living room. Today, the Philadelphia-based firm is home to over 250 team members and has offices in San Diego.
He's just committed to capitalism with compassion.
Working for a company that turned a blind eye to community service was actually the epiphany that inspired Reynolds to set out on his own. As he tells the story, he asked his boss if he could work through lunch one day a week so he could leave early to volunteer at Children's Hospital of Philadelphia. He was told that wasn't possible.
Today, more than 20 years later, Reynolds still volunteers, now at Covenant House and Ronald McDonald House.
Evan Ehlers, founder of Sharing Excess, will speak after Reynolds. Launched at Drexel University in 2018, Sharing Excess addresses the need for food by delivering regular surplus from grocery stores, restaurants, wholesalers, and farmers to communities in need.
Ehlers created Sharing Excess after realizing he had fifty meals left in his college dining account with only two days left to use them. Rather than letting the meals go to waste, he decided to swipe them all out, pack them in his car, and drive around Center City Philadelphia, giving them to anyone who needed food.
Today, Sharing Excess delivers more than 250,000 pounds of food each week, working with community organizations and food banks.
Both young entrepreneurs will then answer questions from the audience.
Neumann's inaugural Abessinio Lecture was delivered by Rocco Abessinio himself on October 4, 2016. He and his wife Mary funded the Abessinio Lecture through their family foundation with the intention of bringing to campus each year a recognized professional with expertise in management and entrepreneurship.
Mr. Abessinio, a 1979 alumnus and longtime friend of Neumann, is chief executive officer of Roch Capital, Inc., a privately owned capital management firm, headquartered in Glen Mills, PA, and focused on making investments in quality assets that will be he held for the long term. He is also the founder of Applied Bank and Applied Card System, which grew to be the 10th largest issuer of Visa and MasterCard credit cards in the country.
In addition to funding an annual lecture, the Abessinio Family Foundation also established the School of Business Professorship in Management and Entrepreneurship in 2015 and funds an annual scholarship for a business student who has exemplified excellence in management and entrepreneurial understanding and application.