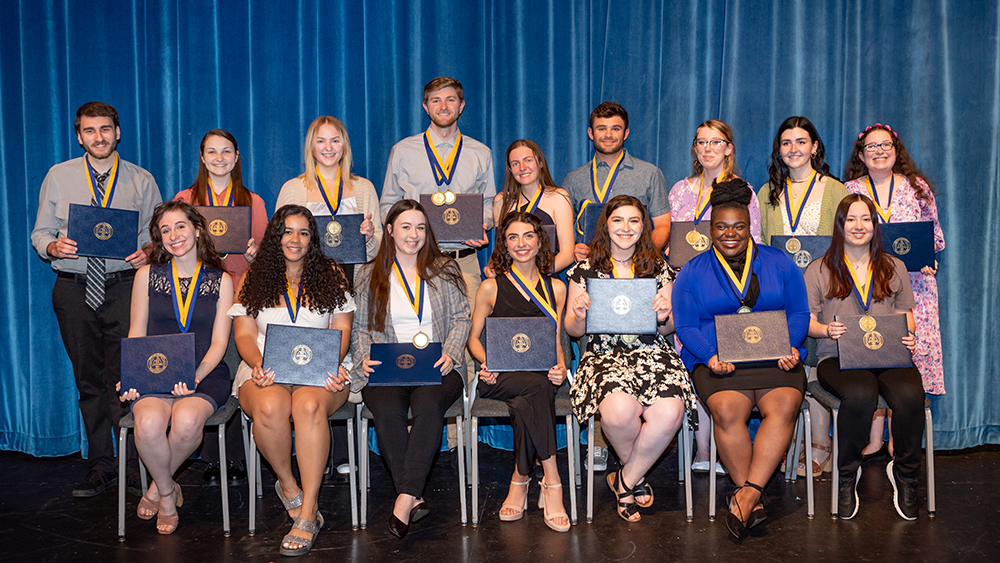 In a streamlined Academic Awards Convocation, Valedictorian Jake Loburak stole the show. He received a standing ovation from Neumann's faculty as he took the stage of the Meagher Theatre after Dr. Larry DiPaolo's introduction, which highlighted Loburak's many accomplishments during his four years on campus.
A Communication and Digital Media major, Loburak earned a 4.0 GPA, was active in campus ministry, and served as a presidential ambassador. He has earned awards from the National Academy of Television Arts and Sciences and from College Broadcasters, Inc., which recognized his work with a national award for Best Feature News story in 2019.
After completing two internships and several freelance jobs, one of which landed him at Radio City Music Hall, Loburak was hired last year as a part-time videographer for the Beasley Broadcasting Group. There, he produced a commercial for WXTU that aired on CBS3.
He has won student leadership awards and has been a guest speaker at Admissions events, sharing his Neumann experience with prospective students and their families.
He graduates on May 14 and already has three job offers from potential employers.
Faculty awards were presented to Dr. Etsuko Hoshino-Browne for excellence in undergraduate teaching, Dr. Mary Beth Yount for excellence in scholarship, and Dr. Robert Kennedy for excellence in teaching by a part-time faculty member.
Luis Garcia, an Accounting major who was unable to attend the ceremony, earned the Salutatory Medal. Garcia admits that there is a motivating factor driving his academic achievement. "My family motivates me to be successful," he says. "That way I can give them the life they deserve. They have endured and sacrificed so much through my life, and it is time for me to return the favor to them."
Nineteen other program-specific awards were presented to 21 students during the convocation, and 21 students received certificates for completing the University Honors Program.
The ceremony was completed in just over one hour because of two changes made to the event. Awards for graduate and adult students, traditionally announced at the convocation, will instead be presented at the 10 a.m. commencement exercises on May 14, and there was no honorary degree presented at the convocation this year.