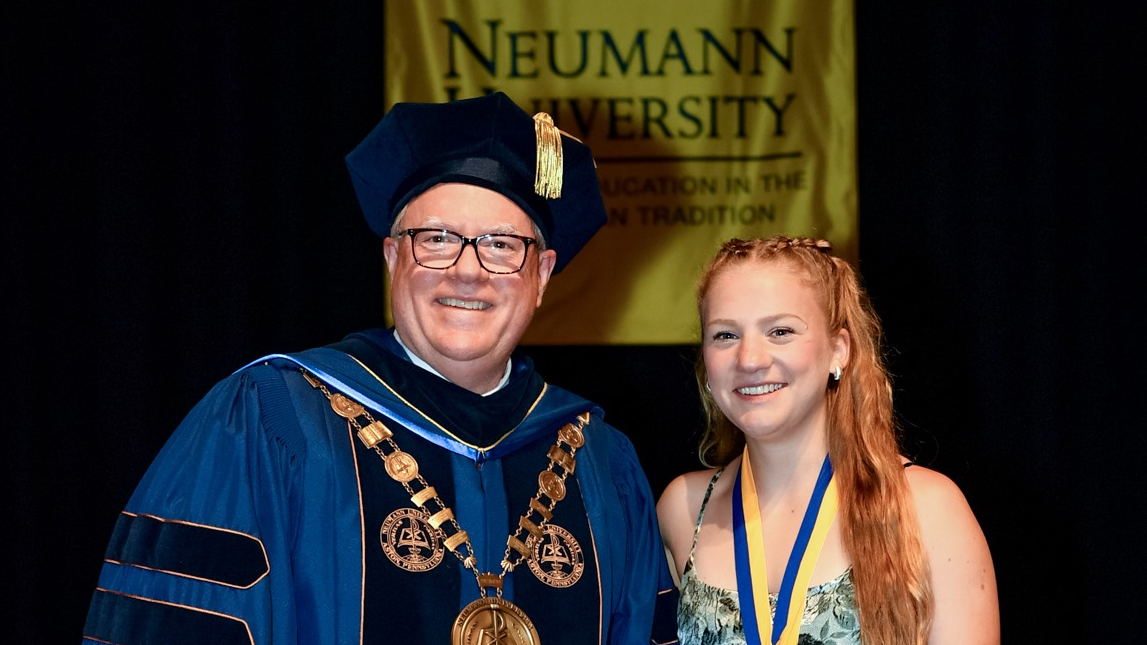 Twenty students and three faculty members were recognized for academic excellence at the May 12 Academic Awards Convocation.
Dr. Chris Domes acknowledged "the achievements of the students who reflect our values and faculty members whose contributions to teaching and scholarship have been judged as exemplary by their students and peers."
Faculty awards were presented to Ryan Savitz, professor of mathematics, for excellence in undergraduate teaching; Jude Okoyeh, associate professor of biology and clinical laboratory science, for excellence in scholarship; and Denis Anastasia, part-time lecturer, for excellence in teaching.
Dr. Katie Barnes, interim provost, awarded the valedictory medal to Sophia Parrish, a pre-physical therapy major who minored in Spanish and strength and conditioning.
Dean Alfred Mueller II presented School of Arts and Sciences awards to six students:
Gia Marcinkowska – Communications and Digital Media
Jayana Murray – Criminal Justice
Maria Ramunno – Mathematics
Noelle Chubbuck – Performing Arts
Emily Elliott – Psychology
Peyton McPeak – Political Science
Students from the School of Business received awards from Dean Eric Wellington:
Devin Joyce – Business Administration
Athena Putros – Accounting
Steve Subah – Computer Information Systems
Brian Palladino – Cybersecurity
Anthony Hando IV – Sport Management
Dean Amy Hoyle presented School of Education and Human Services awards to five students:
Suzanne Briddes, Grace Herbein, Emily McKay, and Maggie Volz – Early Childhood Education
Samantha Bittner – Social Work
School of Nursing and Health Sciences students were recognized by Dean Theresa Pietsch:
Joseph Wells – Undergraduate Nursing
Dariana Troilo – Health Sciences
Chloe MacLacklin -- Nursing
Honors Director Richard Sayres presented Honors Program certificates to Carrie Cattlett, Abigail Dunsmore, Emily Elliott, Christopher Greve, Anthony Hando IV, Katya Linton, Angelina Marone, Evan Matos, Peyton McPeak, Sophia Parrish, Maria Ramunno, Julianne Schallmo, and Darius Turner.