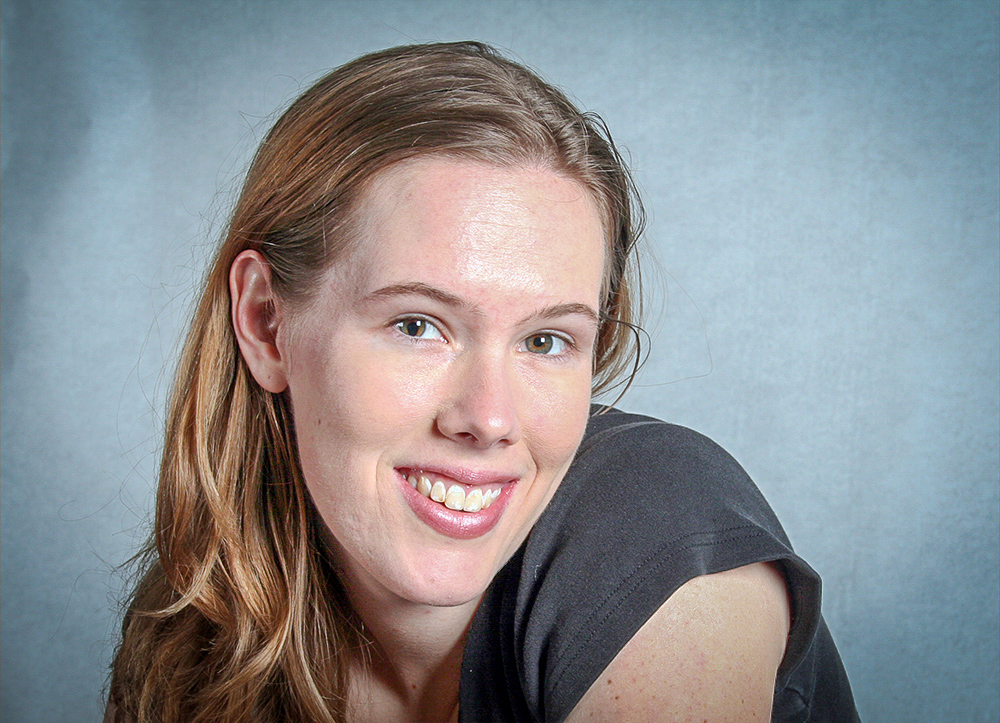 Trying to keep up with Sara McDermott is not an easy thing to do.
She has a lot on her plate. She is an award-winning filmmaker, a screenwriter, and founder of Prindie, the Princeton Independent Film Festival. But her talents don't stop there; she's also shaping the minds of Neumann University students as an adjunct instructor, and so much more.
McDermott has local roots. She grew up in Wallingford, PA, and attended Immaculata University as an undergraduate. She continued her studies at Emerson College in Boston, MA and earned her Master of Arts degree in publishing and writing.
While at Emerson, she began writing her first screenplay, Left, a coming-of-age story about Elaine, a college sophomore who was born with a paralyzed arm and aspires to be a pianist in spite of adversity. McDermott got the idea for Left when her best friend invited her to a classical concert where a pianist performed Sonata for the Left Hand. The story grew from a fascination with the concept of a gifted pianist limited to playing with just one hand.
Left won Emerson College's Evvy Award for Best Script, Drama in 2005. The Evvy Awards is the nation's largest student-run, multi-camera, live award show, judged by industry professionals.
Upon graduation, she moved back Pennsylvania and was hired to write web series and scripts for feature films, including one based on the outlaw and gunfighter, Billy the Kid. McDermott was flown out to New Mexico to visit places once occupied by the outlaw to assist her with the writing.
After New Mexico, McDermott headed north, far north. For two months, she worked for a tour guide company in Alaska writing three-hour and five-hour scripts that tour guides would deliver to the visiting tourists, which included, according to McDermott, "lots of corny jokes."
She then moved to New York City and was employed as an international marketing coordinator with a publishing company but after three years, she found it was too difficult to keep up with her passion, screenwriting, and left the company.
McDermott spent the next two years in Empire City writing. It was at this time that she brushed the Emerson College dust off of Left and gave it a major rewrite. After just a month in circulation, Left was bought by production company, Gaddis Visuals, in 2014 and the finished film was released on Amazon in 2018.
When asked about inspirations for scripts, she replied, "My ideas come from everywhere; the problem is turning those ideas into full stories."
During this time, McDermott was once again noticed for her talents. She won Achievement in Short Film at the Williamsburg International Film Festival and the Director's Choice Award at the Digital Film Academy's New Filmmakers' Screening at the Film Anthology Archives in New York City for her short drama, Chance.
In 2014, she moved to Princeton, NJ and fulfilled a life-long dream when she founded The Princeton Independent Film Festival (Prindie). Her goal was to promote diversity in film, and part of Prindie's mission is to showcase female and minority filmmakers. With McDermott's leadership and guidance, this event has grown from a mere idea to a staple on the Princeton community calendar. Due to the success of the festival, she has also been invited to develop and deliver engaging presentations within Princeton's film community, as part of both the Princeton University Film Forum and the Princeton Festival.
McDermott has recently returned to her roots, where she continues to write and win awards. She optioned two feature film screenplays she wrote this spring. The first, Still Waters, was optioned to producer Bruce Miles, and the second, Corruptible, to an independent film production company, Mission Ranch Films.
Still Waters is a "creature feature," as McDermott affectionately describes it, about an alligator in the bayou who begins to feed on people after its food source is wiped out by these people. The idea spurred from a documentary that a friend had worked on.
Corruptible, "still a working title," said McDermott, is a dark, philosophical thriller about a man and woman who meet on a cross-state drive. "This amazing script almost fell from the sky," McDermott adds. She said it was the fastest she ever wrote a screenplay and was able to complete it in only a few hours.
McDermott mentioned she had a vision for the script and knew she wanted to direct it. The production company realized McDermott's vision, too, and hired her to direct the film, making this her narrative feature directorial debut.
Does Sara McDermott have a preferred genre? "Everything I write kind of has a creepy edge," she said.
She must know what audiences like. Recently, McDermott came in 2nd Place in the 2019 Emerging Screenwriters' 'Get it Made' Competition, out of approximately 800 entrants. "Audiences expect a format," she said, "With everything I write, I take into consideration the audience and ask myself, 'Who is this movie for?'" McDermott adds.
Always in perpetual motion, McDermott will continue to stay busy this summer. She's been hired to write two film scripts and is working on a full-feature documentary about emotional abuse, a topic she feels strongly about. Then, this fall, she will be back behind the podium at Neumann, teaching a screen writing course.
She says the business side of publishing is not for her; she does better with creative writing. It is said that the apple doesn't fall far from the tree; this hold true in McDermott's family. In addition to all the other titles she holds, she is also mom to an almost five-year-old son who is also very creative. He enjoys creating games and stories of his own. He also likes to draw, especially pictures of alligators.