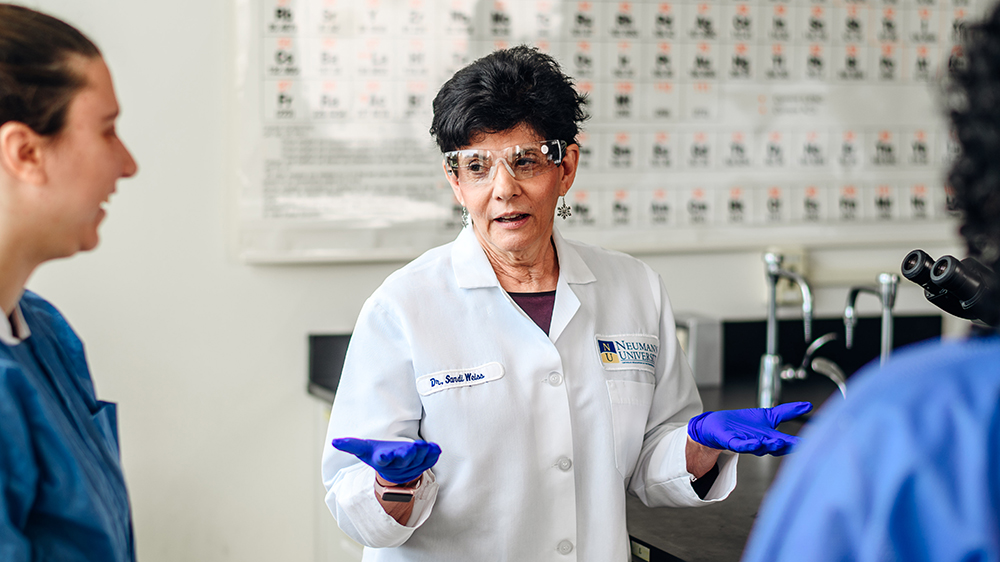 Dr. Sandra Weiss, director of the Clinical Laboratory Science program, will be transitioning to adjunct professor this fall. She leaves behind a 45-year legacy dedicated to developing and growing one of Neumann University's most successful majors in terms of job placement.
"It's bittersweet," Weiss said of leaving the program, "I still will have my affiliation with Neumann, that I'm not going to give up. I'll still be available for consultations and to help."
Forty-five years ago, Weiss was working at Presbyterian Medical Center in Philadelphia when she saw that Neumann, then Our Lady of Angels College, offered a medical technology program. She was drawn to the concept of teaching in the program and remembers calling the university and speaking with Sr. Margaret Lewis, who was running the program at that time.
"I talked with Sr. Margaret and she told me to come in for an interview," Weiss said of the conversation. "The next thing I knew, she offered me a job!"
Weiss was hired as a full-time assistant professor, and in addition to teaching classes, she also taught clinicals. Weiss became the CLS program director in 1985.
The program was initially called Medical Technology. In the early 1980s, it was changed to Clinical Laboratory Science. According to Weiss, in 1990 the program switched from a major to a track in the Biology major. In the mid-1990s, the program was added to the School of Nursing. By the end of 1999, the CLS program moved back to the School of Arts and Sciences, which Weiss thought was a much better fit.
Neumann University's CLS program is one of the only programs in the region to offer a Bachelor of Science degree in Biology with a concentration in CLS.
"Seeing the growth of the university is bittersweet for me because I want to be involved in the next stage," Weiss said of leaving her position.
Weiss has nothing but praise for the students she has worked with in the CLS program over the years.
"Most of the students who go into our program are the cream of the crop," she explained. "They're Biology majors but the program is extremely rigorous, and they have to have a lot of self-discipline and motivation to keep up and see the light at the end of the tunnel."
When asked what will be the most difficult part about leaving NU after 45 years, Weiss quickly answered "packing up my stuff!" After more than four decades on the job, she has amassed quite a collection.
A career in the Biology field was a concept that came to Weiss when she was in high school. She recalls listening to a presentation from a professional who worked in a lab and it greatly interested her. As a young girl she volunteered in a hospital as a candy striper and worked as a nurse's aide.
"I had it in my mind that I liked medicine. I also really liked science and I loved math. Those were my strong areas that I excelled in," she said.
Weiss completed her undergraduate work at Drexel University, a school that her father and daughter attended. She also has her master's in Biology from West Chester University and her doctorate from Widener University.
Weiss, who was born and raised in Delaware County and now lives in Chadds Ford with her husband Donald, has two adult children and two grandchildren. With her newly found free time, she plans on getting her real estate license and working with her husband in the real estate business.