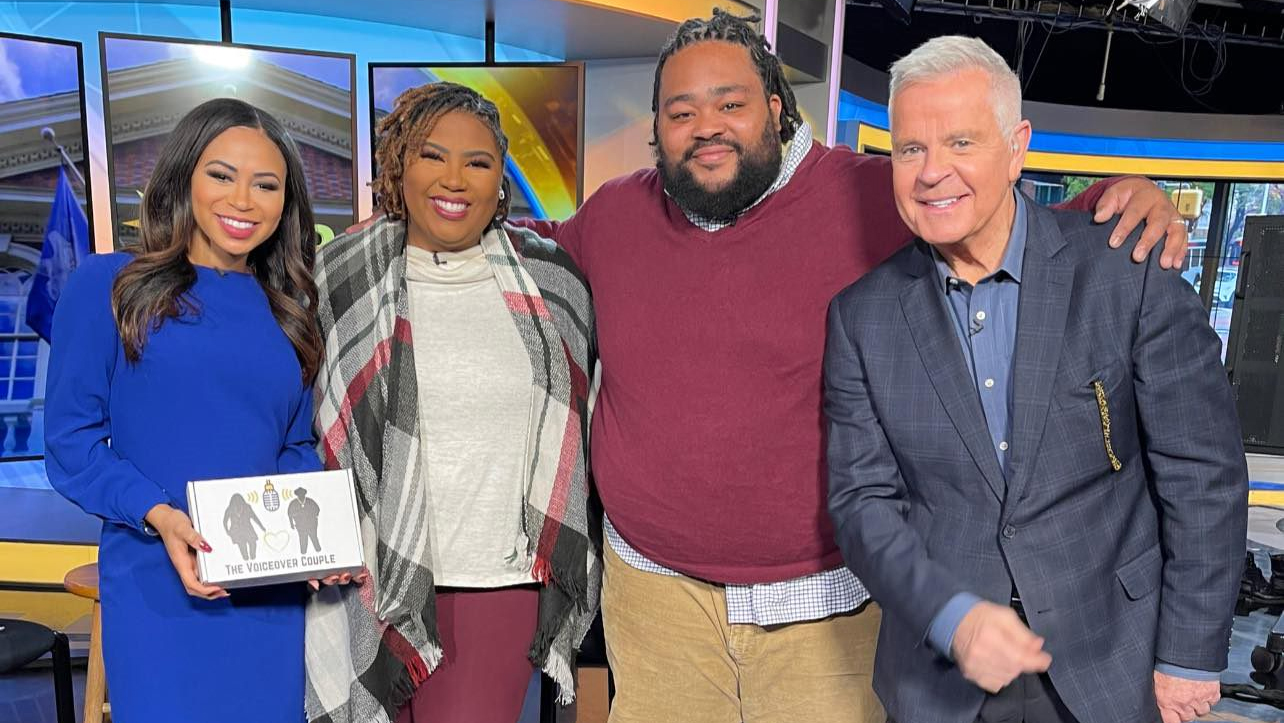 "Our son was born on March 8, 2020. A week later, the world shut down." That's how alumna Nicole Draper recalls two life-changing events that propelled her and her husband to roll the dice and bet on a brand-new career.
At the time, Nicole was teaching at Harlan Elementary School in Wilmington. Her husband, Dominick, worked for Integrity Technology Solutions, a telecommunications company. The pandemic affected both industries and upended their plans for childcare. The couple was facing serious lifestyle choices.
Fortunately, both have other talents, which they were able to blend into a new business venture. Dominick had his own radio show during his time at Delaware State University and had learned recording and editing during his experience with a Christian rap group. With two Education degrees from Neumann, Nicole had also minored in musical theater and performed in many theatrical productions on campus. They were performance-ready.
After what Nicole described as "a Garden of Gethsemane moment," capturing the anguish of the couple as they wrestled with a pivotal decision, they agreed to launch their own business as voice actors, with Dominick quitting his job and leading the new firm. They had dabbled in voice performance and production before, but in June of 2020, they embraced a new career and founded their digital media company, The Voiceover Couple, LLC.
The success they found has surprised even them. Their client list includes Nike, Netflix, Mountain Dew, PNC Bank, the Vancouver Canucks, and Minute Maid. They have recorded more than 3,200 spots (2,000 featuring Nicole) and have won Clio and D&AD (design and advertising) awards. Their portfolio includes radio and television commercials, PSAs, video game narration, podcast introductions, and employee training videos.
"Dom has the more epic voice that's perfect for ads," admits Nicole. Staying connected to her teaching roots, Nicole enjoys educational narration and performing character voices. "My favorite part of the classroom was reading to children and making a variety of characters come alive for them."
The Drapers have found that offering voice talent as a husband-wife team is very attractive to prospective clients. "We're a one-stop-shop for projects that require female and male voices," says Nicole. In fact, both are scheduled to work on an animation job for Pure Flix, a Christian version of Netflix. A non-disclosure agreement prevents the couple from providing details, but both are eager to begin work.
Their non-stop marketing of The Voiceover Couple has worked well, too. Nicole and Dominick have appeared on Good Day Philadelphia and have been the subject of a lengthy article in Delaware Online. They also attend industry conferences and pitch their services to online platforms, local companies, and marketing firms.
Their in-home studio - complete with a mixer, computer, microphones, and editing software – allows Dominick to spend time with 21-month-old Dominick, Jr. while Nicole is at her job, working as a literacy instructional specialist for the University of Delaware.
Nicole recalls fondly her time at Neumann, acting in plays directed by Ed Milliner and developing her vocal and musical talent with Rick Sayers. "Dr. Sayers was pivotal in helping me build the confidence to perform," she says.
Samples of their work are on the couple's website, www.thevoiceovercouple.com.