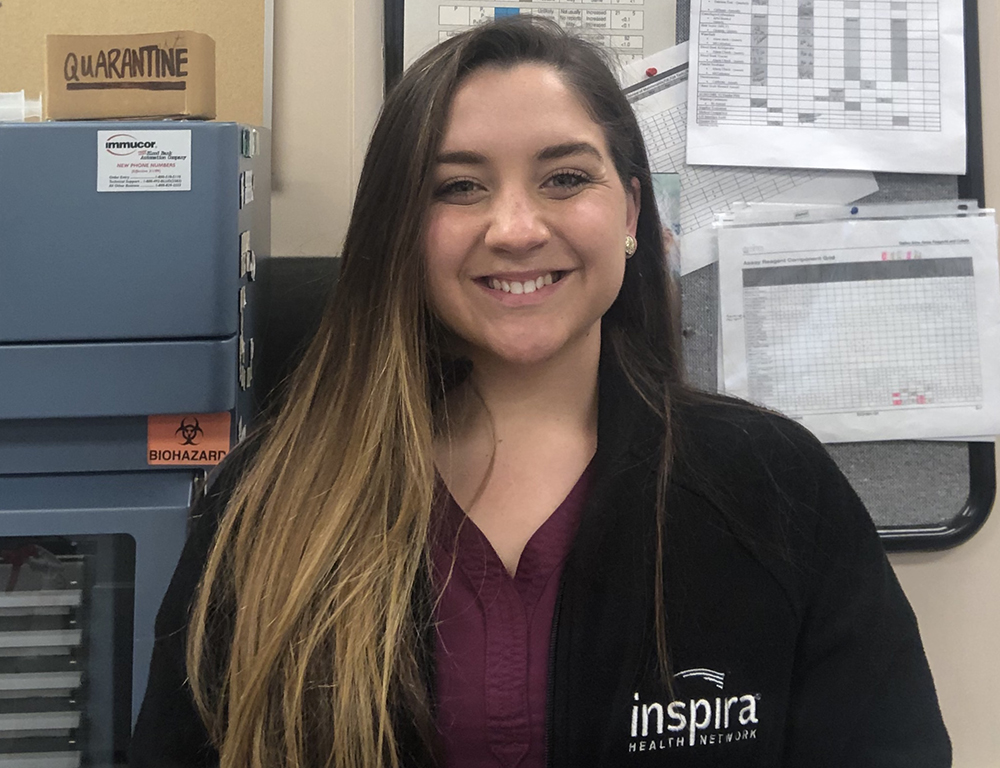 When alumna Danielle Hall graduated in 2018 from the Clinical Laboratory Science program, working during a pandemic was nowhere on her mind. Hall felt blessed to be offered her current position at Inspira Medical Center in Vineland, New Jersey, before she even graduated.
Hall works as a medical technologist. Titled a "generalist," she works in all of the departments in the laboratory, including chemistry, hematology, and microbiology. "Since I am a generalist, every day is different," she explained. "I am constantly in different departments with completely different responsibilities. The variety of responsibilities within my job keeps every day exciting."
Things have changed due to the outbreak of COVID-19. The virus has changed the flow of her laboratory. Initially, the most significant priorities came from regular tests for emergency samples from the ER. "Now we are constantly prioritizing the COVID-19 patients and their testing needs," Hall added.
She and her colleagues now have two instruments that were just recently validated for COVID-19 testing: Cepheid and QiaStat-Dx. These instruments are both based on molecular analysis and are run in the microbiology department. They are highly sensitive instruments and detect the virus with the use of Polymerase Chain Reaction (PCR).
According to Hall, "The use of these instruments will help combat the virus outbreak with much quicker turnaround times. Previously, every specimen was sent to our reference laboratory, Quest, or the state testing center. Providing the results quicker will help the health care workers identify the patients as high precautions and treat them as necessary."
Testing is not the only area that Hall and Inspira are working on to help combat the outbreak. "Another opportunity to combat the virus outbreak that Inspira is choosing to take is the use of convalescent plasma. They are going through a clinical trial by the MAYO clinic. The trial is to provide convalescent plasma to patients that are positive for COVID-19 with serious life-threatening symptoms," Hall said.
The patients do have to give their consent before going through the trial. The trial itself includes using plasma is from previous COVID-19 individuals who have beaten the virus and now have the antibodies to fight it. The plasma is then transfused into the patient in the hope that the antibodies will fight the virus that is attacking their cells.
With new treatments and testing coming out every day, Hall and many others like her keeping pushing forward to combat COVID-19. Of course, like all health professionals, they need help from everyone.
"The best advice I can give that I have learned is that the virus is severe. I have seen patients firsthand that are gasping their lives. COVID-19 is a virus that does not care about the health condition of the person. It does not just affect the immunocompromised and can have life-threatening effects on anyone. It is imperative to take all precautions for complete protection."