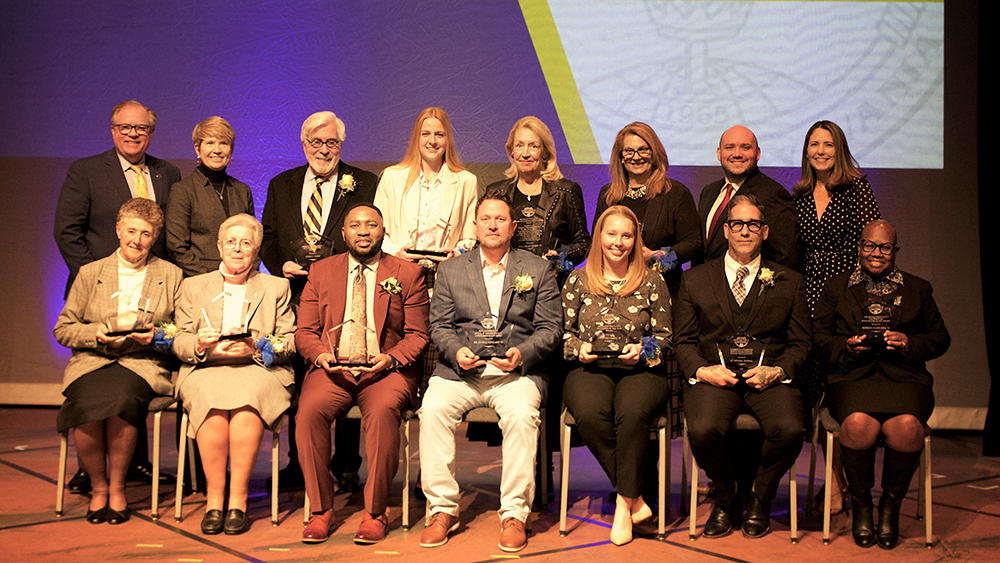 Neumann's Alumni Association presented awards to 10 alumni, a student, and one longtime friend of the university at its annual awards ceremony on March 7. View photos of the ceremony on flickr.
Gabriel Angemi '16: Recognition Award
Gabriel Angemi is the captain and second-generation member of the City of Camden Fire Department, leading emergency services personnel and supervising five firefighters, company quarters, and fire apparatus. He is also a member of the department's Special Operations Companies. Angemi has been recognized with mayoral proclamations, two Class 2 Meritorious Awards, numerous citations, recognition for valor, and a Distinguished Service Award from the Camden County Hero Scholarship Fund. He is currently pursuing a doctorate in education.
Sr. Rose Raymond Barba, OSF '78: School of Nursing and Health Sciences Distinguished Alumni Award
After graduating with a degree in nursing, Sr. Rose worked at St. Agnes Medical Center, first in the Burn Center as a staff nurse and assistant head nurse and later in utilization review and management, cardiac rehab, and home care. She has also served on the provincial and general leadership teams for the Sisters of St. Francis. For the past 13 years, Sr. Rose has been employed at the Assisi House, recently transitioning from assistant administrator to staff in the pastoral service department where she collaborates closely with the director of nursing.
Dr. Kevin Copeland '00: School of Arts and Sciences Distinguished Alumni Award
Dr. Kevin Copeland has been a member of Cardiology Physicians, P.A. since July of 2014. He is board certified in general and interventional cardiology from the American Board of Internal Medicine and a fellow of the American College of Cardiology. He attended Philadelphia College of Osteopathic Medicine and completed his postgraduate training in internal medicine at Christiana Care Health Systems, where he served as the Chief Resident for the Medicine Program. In 2019, Dr. Copeland was recognized in Delaware Today as one of Delaware's Top Doctors.
Courtney Curcio '18: Volunteer of the Year Award
Since she graduated in 2018, Courtney Curcio has helped to create a sport management affinity group, educated Neumann students as a guest speaker, and volunteered in many roles for Neumann's annual fundraising golf event. She currently serves as the foundation director of the non-profit Professional Golfers Association (PGA) Reach Philadelphia. The organization aims to impact communities and enrich lives through the game of golf by supporting and delivering programs that focus on personal development and sportsmanship.
Sr. Clare Andrew D'Auria, OSF '72: John Neumann Award
After earning her bachelor's degree in English in 1972, Sr. Clare also studied at Duquesne University and Washington Theological University, preparing her for roles in secondary and collegiate education and as a congregational and provincial administrator. She now travels across the country and abroad, leading retreats that are often booked years in advance on the topics of women's spirituality and the spirituality of aging.
Patricia Demiranda '14: Spirit of Francis and Clare of Assisi Award
Patricia Demiranda is co-founder of the William Trippley Youth Development Foundation, created to honor the memory of her son. The foundation offers at-risk youth a year-round program focusing on education and soccer. She also founded Camp Encouragement, a week-long grief camp for children who lost loved ones. The camp allows children to participate in counseling sessions and meet youngsters going through similar issues. In addition, she advocates for legislation to increase resources for crime victims and improve access to rehabilitation for those incarcerated.
John C. Ford: Honorary Alumni Award
John Ford is the founder and principal of John C. Ford Associates, a consulting firm that specializes in management, leadership, sales, and organizational communications. His corporate career included senior positions in broadcasting (CBS, ABC, the HBO division of Time Warner) and financial services (American Stock Exchange, Merrill Lynch & Co.). At Neumann, he served on the board of trustees for more than 40 years and as board chair for two terms. With his wife, Sandra, he funded the John C. Ford Academic Resource Center, a dance studio in the Mirenda Center, and scholarships for students with a particular interest in visual communications.
Dr. Kimberly LaCoste '91: School of Education and Human Services Distinguished Alumni Award
In addition to her bachelor's degree in education, Kimberly LaCoste earned a doctoral degree in educational leadership from Neumann. She currently works for the Rose Tree Media School District as a supervisor of special education after working for 22 years in the Upper Darby School District. Her lifelong commitment to service includes volunteering for the Special Olympics Bocce program and the Eagles Autism Foundation.
Regina Black Lennox '77: President's Distinguished Alumni Award
Regina Black Lennox is a life-long educator, former teacher, administrator, and consultant dedicated to improving the lives of children and building awareness of and action around social responsibility in the business sector. She currently serves as executive vice president and chief of staff for the Satell Institute, an organization of CEOs who are committed to corporate social responsibility. Prior to her time at Satell, she served for almost twenty years at Progressive Business Publications as the director of philanthropy and corporate citizenship.
Dontae Phillips '10: Young Alumni Achievement Award
Dontae Phillips is currently assigned to the Joint Staff at the National Guard Bureau in Arlington, Virginia, as a commissioned officer for Exceptional Family Member Program actions, issues, and initiatives. He previously served as a chaplain (captain) for the Department of Defense. He holds a degree in political science from Neumann University, a master's degree in public administration from Villanova, and a master's degree in divinity from Princeton's Theological Seminary. He is currently pursuing a doctorate in philosophy from the University of Maryland.
Denada Ramnishta '04: School of Business Distinguished Alumni Award
Denada Ramnishta is CEO of iCount/Klyme, a SaaS (software as a service) platform for managing small and mid-sized businesses. iCount's mission is to elevate entrepreneurship and empower communities where entrepreneurs live and work. Her previous position was chief growth officer and general manager at Lendio, a small business financing marketplace, where she advocated for inclusive lending practices for businesses operated by immigrants, low-income entrepreneurs, women, and people of color. She holds an MBA, is an expert contributor to Forbes, and regularly speaks at industry conferences.
Dariana Troilo: Outstanding Senior Award
Dariana Troilo is on track to graduate in May 2023 with a bachelor's degree in health science/certified exercise physiology athletic trainer. While thriving academically, she took advantage of other opportunities to make the most of her college career. Troilo served as a Mass sacristan, a Presidential Ambassador, the captain of the women's soccer team, and a member of the tennis team and the Health Science Club. She volunteers for Philabundance and plans to attend Neumann for her master's degree in athletic training.