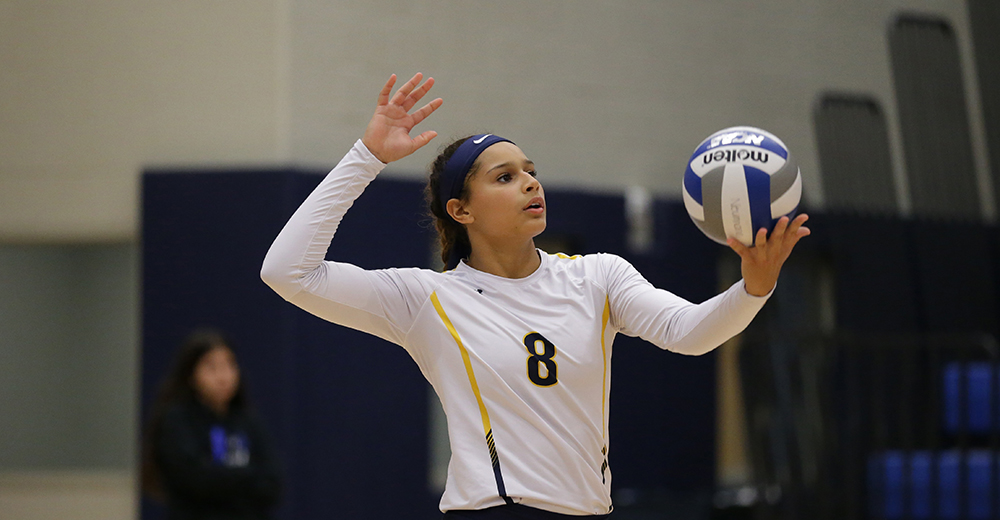 Junior volleyball player Ariana Pena has been selected to the NCAA Division III National Student-Athlete Advisory Committee (SAAC), representing the Atlantic East Conference.
"I am extremely proud of Ariana for being selected to the NCAA SAAC," says Atlantic East Commissioner Jessica Huntley. "It is a great honor and privilege to be part of a highly selective national committee and represent the Division III student-athlete voice. I am confident Ariana will do a fantastic job on this committee representing the student-athletes voices around the Atlantic East Conference."
At the national level, the SAAC serves to provide student-athletes with opportunities to review legislation, give them a voice on student-athlete issues, and promote the student-athlete experience. One of the main functions of the National SAAC is to provide, recommend and vote on legislation that makes up the NCAA Division III bylaws. The committee meets in-person four times each year in January, April, July and November in Indianapolis, Indiana. It also conducts teleconferences as needed.
"Being recognized as a SAAC member for NCAA representing the Atlantic East Conference during this troubling time will give me the opportunity to empower student-athletes and allow their voices to be heard. Issues such as social and racial injustices, inclusion, and mental health are only a few of the issues plaguing our generation, and now I have the power to speak up for voices that need to be heard that are often silenced. During the next two years, I hope to learn from this experience and be able to make a positive contribution to my community," Pena says.
Pena first got involved with the SAAC at Neumann in her freshman year as a member of the women's volleyball team. Over her two seasons on the court, she has amassed 555 kills, 145 blocks, 127 digs and 30 service aces. The junior was named to the Atlantic East Second Team All-Conference for the 2019 season as well as earning All-Academic honors for two seasons as a pre-physical therapy and athletic training major.
"Being in my third year at Neumann University I have served as a member of Neumann's Student-Athlete Advisory Committee over the past two years as both a freshman and sophomore. During that time, I have had the opportunity to work with the Neumann Administration and my fellow student-athletes to help create a positive student-athlete experience on our campus," Pena adds.
According to Chuck Sack, NU's director of athletics, Pena was chosen to serve on the committee due to her even-keeled disposition, level headedness, and her ability to be consistent and authentic in her interactions with her teammates and athletic department staff.
"It's a huge achievement. We've never had a national representative like this, one of our own voices," says Sack. "This is a game changer for the identity of Neumann and certainly for Neumann athletics."
"We are tremendously proud of Ariana and truly believe she will represent not only Neumann Women's Volleyball, but Neumann University and most importantly the Atlantic East Conference extremely well," says Neumann University's women's volleyball head coach Alicia MacGlaughlin. "Ariana exemplifies every aspect of a leader both on and off the court. We can say with great certainty that Ariana will do everything in her power to advocate on behalf of all Division III student-athletes at the national level. We are very excited for her and we cannot wait to see how this journey as the Atlantic East SAAC representative allows her to continue to grow as an individual and a leader."
"I am so happy for Ariana to be selected at this national level and represent Neumann University and the Atlantic East Conference," says Associate Athletic Director for Compliance Christy Fleagle. "She is a class act student-athlete, and I am confident she will learn and empower the rest of our student athletes at NU and the rest of the Atlantic East Conference student athletes. I know this will be a transformational experience for her and I am so excited for her!"
Pena's term of service on the committee will begin January 17, 2021 and continue through January 31, 2023.