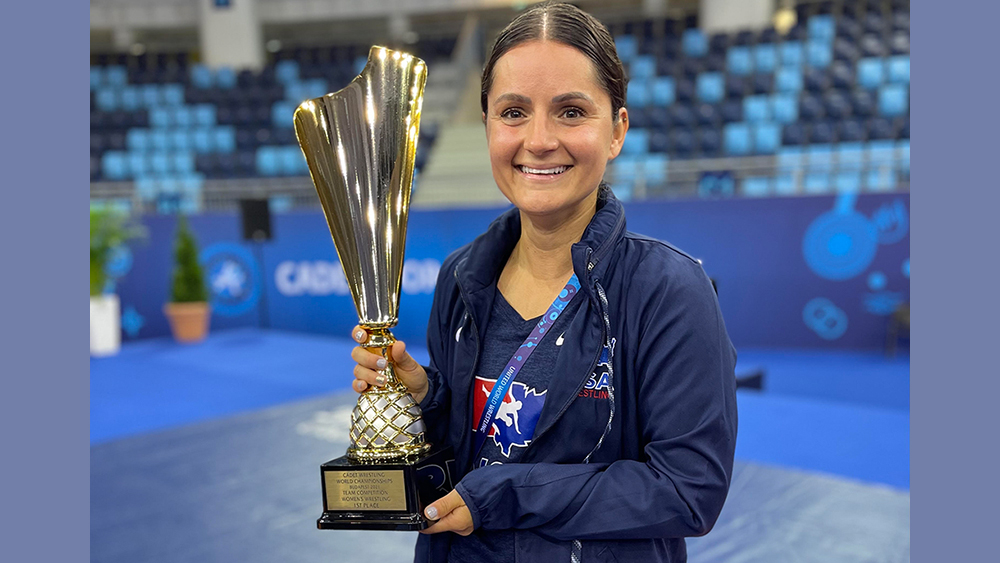 Elizabeth (Liz) Del Re '11 came to Neumann University unsure of her major field of study. She selected Athletic Training as a means to get into a physical therapy program after graduation. As she soon would learn, fate has a way of up-heaving the best-laid plans.
Neumann's AT program led Del Re to a clinical rotation at Archmere Academy in Claymont, Delaware. She was assigned to the head athletic trainer at the high school and worked closely with student-athletes. When a student approached her with a compound fractured collar bone, Del Re jumped into action and realized this profession was definitely for her.
"My plan was to do four years in Athletic Training and then go to PT school. But when I saw this injury, I knew this profession was for me and I never looked back," she said.
Today, Del Re is the athletic trainer at Emmaus High School in the Lehigh Valley region of Pennsylvania. She has held this position since July 2012. In addition to her duties with student-athletes, Del Re forged a connection with Olympic wrestling programs that have taken her from Colorado to Mexico to Budapest.
Del Re had kept in touch with the wrestling coach at Archmere and he suggested that she volunteer with the Olympic Training Center. She applied for the position and was accepted. Soon she found herself in Mexico volunteering at the Pan American Championships for student wrestlers, both male and female.
Del Re was familiar with the sport, but the type of wrestling at the Pan Am competition was a very different form.
"It's a different style of wrestling. We do Folkstyle here and oversees they do Freestyle and Greco. It was a shock for me," Del Re explained
After she returned home from this experience, Del Re received an email from the USOPC (United States Olympic & Paralympic Committee) asking her to help at the Dave Schultz Memorial Tournament. This competition was held at the Olympic Training Center in Colorado Springs, Colorado. Once again, Del Re jumped at the chance to continue working with wrestlers, and this time the athletes were grown men.
In 2019, Del Re traveled to Bulgaria for the Cadet World Championships, which was a competition for high-school-aged wrestlers. She recently returned from a 12-day trip to Budapest, Hungry, with the same group of wrestlers.
"I just love the Cadet group because those are the kids I work with at my school. I fit into that whole dynamic well and I really enjoy that group," Del Re explained.
Being immersed in the international wrestling world has led Del Re to realize that she is actually living and teaching in a hotbed for the sport. The Lehigh Valley region has cranked out some of the nation's top wrestlers.
Del Re is confident that she has followed the career path of her dreams. Sports have given her the opportunity to touch lives, whether it is in her backyard or across the Atlantic Ocean. And by her own accord, she was never much of an athlete but has acquired a whole new appreciation for sports. ​​​​​​​
"I've never been an athlete. I have two left feet!" she said. "But understand, I appreciate, and I enjoy all of the passions that sports offer."