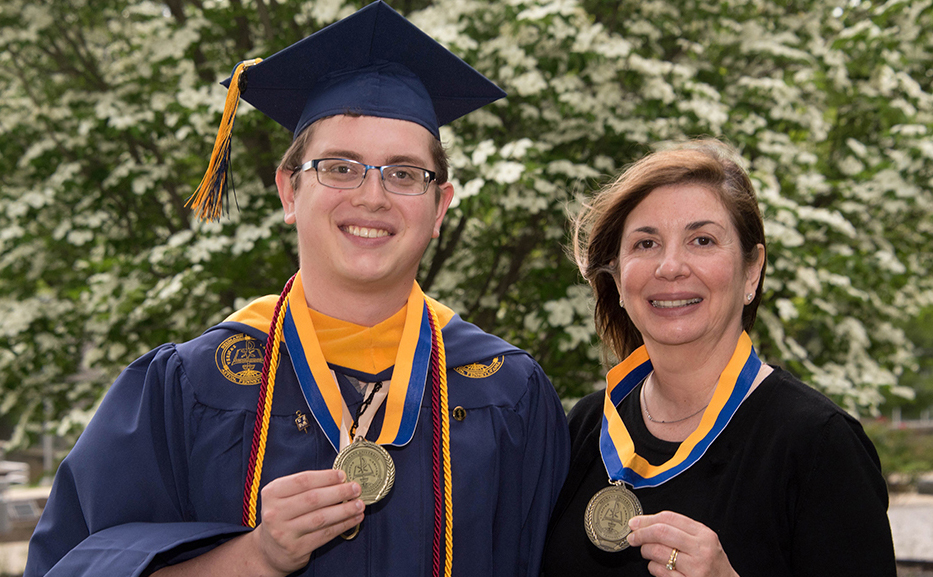 Christian Bjorkelo '21 was the recent recipient of the Camin Excellence in Biology Award during last month's Academic Awards Ceremony. Awards from Neumann University seem to run in the Bjorkelo family. Nursing Professor Lisa Bjorkelo, Christian's mother, also received an award when she graduated with her master's degree in 2012.
Lisa Bjorkelo received the Sister Kathleen Cronin Award for Excellence in the Graduate Nursing Program when she was a graduate student. Not only do awards run in the family, so does the love of science. Christian's degree is in Clinical Laboratory Science.
The Bjorkelos have a long history with NU. Lisa's mother, Christian's grandmother, took a few college courses at Neumann while Lisa and her sisters were young. Lisa fondly remembers her mother bringing them to campus when she had classes, and the Sisters of St. Francis would babysit in the convent.
When Lisa was looking for a graduate nursing program, she thought of Neumann and the way in which the university took care of her entire family while her mom was a student.
"It always stuck with me how innovative that was," Lisa said of her mother's experience at NU. "I always wanted to come to Neumann University."
When Christian was looking for a college, he too turned to NU. In addition to being close to his home in Morton, Pennsylvania, Neumann's tight-knit community was very attractive to him.
"Everyone here was so nice, and I liked the small campus that Neumann offered," he recalled.
Christian thinks similarly about the CLS program. Although it was a demanding major, he quickly bonded with his professors and fellow classmates. On July 1, Christian begins his career as a lab scientist at AtlantiCare Regional Medical Center in Atlantic City, New Jersey.
Lisa, who started as an adjunct professor at NU in 2015, began as a full-time instructor in 2016. She teaches senior-level nursing courses and has a background in pediatric hematology and oncology. Most of her nursing career was spent at Children's Hospital of Philadelphia.
She made the transition to teaching because of her passionate stance on the nursing profession and the need for caring nurses.
"I wanted to influence the next generation of nurses. We need really good people to stay at the bedside. I want to convince them that this is a wonderful career to stay at long term," said Lisa, who is completing her doctorate degree.