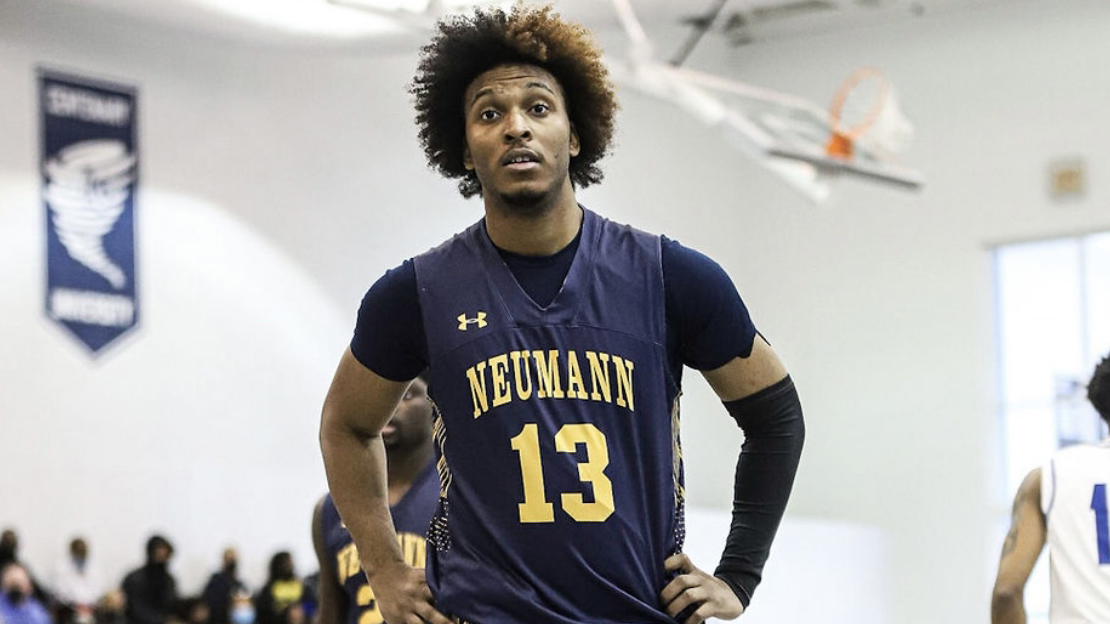 Jalen Vaughns transferred from Indiana University of Pennsylvania last year, looking for a basketball program more suited to his abilities. One could say that he struck gold with Neumann University and coach Jim Rullo's basketball team. For Vaughns, it has been a year filled with accolades, awards, and personal satisfaction.
Vaughns credits Scott Bogard as the person who introduced him to Neumann. Originally from Queens, New York, now residing in Tobyhanna Township, Vaughns did not have NU on his radar when he started his college search. He wanted to play basketball and thought a bigger school like IUP would be a good fit for him.
About the same time that Vaughns realized IUP was not the best fit for him, Bogard reached out and introduced him to Neumann University. Soon Vaughns was touring the campus with his family and liked everything he saw.
Last summer, Vaughns transferred to NU and has never regretted his decision. Not only has he excelled academically, but he has also made his mark on the court.
During this past season, Vaughns, who plays forward and guard, raked in the accolades. The Atlantic East Conference named him Player of the Year and First Team All-Conference. The National Association of Basketball Coaches DIII (NABC) named him District 5 First Team. He was also named to the D3Hoops.com 2022 Men's All-Region 5 team. While all of these awards are well deserved, Vaughns is most proud of winning the 2022 Atlantic East title with his teammates.
"I could tell from when I first got here that it would be a good season because of the way we all came together. I've been playing basketball most of my life, so it was easy to tell that the team got along well, and it would be a good season," he said.
Vaughns started all 29 games of the 2021-2022 season. He averaged 22 points and 9.7 rebounds per game and scored 637 points, setting a program record for points scored in a season.
"Jalen has arrived here at Neumann with the primary focus to get his degree while taking advantage of the opportunity to play basketball," said men's basketball coach Jim Rullo. "He's a quiet young man who leads by example both on and off the floor. He understands the work involved in being successful, and he has taken advantage of the resources here to accomplish that. On the basketball court, Jalen plays with a quiet confidence and has been a joy to coach due in large part to his work ethic and selfless approach."
There is a mutual admiration between coach and player. Vaughns sensed that Rullo would be the kind of coach he was looking for the first time they met.
"He's the type of coach that is going to love you and stick by you no matter what and let us play. And throughout the year, that's what he did," Vaughns said. "He really trusted us and let us do our thing out there, and that's what I love about him the most."
As with most college athletes, juggling academics and athletics is a challenge for Vaughns. He took advantage of the many supports available to him and made some long-lasting friendships along the way.
"It was a lot, but everyone helped me, especially Sr. Marguerite. She's like my best friend, and she really helped me get through everything and kept telling me to time manage. Now I know that when I'm tired after games to just try and get at least one thing done for school. I always tried to do that during the season," he explained.
Vaughns has a dream of playing professional basketball and plans on pursuing that dream after graduation. He has not declared a major yet but is leaning toward Criminal Justice and could see himself in the field working in forensics.