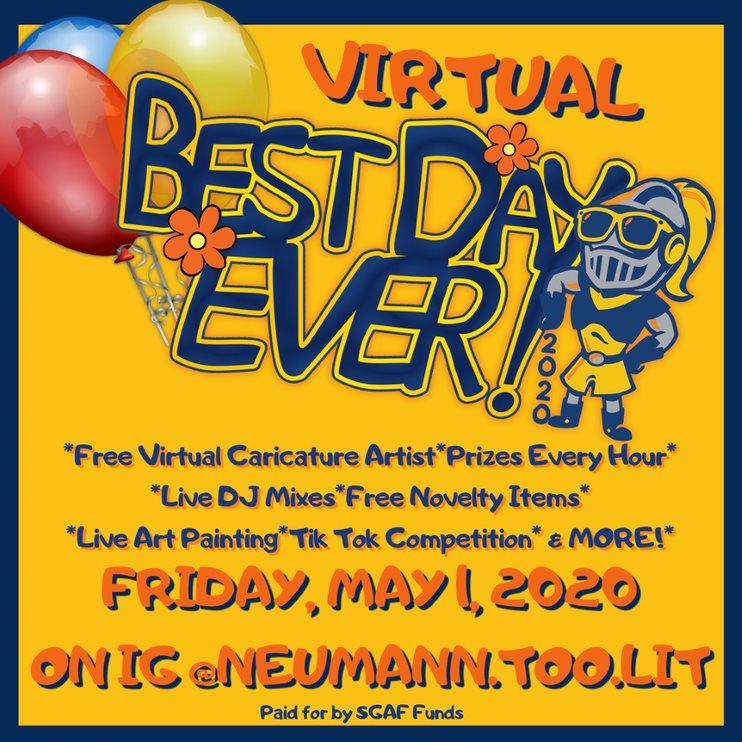 P.T. Barnum, from Barnum & Bailey Circus, said once, "The show must go on!" Neumann's Office of Student Engagement and Leadership is taking the advice from the greatest showman and running with it. Friday, May 1, the show will go on with Virtual Best Day Ever 2020 presented on the Instagram account @Neumann.Too.Lit.
The day will kick off at 11:00 a.m. with "Live in the AM" where students can get the latest scoop on Best Day Ever activities. Here is a list of some of the events planned:
Lit @ Lunch with DJ Don Will beginning at 12:00 p..m with prizes and jams.
Free live virtual caricatures by Courtney the Caricaturist from 12:00 -5:00 p.m. (Signups will be announced)
Tik Tok Competition with King DaQwon @ 2:00 p.m.
Three O'clock Turn Up with DJ Gia @ 3:00 p.m. with prizes and jams.
Live line dancing lessons with Mya McQueen during the afternoon.
"Students will be able to engage in all activities and find details about each moment of the day by tuning into our live and profile page on Instagram @Neumann.Too.Lit!" said Andrees Rivers, associate director for student engagement and leadership. Beginning this week, details about offerings available leading up to Best Day Ever will be on the Instagram page as well.
Free Best Day Ever Build-A-Bears are available to the first 100 students who sign up. The bears will be mailed to the students' homes.
In previous years, Best Day Ever has been celebrated on campus on the last day of classes. Students were invited to let off some post-finals steam with mechanical bull rides, blow-up obstacle courses, photo booths, virtual reality games and food trucks. The event is funded by the Student Government Association.