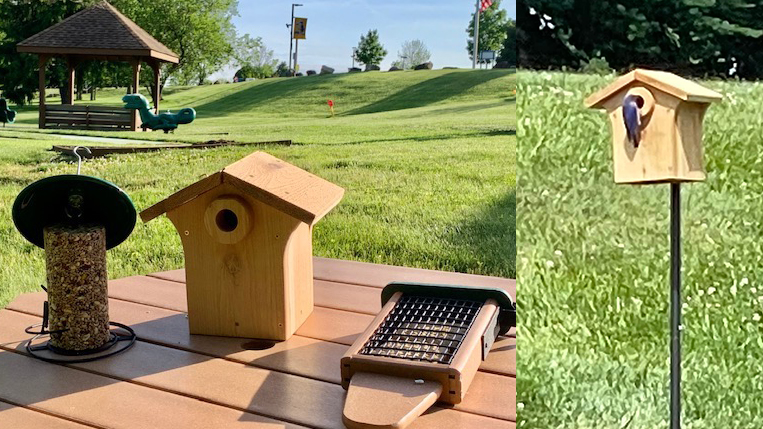 Saint Francis would be proud of a project taking place at Neumann University's Child Development Center. Environmentalist Anne Stabb, with the help of Wild Birds Unlimited in Glen Mills, Pennsylvania, is completing her PA Master Naturalist certificate and utilizing the grounds, staff, and students of the CDC for this endeavor.
Stabb, who is from Chadds Ford and works at Wild Birds Unlimited, plans to develop bird feeding stations, birdhouses, hummingbird feeders, and pollinator and vegetable gardens on the property surrounding the CDC.
Her project does not stop with the installation of these items. There is also an educational component to this plan.
"This project will contribute in a way that will help young children learn the importance of conservation, taking care of backyard birds, and native plants. My goal is to provide outdoor classroom lessons for the children that will teach them about birds, feeding, habitats, and pollinators," Stabb explained.
A few years ago, Stabb worked with CDC students making bird feeders using oranges. The students wrote thank-you notes, which are posted at the store in The Shoppes of Brinton Lake. Chris Haug, vice president for student affairs, noticed these notes while shopping at the store. He spoke with the store owner, Chris Webber, and asked if Stabb would be interested in doing more environmental programs with the CDC students.
The first part of this program began last month. It had been in the planning stages for the past two years. COVID caused it to be delayed a few times. According to John Sperduto, director of the CDC, once this project is complete, the CDC will be listed on the national bird list as a wildlife sanctuary for birds.
"We've started to focus a lot more on outdoor learning because we want to spend as much time as possible outdoors. We've added picnic tables, and we do art and music outdoors. We are doing more with nature," he said. "I'm really supportive of this program. We reached out to Sister Pat (Hutchison) and Sister Mary Ann (McCarthy), who were very supportive of this project."
Wild Birds Unlimited has donated the supplies needed to develop the bird-friendly habitat at the CDC. According to Stabb, Webber has been extremely supportive of the project, for which she is very grateful because a requirement of the PA Master Naturalist certification program is that she maintain the bird-friendly habitat at the CDC.
"The (CDC) grounds are perfect for this project with the open areas and woods," said Stabb. "My goal is to do mini-lessons with the students each season, and I'd also like to do parent education programs too."