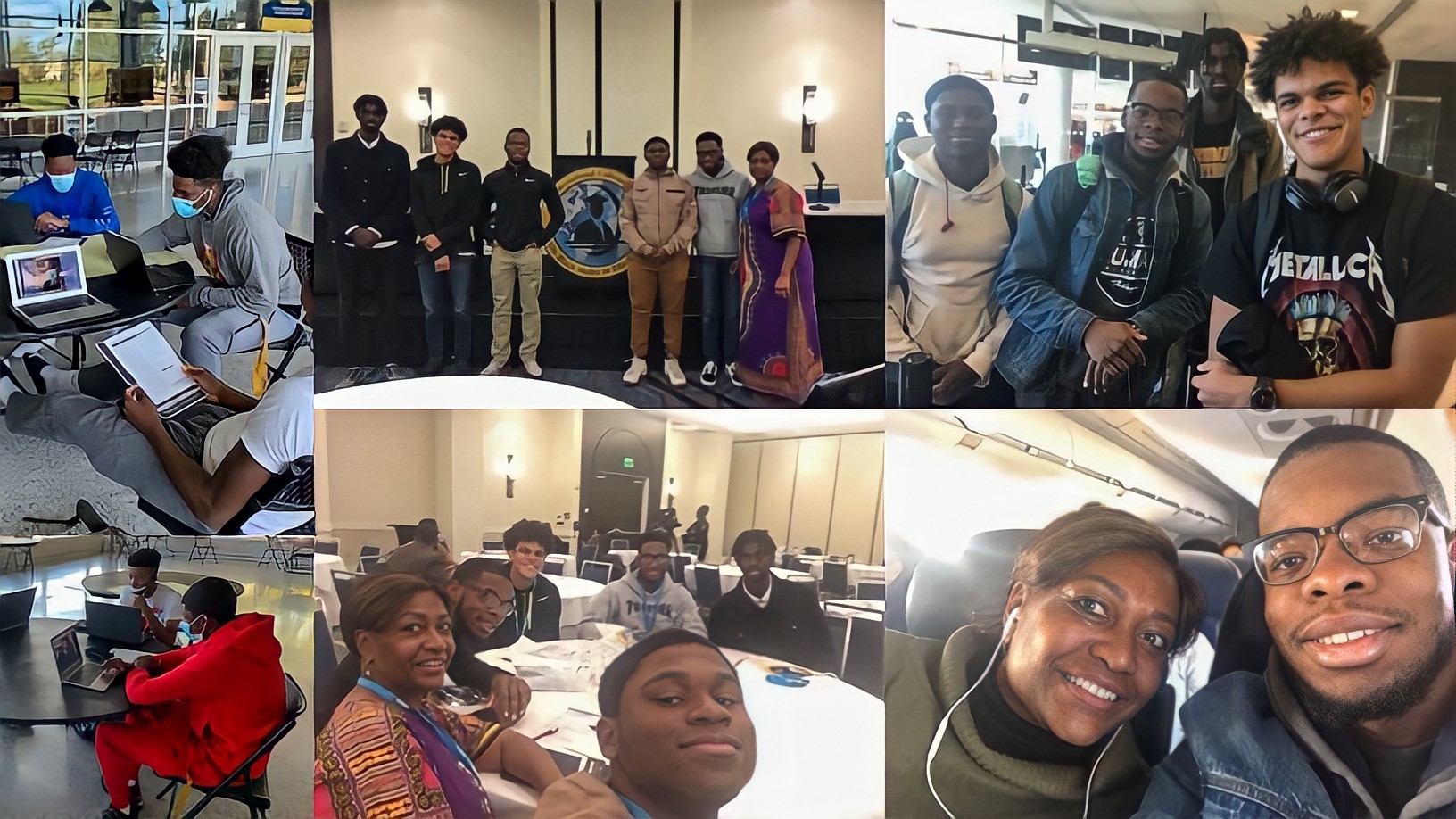 In September 2019, academic advisor Denise Murray started the Black Male INT 101 course with the purpose of better meeting the needs and addressing the struggles that these young men face. Four semesters later, the class continues to attract students and has created a strong bond between Murray and these young adults.
"The goal of the program is to be able to help all Black male students from freshmen to graduates. This school is thinking about them and telling them they are special," Murray explained.
Statistics show that the odds are stacked against young Black males when it comes to completing a four-year college program. It has been well documented that this population remains one of the most socially and academically marginalized student groups in the United States.
According to Murray, NU's incoming freshmen classes average 50 to 60 Black male students each year. Not all are required to take her course, but a majority do sign up. The class is averaging around 20 students per semester. She personally contacts all incoming Black male students and encourages them to enroll in the course.
"Some students have already heard about it by the time I call them," Murray said.
One of the main purposes of this course is to make space to hear Black men, focus attention on their struggles, and identify factors that impede or assist in Black males' low retention, persistence, and graduation rates.
Murray explained that the focus of her class is academic excellence. She sets high standards for her students and makes sure they are aware of these expectations.
"I tell my class that if you're not planning to fly with us, then take another INT course and it works," she said. "They, in turn, show me and themselves that they are on the team."
A few years ago, Murray attended the International Colloquium on Black Males in Education (ICBME) in Ireland, an annual conference that serves as a space to exchange ideas and perspectives concerning the global dynamics of Black males in the educational pipeline. It is a community-building experience that brings together world-class scholars, high-impact practitioners, policy-makers, funders, students, and concerned citizens.
Murray came home from that experience energized and began looking for ways to get her Neumann University students involved with the ICBME. She wrote a proposal seeking funds from the university that would allow her to take her students the following year. The proposal was approved, and the students permitted to go would have to maintain all As and Bs in order to qualify for the trip.
"Five guys qualified and many others were close," Murray said.
This year's ICBME was being held in Brazil and Murray had hoped to take some of her students, but the pandemic crushed her dream. She still wanted to find a way to recognize the achievements of her students, so she held a virtual pinning ceremony in April.
During the ceremony, which was attended by students, parents, and Neumann University president Dr. Chris Domes, students with high GPAs were awarded a commemorative pin.
"What was key about the ceremony was that the president was there and that brings a level of inclusiveness," she noted.
Murray enlisted the help of Institutional Research to provide data on the GPAs of Black males attending NU. She discovered that this group ranks the lowest in GPA and retention. However, the Black males in her INT class all scored higher than Black females attending Neumann.
"I'm on to something and I'm learning more about them. I want to do more research to enhance the program for more Black male students," said Murray. "I'm trying to take it to another level where I can develop programs that will assist all Black males throughout their four years at Neumann."
Murray grew up in North Philadelphia, was the oldest of nine children, and helped her single mother raise her seven brothers. She shares her family's struggles with her INT students. She educates them about what it was like growing up poor in an impoverished Philadelphia enclave during the civil rights era. Based on these life experiences, Murray feels she is more than qualified to teach these students.
Murray had planned to retire in the very near future, but she is so passionate about her work with the Black males at NU that she has put those plans on hold.
"I just love my students. My role is the other mother. I know what's going on in the world with Black men and we have to help them," she said.