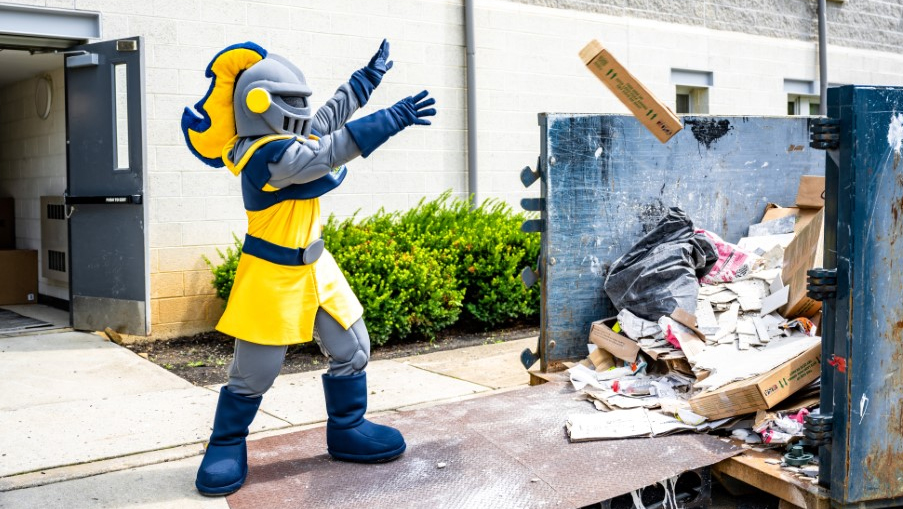 Summer months at college campuses across the country are traditionally sleepier than the fall and spring semesters, when undergraduates scurry from class to class and sounds of athletic practices echo across playing fields.
Of course, after more than a year of COVID-imposed remote learning, a quiet campus might seem more like a continuation of a routine rather than a break from it. The summer of 2021 at Neumann, however, has been buzzing with activity, thanks largely to the facilities staff, who have been busy making needed upgrades on campus.
Residence halls have been the focus of extensive work, including room renovations and roof replacements for Cunningham and O'Neill Halls, a new rooftop HVAC unit for Cunningham, and a new elevator installation in O'Neill. Flynn Hall, the Buoni Building, and Poco House are scheduled for painting touch-ups.
Athletic facilities will also expand with the construction of two new tennis courts, bringing the total to six. This is the only project that may extend slightly into the fall semester.
Classroom buildings will also receive attention with some painting as well as flooring and carpet replacement work scheduled for Bachmann and Abessinio. The Knights Café will get a fresh look and new tables and chairs. Qtrak package lockers will be installed on the ground floor of Bachmann.
Over 85% of the campus parking and road areas have been replaced and/or resealed with new paint on parking spots and speed bumps, including MacIntyre Drive, and roadways and lots for Abessinio, Bachmann, Bruder, Flynn and O'Neill.
Along Convent Road, the house at 602 is being refurbished, and 603 will get new paint and flooring. The Campus Ministry House will also get a facelift with work scheduled to refurbish the side porch and replace the front steps.
"The planning and implementation of these many summer projects is a reflection of the commitment of the executive team and the facilities staff under the leadership of Bill Leonard and Rick Kern to make our campus as welcoming as possible for the fall semester," said Gene McWilliams, vice president for finance and administration. "We are on track to be in excellent shape by the time students return."