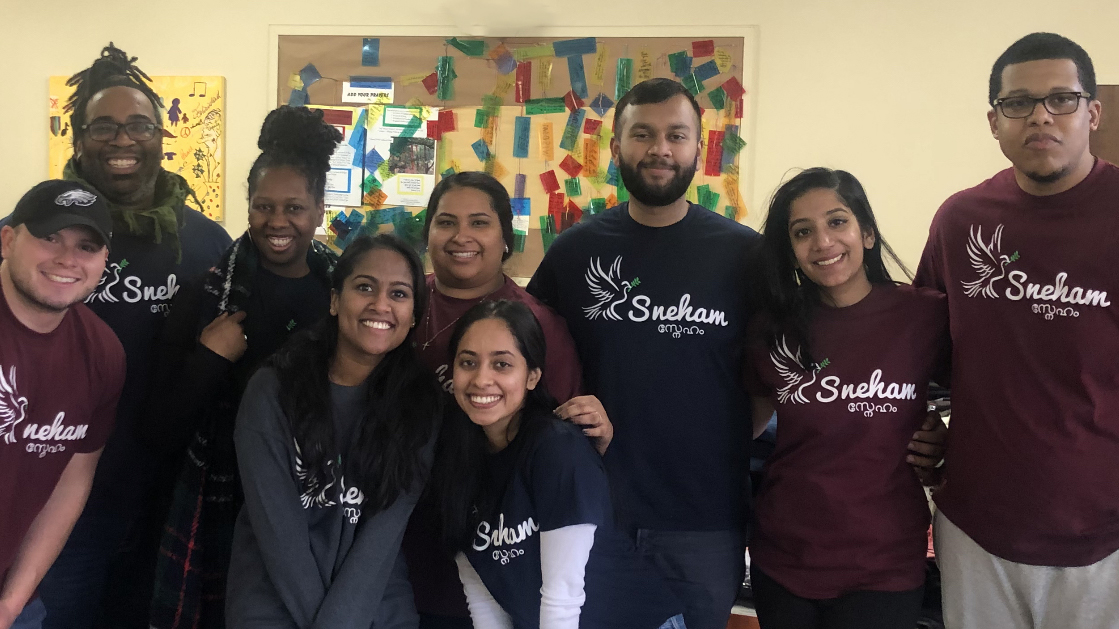 In 2015, Bettsy McKlaine, director of adult and graduate admissions, was enrolled in Neumann University's Organizational and Strategic Leadership master's program. For her capstone project, she researched the struggles Indian American women experience trying to assimilate into the United States and find a sense of belonging. This project was the springboard for her non-profit organization called Sneham.
Sneham means love in the South Indian language of Malayalam. The non-profit's mission is to serve as a platform for people to get involved in making the community better, one helping hand at a time. Sneham also stands for Service, Nurturing, Empathy, Happiness, Acceptance, and Mindfulness.
McKlaine, who was born in India and moved to Upper Darby with her parents when she was three years old, wanted to create a group to help women balance their previous and new cultures and find a community. As a Neumann University double alumna, McKlaine knew where to turn to find people willing to support her vision. Several of the group's members are also NU alumni.
"I wanted to create a group to support Indian American women specifically, but as I was doing it, I realized it's not just one culture that's struggling with belonging. It's a lot of people. I hand-picked certain people that were involved in college to come to the first meeting. We talked about the topic of belonging and community service," she explained.
The group meets on the first Friday of each month. At the end of the meeting, each member writes down an intention that is folded and put into a jar. The jar is passed around, and everyone reads one of the intentions, usually not their own. McKlaine sees this as a way to release these intentions into the universe for the greater good.
"It's all rooted in community service and the idea of servant leadership. That came directly from my relationship with Neumann and what I've learned here. I'm taking a piece of that and spreading it within my network and the networks of people that attend our Sneham events," McKlaine explained.
In addition to monthly meetings, Sneham members also attend community service events. Some of the outreach programs that the group has engaged in include serving dinner in Kensington, dining with the elderly in Chester, attending a service at a temple, and walking for mental illness in Wilmington, Delaware.
Like all working moms, McKlaine balances her work and family life with her husband and three-year-old son. Making time for Sneham and the work that the group does to help others is a priority for her.
"When you're passionate about something like this, you just find the time. It's not just me, but the people in the group that have faith in our mission," she said. "This is my way of doing God's work."
Future goals for the non-profit include fundraising to purchase a space for Sneham to host events and store donations. The group's next social event is a bar-b-que/potluck dinner on June 10 in Drexel Hill. A pasta fundraiser is scheduled for August 5. Register for both dinners on the Sneham website.
McKlaine welcomes donations of clothing, shoes, baby items, toiletries, and home items. The group is always looking for volunteers and new members and provides service hours for high school students.