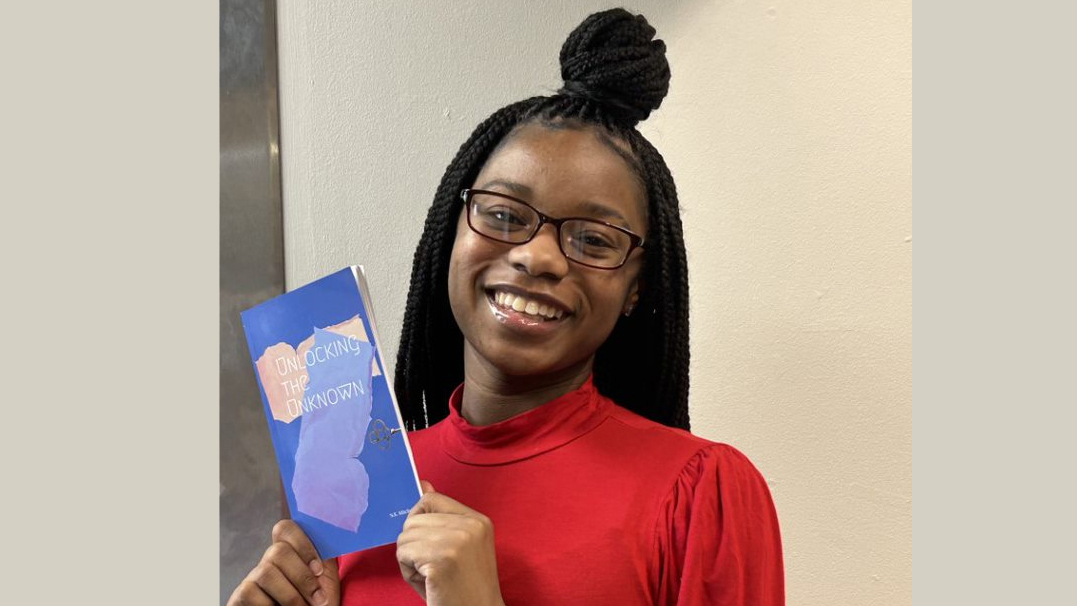 Nykaria Mitchell, a senior CDM major, recently published her first book of poems titled Unlocking the Unknown, which is currently available at Amazon.com. The book was published in December 2022.
Writing Unlocking the Unknown was a deeply personal journey for Mitchell. She has had a passion for writing since she was nine years old. While she always remembers loving poetry, most of her earlier writings were plays and short stories.
"I have always liked poetry, but I really got into it in the spring of 2022 when I had a poetry class with professor (Jim) Kain," Mitchell said.
The idea of publishing a book of poems came to her when she considered plans for the final project in her senior seminar class with professor Janis Chakars.
"I thought this would be a perfect time for me to try and write a book of poems. I had been writing a lot of poems over the summer, and I wound up with about 40 poems," she said.
Mitchell's book is organized into three different sections of poems. She describes the first section as being for the mind, the second as a romance section - her favorite genre, and the final poems are what she calls "miscellaneous."
The book contains two of Mitchell's favorite poems, Waiting and Honeydew. She describes Waiting as the life she yearns to have someday and knows she will, and Honeydew as a love poem illustrating her idea of what love is.
"When it comes to poetry, there's no one way to interpret it, and it's all about what you see and how you feel. People don't realize how powerful words can really be and how much they can connect people," Mitchell explained.
She found the process of writing the book and researching the numerous ways to publish and sell it very interesting.
"I literally did everything myself, including designing the cover. I dedicated it to my writing and communications teachers that I have had - Dr. Hamilton, Professor Sarah McDermott, Janis (Chakars), and professor Kain. I also dedicated it to the hopeless romantics and overthinkers of the world," she explained.
Mitchell credits these same professors for encouraging her to pursue her dreams of being an author.
"Being at Neumann and in CDM boosted my confidence a lot. Now when people ask to read my writing, I'm excited. I owe a lot of that to my professors. They strive for us to break out of our shells. I'm happy I have that confidence in my writing now because I was always doubtful. I always had that fear that if I did write something, people wouldn't want to read it, and that turned out not to be true."
Mitchell's favorite poet is Emily Dickinson. She is excited to write another book and is currently working on a mystery novel. "I would love to do a part two, but it would be different themes," she said.
For the past four years, Mitchell's short stories have won Neumann's annual Delta Pi writing contest from the national Delta Sigma Pi Catholic Honor Society. Her career goals include landing a job in journalism or screenwriting so she can utilize her writing abilities.