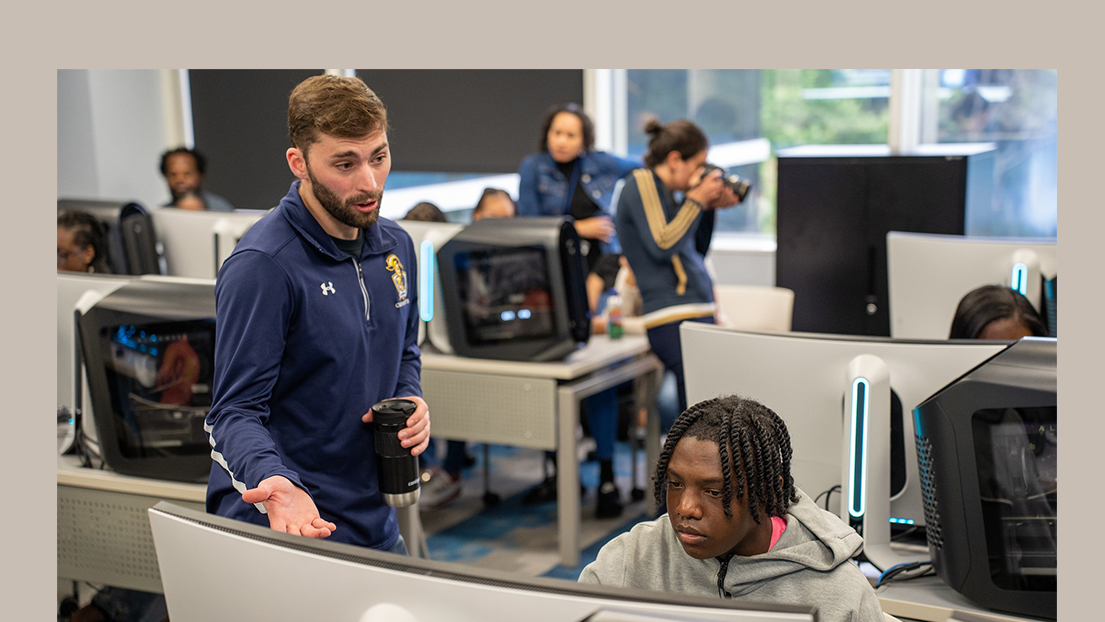 More than 25 juniors from Chester Charter Scholars Academy got a taste of college life at Neumann from June 19-22, as part of their participation in the Philadelphia Union Foundation's iAM Project.
The students slept in the dorms and ate in the dining hall. They explored the 133-acre campus and learned from faculty and students about the various majors offered at the university. They toured athletic facilities, visited the esports lab, and got hands-on experience in the radio and television studios.
The overnight college experience is a key piece of programming for the iAM Project, which connects students from the Academy with some of the region's largest companies, as well as a network of speakers, mentors, universities, and internships — all designed to help the students reach their personal, academic, and professional potential.
"Deciding what to do after high school is a major decision and there are many paths our scholars could choose — whether that's moving on to college, going to a trade school, selecting an apprenticeship or entering the workforce," said Paul Howard, executive director of the Philadelphia Union Foundation. "We want our scholars to be able to make informed decisions as they think about their future aspirations."
This is the second time Neumann University has hosted iAM Project scholars.
"It's truly our pleasure to host these students on our campus," said Dr. Eric Wellington, dean of the School of Business. "We hope that sharing the breadth of the majors and programs we offer at Neumann can inspire these talented and motivated students, so they can picture themselves at a university and ultimately in a successful career."
The iAM Project is supported through partnerships with Bimbo Bakeries USA, The Boeing Company, the Durant Family Foundation, Language Services Associates, Lincoln Financial Group, Neumann University, and WSFS Bank.
Learn more about the Philadelphia Union Foundation at www.philadelphiaunion.com/foundation/