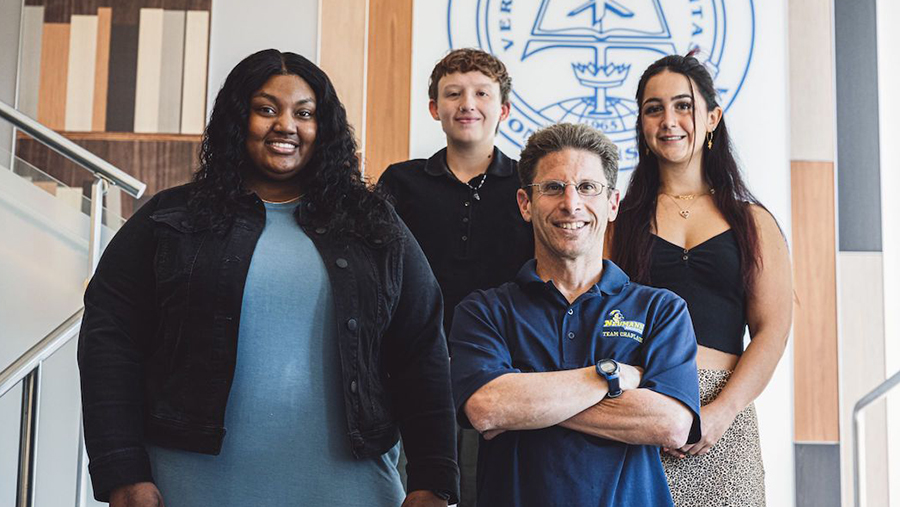 Three young women at Neumann, all math majors, have won Clare Boothe Luce undergraduate research scholar awards. They will receive grants of $5,000 each to conduct 150 hours of research in the field of mathematics this summer.
Maria Ramunno and Kendra Warren will conduct a statistical analysis of available data to determine the epidemiological and societal factors most closely related to the spread of COVID-19 in Pennsylvania. Ollie DiDonato will use artificial intelligence applications to assess the skill levels of participants in karate matches and predict the outcomes.
The goal for Ramunno and Warren is to collect and analyze current COVID data for every zip code in Pennsylvania. "We want to find out whether there is a correlation between the determinants that we collect and the infection rate," explains Ramunno. "For instance, does a high vaccination rate actually help mitigate the infection rate of a specific zip code?"
Besides the vaccination rate, the pair will also examine population density, the number of schools in each zip code, and perhaps the type of vaccinations administered (Pfizer, Moderna, or Johnson & Johnson) if that data is available. They had hoped to examine the effect of mask-wearing as well but could find no reliable statistics on this behavior.
According to Ramunno, their goal is "to collect as much data as we can this summer and identify any trends to let the public know what we find."
"I was always the weird kid who liked math," admits Ramunno, who is considering a career in biostatistics or computer programming. "I've been interested in being a biostatistician since my sophomore year in high school."
Warren had set her sights on being a math teacher, but when this research opportunity arose, "I decided to broaden my horizons and was excited to see what other options are available for math majors. I'm very interested in data analytics."
DiDonato, who is a black belt in karate, combined the interests in math and martial arts last summer to create a predictive model for Shotokan karate matches, employing data collected from 30 contests. The final model predicted match outcomes with nearly 92% accuracy, using only the skills of punches and counterattacks.
DiDonato hopes to add an AI component to the model this summer, working with two faculty mentors, one from Neumann and one from Gwynedd Mercy University.
This grant is the third consecutive summer research award for DiDonato and the second for Ramunno. Both students have been accepted to present the work they did last summer at MathFest, the national conference of the Mathematical Association of America, in Philadelphia in early August.
According to the Luce Foundation website, the Clare Boothe Luce (CBL) bequest provides support to women in STEM fields. The goal of the program is to close the gender gap in STEM disciplines and in higher education leadership roles.
CBL undergraduate research awards support projects with faculty mentors to motivate and prepare recipients to apply for graduate study. Dr. Ryan Savitz, professor of mathematics, is the faculty mentor for all three Neumann students. He describes the CBL awards as "highly competitive."
Locally, the Southeastern Pennsylvania Consortium for Higher Education (SEPCHE), through a CBL grant, collects and reviews all faculty-nominated CBL research submissions from its nine-member colleges and selects those to receive the awards. SEPCHE members are Arcadia University, Cabrini University, Chestnut Hill College, Gwynedd Mercy, Holy Family University, Immaculata University, Neumann, Rosemont College, and Salus University.
In addition to Neumann's three awards in mathematics for the summer of 2022, Gwynedd Mercy has three scholars in computer science, and Chestnut Hill has two awards in chemistry.