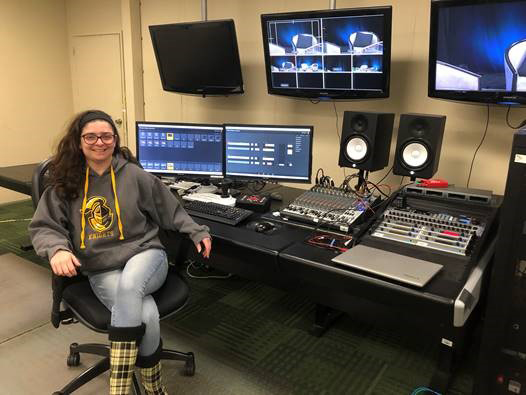 Danielle Koyles '16 recently had a "pinch me" kind of moment when she got the opportunity to meet Thomas Harris, author of Silence of the Lambs and creator of Hannibal Lecter. As studio manager at LTV, in East Hampton, New York, Koyles was part of the broadcast team that set up this iconic interview.
Harris has shunned the spotlight and does not give interviews or do public appearances. However, he joined Koyles' co-worker Anthony Brandt on the talk show "Conversations" for an interview. As studio manager, Koyles had the opportunity to meet with Harris prior to his interview with Brandt.
"He was a sweet, kind man and a quiet southern gentleman. It just blew my mind that he was not what I expected him to be," she explained.
According to Koyles, this experience, like so many others she has had in her professional career, can be attributed to Neumann University. After graduating with a degree in Communication and Media Arts (now Communications and Digital Media), Koyles hoped to work on a television or movie set. She wanted to use the skills she learned at Neumann University and obtain hands-on experiences in her field.
Sean McDonald, director of Neumann Media, agrees. "Our students are prepared for the smallest and largest of media companies, and we instill in them the importance of local, community-centric programming."
Koyles, who grew up in Stony Brook, Long Island, found Neumann University through a college fair. When she came for a visit, she was delighted to find out that freshmen could have their own radio show.
"The radio station was a big draw for me. It was one of the cool things I saw, and I learned I could do my own show," she said. "I played a wide variety of music from the top hits to classic rock and pop punk music. It was very eclectic."
Neumann University's Mullen Communication Center was not built when Koyles attended the university. However, she was on the Neumann Media Executive Board during the designing process and shared in the excitement over this new facility.
In 2015, Koyles and fellow alum Chris Ulrich were nominated for a Mid-Atlantic Chapter of the National Academy of Television Arts & Sciences (NATAS) Emmy Award for their video Cyberella, which they produced while attending Neumann.
"This job and everything I know I learned from Neumann University. I basically lived in the radio station and TV studio when I was at Neumann," Koyles said.