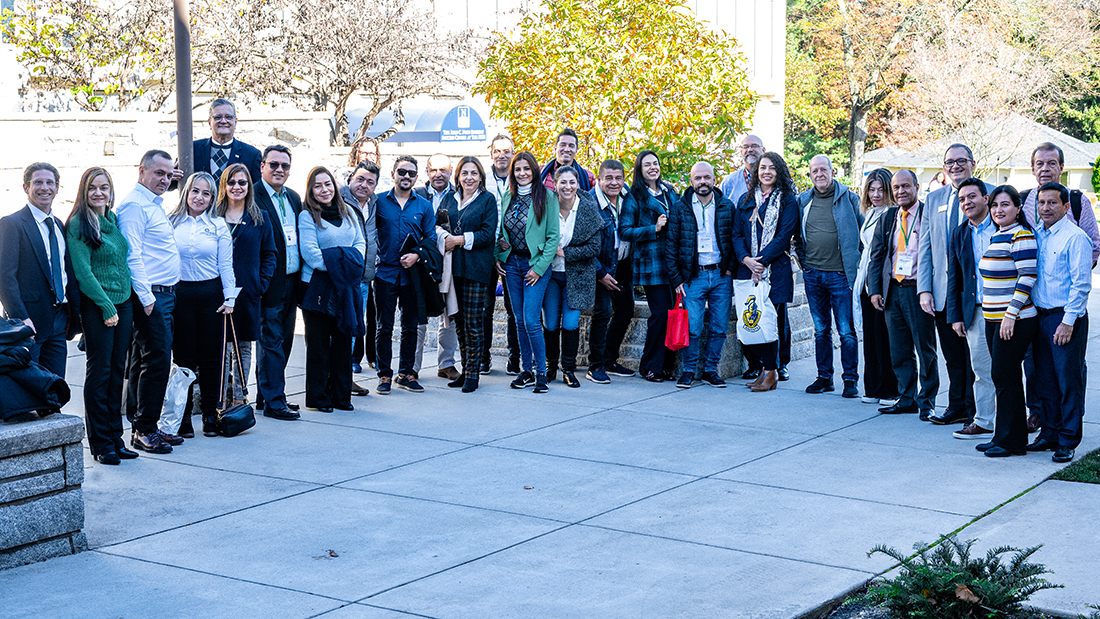 Twenty-five university presidents from Colombia, South America, visited campus last week to learn about American higher education. Neumann was part of a weeklong tour that included stops at Cabrini, Eastern, Rosemont, Manor, and Montgomery County Community College.
The guests discussed academic programs with Deans Al Mueller, Amy Hoyle and Eric Wellington as well as Spanish faculty members Sr. Linda Sariego and Maria de Gordon. The group also learned about Neumann's social justice and Diversity Equity and Inclusion initiatives from Michelle Santana and Amanda Breen. Ryan Savitz explained our technology platforms.
The tour was arranged by Timothy Mantz, the business dean at Cabrini, who has worked with South American universities for 15 years. The Colombian schools, he says, are often interested in establishing exchange programs, learning about online instruction, and purchasing curriculum.
"At this point, we are just exploring options and getting to know each other," explained Savitz, who coordinated the visit to Neumann with Mantz.
Dean Mueller agreed. "I walked away from the experience understanding that, although we speak different languages, we are concerned about the same things: helping our students find meaningful employment after graduation, providing them with high-quality educational experiences, and graduating people who one day will make a difference in their communities and in the world."
A program plan created by the Executive Council of the Colombian Educational Sector Board lists several areas for potential partnerships: professional development, articulation agreements, academic gateways to higher levels of education, and practical application of quality and competency standards.
"What a pleasure to break bread with our visitors from Colombia," said Dean Hoyle. "Our conversations touched on a range of topics, from student support to school partnerships. We share concerns about the pressures on students who need to work full-time. We also share enthusiasm about the various ways students can benefit from partnerships – including potential exchange programs."
The dignitaries represented schools from various areas of Colombia, including Bogota, Cali, Medellin, Santa Marta, Rionegro, and Villavicencio.