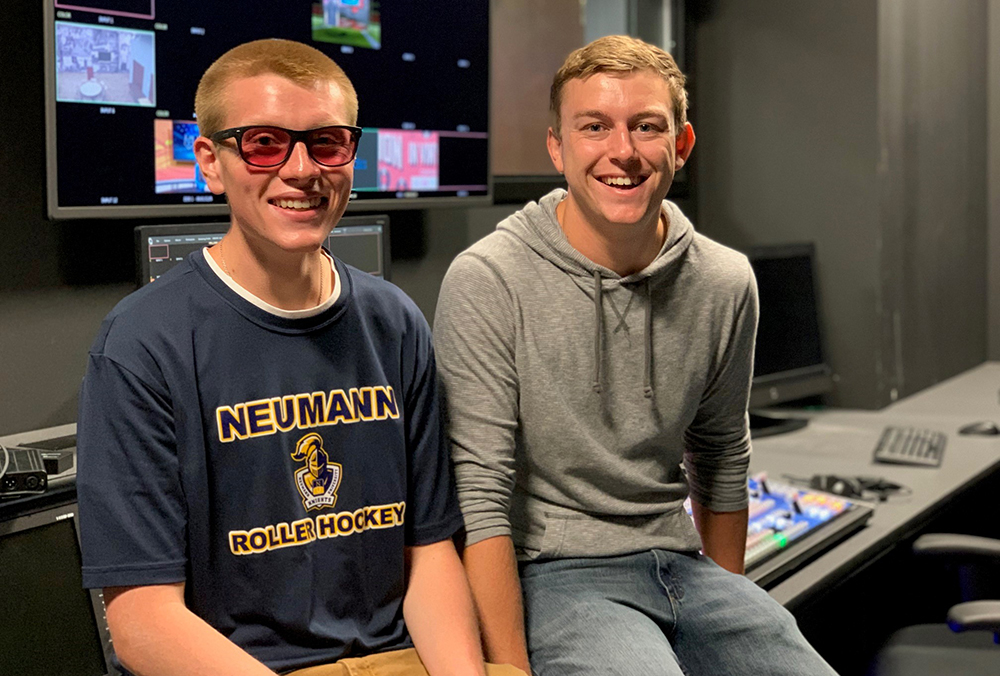 A video produced by communications and digital media (CDM) majors Sean Spence and Jake Loburak has been nominated for a College Broadcasters Best Feature News Reporting Award, one of only four such nominations in the country. While being nominated is exciting, the video "Jake Loburak: The Colorblind Videographer" has a great back story.
Loburak, a sophomore, was diagnosed with Strong Deutan Color Blindness as a young child. This is a type of color blindness that makes red, yellow, green and brown appear similar. His visual challenges have not stopped him from being a part of the Neumann Media production team.
"To me, it wasn't a big difference in my life. Obviously, I would see things differently, but you would just adapt to it," Loburak explained.
Spence, a senior, became friends with Loburak through Neumann Media. Loburak is very open about his color blindness and would often joke about it to his classmates. It soon became fodder for his fellow CDM students while working on projects together.
Spence learned about EnChroma Color Blind glasses, which look like regular sunglasses but enable people with color blindness to see colors. Neumann Media members decided that their friend had to have these glasses.
"As a staff, we collected money for the colorblind glasses. We all came together and pitched in. Even people not involved with Neumann Media donated," said Spence.
Last December, Loburak was producing a Neumann Update show in the television studio. Unexpectedly, the anchors started to read a story about color blindness. They called him to the anchor desk and presented him with the glasses.
"I went up to the set and put them on. It was pretty cool," Loburak explained.
Of course, being planned by CDM majors, this reveal was captured on video and became part of the production that was submitted for the national award.
At the end of October, Loburak, Spence, and Neumann Media General Manager Sean McDonald will travel to St. Louis for the 2019 National Student Electronic Media Convention.
"It's good to get our stuff out there and to let others see that we're doing good things here," Spence said. "And now I'm a nationally recognized producer, which is pretty cool."