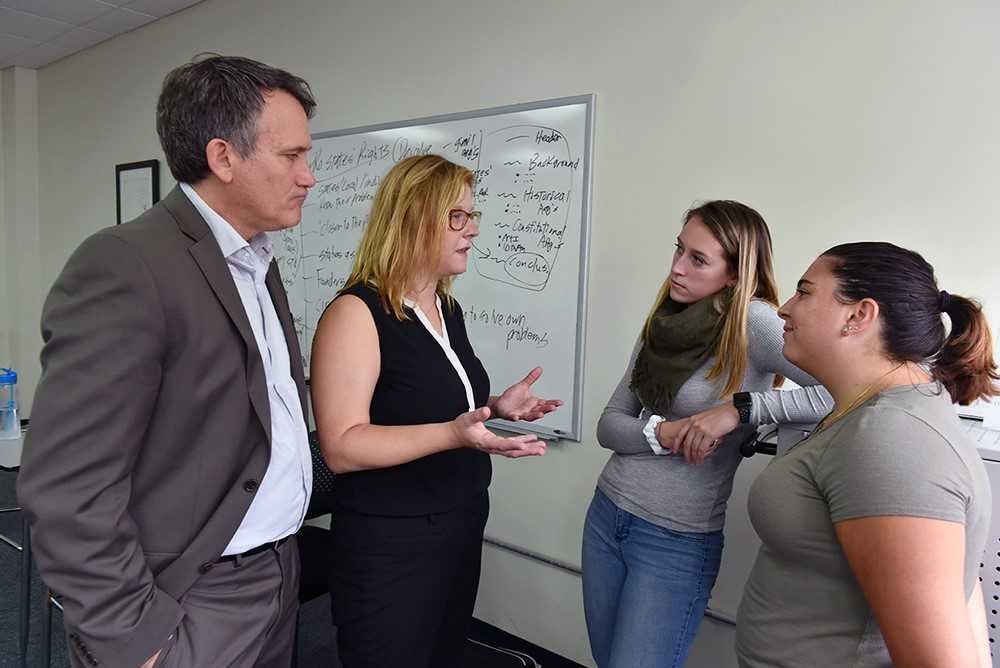 PA State Representative Leanne Krueger-Braneky (PA 161) spoke to students, faculty and staff at Neumann University on Tuesday, September 18, to honor Constitution Day. The State Representative spoke to Dr. Robert McMonagle's Political Science class about her service in the state legislature and critical public policies that impact our daily lives.
After speaking to the group, Krueger-Braneky held a question and answer session. One question was about the lack of public education funding in Pennsylvania. The State Representative replied, "I wish there was a silver bullet to fix public education." She also added that Pennsylvania ranks 47th out of 50 states in the proportion of total education funding provided by the state. Public education used to receive 57% of the state's operating budget, but now it has been decreased to 37%. Krueger-Braneky reported this is a continued discussion and debate on the floor of the State House of Representatives.
Another question focused on the debate concerning Sunoco's Mariner East pipeline. Krueger-Braneky noted there have been more than 300 accidents on site in the last year related to the pipeline. While she doesn't oppose all pipelines, she does oppose this one as it runs close to schools and residential properties and poses an already documented safety threat.
A student asked a question about arming teachers in schools in Texas, "I can't imagine being armed with a gun and being expected to shoot at one of my students," said Hayley Glah, a Political Science and Secondary Education major.
The State Representative replied that a bill has been introduced in the Pennsylvania State Senate to arm teachers in school. "It's not a hypothetical," she added. Krueger-Braneky is against the bill, "I am very proud to have an 'F' rating from the NRA (National Rifle Association)." She believes mental health is the real issue and that "we need to reduce the stigma and increase the funding around it."
Krueger-Braneky also encouraged the students to get involved in politics. "You can make a difference. Think about running for office, or think about helping someone else run for office," she said.
"Don't get frustrated by what you see and hear. Care about the issues. The way to be effective is to get involved," she adds. She also encouraged the students to apply for legislative internships.
Krueger-Braneky has been a member of the House of Representatives since 2015. She holds an MBA in Urban Economic Development from Eastern University and a BA in Sociology from Rutgers University and serves the following municipalities: Aston Twp., Brookhaven Borough, Nether Providence Twp., Ridley Twp., Rose Valley Borough, Rutledge Borough, Springfield Twp., and Swarthmore Borough.
Constitution Day commemorates the formation and signing of the U.S. Constitution on September 17, 1787.